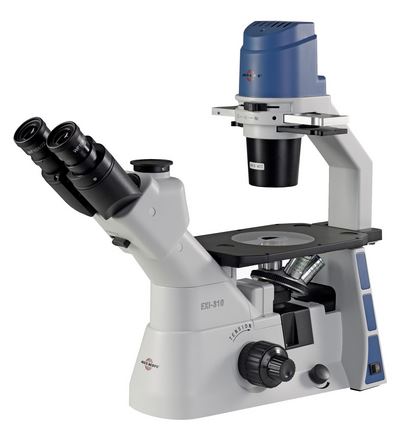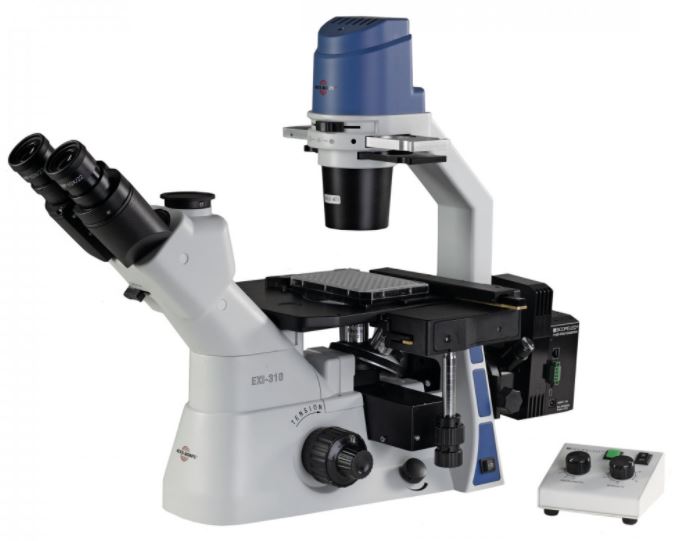 ACCU-SCOPE 310 Inverted Microscope
Using the latest technology in optical design the EXI-310 Inverted Microscope incorporates the AIS Infinity Optical System to provide best in class, high resolution, high contrast images in brightfield, phase contrast and fluorescence. Designed for the study of tissue cultures, live cells and IVF (in-vitro fertilization) in laboratories, universities and research institutions, the EXI-310  is a modular, compact and durable solution for today's modern laboratory.
Viewing Options
Several viewing options are available to accommodate application specific needs. Ergonomic tilting binocular heads (with an optional beam splitter to allow for digital imaging) and standard trinocular heads with either 80/20% or 100/0% light splits are also available.
Fluorescence Applications
Offering as standard a 3 position filter slider and an optional best-in-class 4 position filter slider (3 filter positions / 1 Brightfield position), the EXI-310 offers a wide range of accessories for fluorescence applications. Featuring CoolLED's pe-Combiner system we offer the only 2 wavelength LED fluorescence illumination system available on the market today. Options are also available for plasma, metal halide and mercury illumination systems.
Attachable Mechanical Stage
A newly designed attachable mechanical stage, now puts the coaxial controls at your fingertips. By moving the coaxial controls to the front of the stage – closer to the operator and adding a tension control adjustment to the stage controls we have significantly improved the ergonomics of the stage to provide a better operator experience.
ACCU-SCOPE EXI-310 Inverted Microscope Accessories
Optical Excellence
0.3x, 0.45x, 0.50x , 0.70x and 1.0x c-mount adapters

Photo tube

Digital CMOS, CCD or HD camera

Plan achromat objectives: 4x, 10x, 20xR and 40xR

Plan phase objectives: 10x, 20xR, and 40xR

Plan Fluor objectives: 4x, 10x, 20xR and 40xR

Fluorescence attachments – CoolLED, Metal halide, Plasma and Mercury illumination systems

Ergo tilting binocular viewing head

Reticles WF15x or

WF20x focusable eyepieces

Focusable WF10x eyepiece with reticle
Miscellaneous
Microscope Dimensions (LWH): 515mm x 248mm x 473mm (non-fluorescence units)

Physical weight: 19 lbs.

Shipping dimensions: 19″ x 16″ x 26″(non-fluorescence units)

Shipping weight: 29 lbs. (non-fluorescence units)
Warranty
5 year limited warranty for parts, labor and electronic components. All fluorescence power supplies have a 1 year limited warranty.