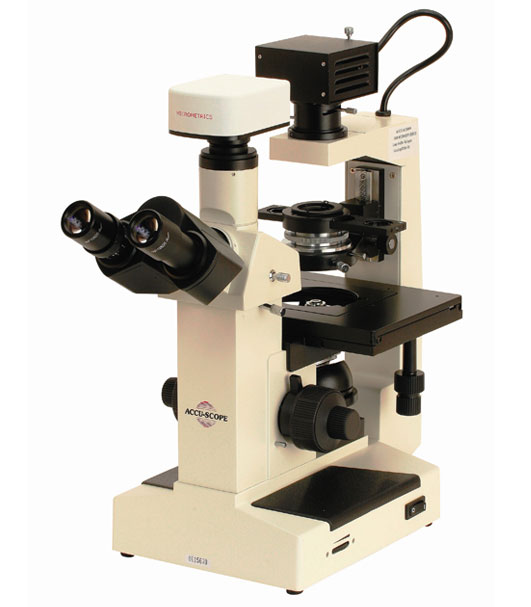 Accu-Scope 3030 Microscope Series
In Stock
The ACCU-SCOPE® 3030 Microscope Series delivers outstanding optical performance, value and resolution for the study of tissue cultures and live cells in laboratories, hospitals, universities and educational institutions. With the included mechanical stage and stage plates the 3030 Series easily accommodates 96-hole well plates, tissue culture flasks, roller bottles, hemacytometers, petri dishes as well as many other vessels.
Ease of Viewing
Each microscope is supplied with a trinocular viewing head. With the optional camera adapters connecting a digital camera, HD video camera or DSLR camera is simple.
Compact Design, Saves Space
The compact design of the 3030 Series saves valuable countertop space in today's crowded lab environments.
Pre-Configured Simplicity
With everything included from objectives to mechanical stage to stage plate inserts the 3030 Series offers a safe, uncomplicated choice for modern lab managers. Available in a choice of two configurations either a phase microscope (3030PH) or with plan achromat objectives (3030) the choice is simple and the value is in its completeness.
Speak with one of our specialists today to see if the 3030 Series is right for you!
(281) 579-0342
Accu-Scope 3030 Microscope Series
Optional Accessories
0.5x adjustable c-mount adapter or photo tube

Digital CMOS, CCD or HD camera

Plan achromat objectives: 4x, 10x, 25xR and 40xR

Plan phase objectives: 10x, 25xR, and 40xR

Reticles

WF15x or WF20x eyepieces

Focusable WF10x eyepiece with reticle
Miscellaneous
Microscope Dimensions (LWH): 478mm x 198mm x 468mm

Physical weight: 23 lbs.

Shipping dimensions: 17″ x 13″ x 21″

Shipping weight: 25 lbs.
Warranty
5 year limited warranty for parts, labor and electronic components.