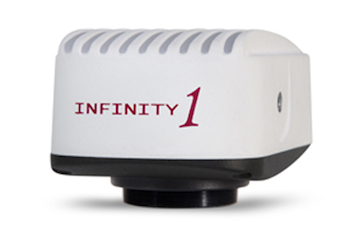 Infinity 1-2
Lumenera's INFINITY1-2 2.0 megapixel CMOS digital camera is designed to be a cost-effective, versatile solution for documentation in clinical, life science, materials science and educational professionals.
The INFINITY1-2 is an excellent entry level multi-megapixel CMOS microscopy camera, delivering outstanding image quality for a wide variety of scientific applications. It is ideally suited for applications with bright, consistent lighting and tight budget constraints. The INFINITY1-2 is available in color, as well as OEM form factors including board-level and custom enclosures.
Camera Sensor
Image Sensor
1/2" SOI268 CMOS format, color, progressive scan, 6.72mmx5.04mm array
Effective Pixels
1600×1200, 4.2µm square pixels
Frame Rate
15 fps at 1600×1200
Dynamic Range
49dB
Bit Depth
8 and 10-bit uncompressed
Read Noise
45 e-
Camera Controls
Mass
300g
Power Requirement
USB bus power (optional 5VDC – 500mA)
Power Consumption
~2.5Watts
Operating Temperature
0° C to +50° C
Operating Humidity
5%-95%, Non-condensing
Exposure Range
64μs to 499ms (video) 64μs to 2s (snapshot)
Shutter
Rolling shutter with single frame capture
ROI
Any multiple of 8×8 pixels, 32 x 32 pixels minimum
Exposure Control
Automatic and manual control
White Balance
Automatic and manual control
Gain
1 to 7.75X
Interface Connector
USB 2.0 high-speed interface
Dimensions (L x W x H)
3.85 x 2.25 x 2.75 inches
Lens Mount
Adjustable C-Mount standard
Excellent Color Reproduction
Years of experience in the microscopy market have allowed Lumenera to develop specialized color algorithms ensuring excellent color reproduction in samples ranging from stained cells to wafer inspection.
Full Image Analysis Software Included
Every INFINITY camera includes INFINITY ANALYZE software for advanced camera control, image processing, measuring and annotation, as well as INFINITY CAPTURE, an intuitive user interface which includes all of the basic features needed to control your INFINITY camera and capture images.
Third-Party Software Integration
INFINITY cameras are integrated into a variety of third-party software packages through direct drivers or with TWAIN/DirectX support.
Superior Technical Assistance Center (TAC)
As a Lumenera customer you gain access to the TAC group and knowledge base, which provide full support for cameras, software and microscopy applications.
Infinity 1-2
Product Highlights
Progressive scan 1/2″ SOI268 2.0 megapixel CMOS color sensor
High-speed USB 2.0 interface for ease of installation on any computer
Full color sub-windowing and subsampling for rapid focus and scanning of samples
Crisp color quality for the most demanding brightfield and darkfield microscopy applications including clinical pathology and cytology, life science and geology
15 fps at full 1600×1200 resolution, higher at reduced resolutions
Select 8 & 10-bit pixel data modes
Ordering Options
INFINITY1-2CB — 2.0 Megapixel CMOS Color USB 2.0 Camera
LuSDKSW — Software Developer's Kit (Web Download)
LuSDKSW-DVD — Software Developer's Kit (DVD)
INFINITY ANALYZE MODULE — INFINITY ANALYZE Advanced Features Module (Multi-Focus Compostion and Spherical Aberration Correction Features)
La20515 – 5VDC, 2.5A, 12.5W Power Supply (Optional)