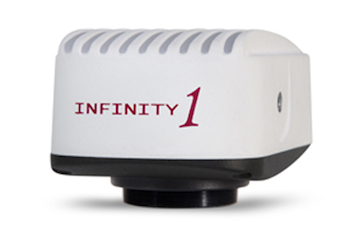 Infinity 1-5
Lumenera's INFINITY1-5 digital camera is designed to be a cost-effective, versatile solution for documentation in life science, clinical, material science and industrial applications.
For applications that demand extremely high resolution, the INFINITY1-5 camera produces a full 2592 x 1944 video preview with speeds of 7 frames per second (fps) in both color and monochrome formats. This full 5.0 megapixel sensor allows users to view fine detail in samples and provide a high resolution preview to large monitors and overhead projectors.
Camera Sensor
Image Sensor
Micron MT9P031, 1/2.5" format, CMOS, color or mono, 5.7 x 4.28 mm array
Effective Pixels
2592 x 1944, 2.2µm square pixels
Frame Rate
7 fps at 2592 x 1944, 60 fps at 640 x 480
Dynamic Range
49 dB
Bit Depth
8 or 12-bit
Read Noise
20 e-
Camera Controls
Dimensions
2.25 x 3.85 x 1.56 inch / 57.15 x 97.79 x 39.62 mm
Mass
330g
Power Requirement
USB bus power only
Power Consumption
~2.5 W
Operating Temperature
0 to +50 °C
Operating Humidity
5 to 95%, non-condensing
Exposure Range
106 µs to 3 s (video), 106 µs to 3 s (snapshot)
Shutter
Rolling shutter with single frame capture
ROI
Any multiple of 8 x 8 pixels, 32 x 32 pixels minimum
Exposure Control
Automatic and manual
White Balance
Automatic and manual
Gain Range
1 to 3.38 x
Interface
USB 2.0 high-speed interface
Lens Mount
Adjustable C-mount standard
Excellent Color Reproduction
Years of experience in the microscopy market have allowed Lumenera to develop specialized color algorithms ensuring excellent color reproduction in samples ranging from stained cells to wafer inspection.
Full Image Analysis Software Included
Every INFINITY camera includes INFINITY ANALYZE software for advanced camera control, image processing, measuring and annotation, as well as INFINITY CAPTURE, an intuitive user interface which includes all of the basic features needed to control your INFINITY camera and capture images.
Third-Party Software Integration
INFINITY cameras are integrated into a variety of third-party software packages through direct drivers or with TWAIN/DirectX support.
Superior Technical Assistance Center (TAC)
As a Lumenera customer you gain access to the TAC group and knowledge base, which provide full support for cameras, software and microscopy applications.
Infinity 1-1M
Product Highlights
Low noise progressive scan 1/2.5″ 5.0 megapixel image sensor
Full color sub-windowing for rapid focus and scanning of samples
7 fps at full 2592×1944 resolution and 60 fps at 640×480 resolution
High-speed USB 2.0 for ease of installation on any computer
Selectable 8 & 12-bit pixel data modes
Ordering Options
INFINITY1-5C — 5.0 Megapixel Color CMOS Camera
INFINITY1-5M — 5.0 Megapixel Monochrome CMOS Camera
INFINITY ANALYZE MODULE – INFINITY ANALYZE Advanced Features Module
LuSDKSW — Software Developer's Kit (Web Download)
LuSDKSW-DVD — Software Developer's Kit (DVD)