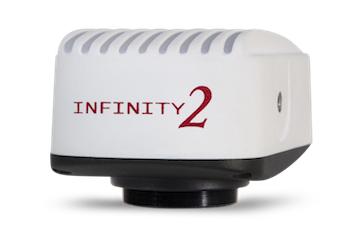 Infinity 2-1R
Industry's Best Price-to-Performance Uncooled ICX205 Camera!
2-1R scientific camera offers a significant performance increase for quantitative and low-light applications over its predecessor. Improved thermal management techniques combined with a much higher dynamic range and 14-bit output have resulted in a versatile entry-level research camera for documentation and image analysis in Life Science, Clinical and Material Science applications. The INFINITY2-1R easily manages seconds of exposure time with a dark current rating of less than 1 e-/s.
Camera Sensor
Image Sensor
½" Interline Sony ICX205 1.4 megapixel color or monochrome progressive scan CCD sensor 7.6 x 6.2mm array
Effective Pixels
1392 x 1040, 4.65 µm square pixels
Frame Rate
30 fps at 1392 x 1040, 52 fps at 640 x 480 (ROI)
Dynamic Range
64.6 dB
Digital Output
8 or 14-bit
Read Noise
8.5 e-
Dark Current Noise
< 1 e-/s at 22 °C
Dimensions (W x H x D)
2.25 x 3.85 x 1.56 inch (enclosed)
57.15 x 97.79 x 39.624 mm
Camera Controls
Mass
340 g
Power Requirement
USB bus power (external 5 V DC, 500 mA)
Power Consumption
~2.5 W
Operating Temperature
0 to +50 °C
Operating Humidity
5 to 95 %, non-condensing
Exposure Range
48 μs to 500 ms (video), 5.4 μs to 8 min (snapshot)
Shutter
Electronic global shutter
Region of Interest
Any multiple of 8 x 8 pixels, 120 x 120 pixels
minimum
Exposure Control
Manual and automatic
White Balance
Manual and automatic
Gain Range
0.5 to 15 x
Interface Connector
Standard USB 2.0 high-speed interface
Sensitivity
2.5 DN/(nJ/cm2) [at 8-bit, 1 x gains]
Full Well Capacity
14,500 e-
Lens Mount
Adjustable C-mount standard
Superior Sensitivity
The INFINITY2-1R has a dynamic range of 64 dB allowing users to image unevenly lit samples without worry. The resulting images show detail in bright and dark areas not normally seen in lower dynamic range cameras. Advanced thermal management allows for long exposure times of several minutes without the need for a much higher priced cooled camera.
Full Image Analysis Software Included
INFINITY CAPTURE, an intuitive image capture program, and INFINITY ANALYZE, a full image analysis package offering; camera control, measurement, annotation, tiling and post capture enhancement, are both included. Camera and software combined to create a complete microscopy imaging solution for your application.
USB 2.0 Plug-and-Play Interface
Sharing and installation of one or more cameras on a single computer is quick and simple through a high-speed USB 2.0 interface.
Third-Party Software Integration
The INFINITY2-1R is available in color or monochrome, as well as OEM form factors including board-level and custom enclosures. INFINITY cameras are supported by an experienced team of technical support and imaging experts. We understand your imaging needs and are here to help you get the most out of your camera.
Infinity 2-1R
Product Highlights
Improved noise performance over first generation camera
Incredibly low dark current noise in an uncooled camera
High dynamic range of 64 dB
Low noise progressive scan 1/2″ 1.4 megapixel Sony ICX205 CCD sensor
Selectable 8 or 14-bit pixel data modes
Ordering Options
INFINITY2-1RC — 1.4 Megapixel Color CCD Camera
INFINITY2-1RM — 1.4 Megapixel Monochrome CCD Camera
LuSDK — Software Developer's Kit