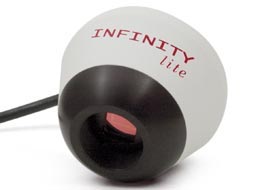 Infinity Lite
Lumenera's INFINITYlite is a low cost scientific digital camera specifically designed for the educational market as well as entry level microscopy applications.
The INFINITYlite is ideally suited for documentation in Life Science, Clinical and Material Science applications. It is a compact, affordable microscopy camera that delivers outstanding image quality and excellent value. Highlights include live video preview and focus for the efficient capture of optimal images, as well as full integration to popular third-party imaging applications through our TWAIN drivers.
School districts can rest assured that an INFINITYlite camera will place their students at the forefront of digital imaging technology. The imaging skills acquired by students using an INFINITYlite can be directly applied throughout their careers in research, industrial or clinical microscopy.
Camera Sensor
Image Sensor
1.5 Megapixel 1/2.5" CMOS format, color, 6.0 x 4.5 mm array
Resolution / Pixel Size
1440 x 1080, 4.2µm square pixels
Frame Rate
10 fps at full resolution
Dynamic Range
47.5 dB
Bit Depth
8-bits uncompressed
Read Noise
53 e-
Camera Controls
Mass
245 g
Power Requirement
USB bus power
Power Consumption
~2.5 W
Operating Temperature
0 to +50 °C
Operating Humidity
5 to 95 %, Non-condensing
Exposure Range
81 µs to 339 ms (video), 81 µs to 339 ms (snapshot)
Region of Interest Control
Any multiple of 8 x 8 pixels, 32 x 32 pixels minimum
Exposure
Manual and automatic control
White Balance
Manual and automatic control
Gain
1 to 7.75 x
Interface Connector
USB 2.0 high-speed interface
Dimensions (L x W x H)
2.60 x 1.91 inch
Lens Mount
C-Mount lens adapter
Excellent Color Reproduction
Years of experience in the microscopy market have allowed Lumenera to develop specialized color algorithms ensuring excellent color reproduction in samples ranging from stained cells to wafer inspection.
INFINITY CAPTURE Software Included
INFINITY CAPTURE, an intuitive image capture program offering camera control, white balance, exposure controls and video production is included. Camera and software are combined to create a complete microscopy imaging solution for your application. INFINITY ANALYZE software is not included, however it can be ordered separately. Contact us for more information and pricing.
Superior Technical Assistance Center (TAC)
As a Lumenera partner you gain access to the TAC group and knowledge base which provide full support for cameras, software and microscopy applications. INFINITY cameras are supported by our experienced team of technical support and imaging experts. We understand your imaging needs and are here to help you get the most out of your camera.
Infinity Lite
Product Highlights
Progressive scan 1.5 megapixel CMOS sensor
Full color sub-windowing allows for rapid focus and scanning of samples
Software compatible with Windows XP, Windows Vista and Windows 7, 32 and 64-bit
High-speed USB 2.0 interface for ease of installation on any computer
Includes TWAIN and DirectX/ Direct Show support
Two (2) year warranty
Ordering Options
INFINITYliteB — 1.5 Megapixel Color CMOS Camera
LuSDK — Software Developer's Kit
Lu927 – INFINITY ANALYZE Software (not included)