NanoZoomer XR – Digital Pathology Slide Scanner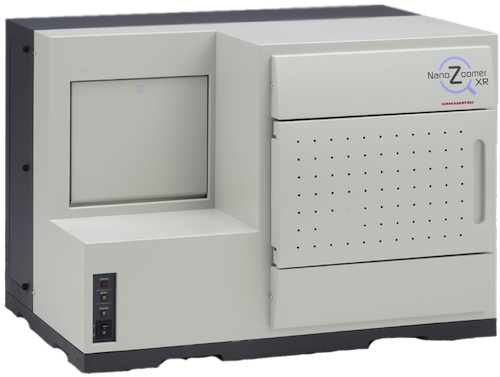 In Stock
The NanoZoomer XR whole slide imager is Hamamatsu's flagship scanner and is suitable for high throughput applications. It is capable of high speed, high sensitivity, and high resolution. It offers many features such as:
Scanning of standard-size (26 mm x 76 mm) slides
Slide loader can handle up to 210 slides per batch
Fully automatic, unattended batch scanning possible
Three easy-to-use operation modes (automatic, semiautomatic, and manual)
Two scanning modes: x20 (0.46 µm/pixel) and x40 (0.23 µm/pixel)
High-speed scanning
Superb image quality
Wide range of software solutions
Z-stack feature
Fluorescence as option
Up to 210 slides scanned per load
Easily load 210 slides into the dedicated holders, and start the scan with a click of a button. The digital slides can be transferred automatically to a web server for viewing on your intranet or over the Internet at any time.
Easy-to-use scanner with 3 operation modes
The NanoZoomer XR is fully equipped for both routine and research work, offering both a fully automated mode as well as more flexible ways of operation. Select from three operation modes-automatic, semiautomatic, and manual to best suit your needs. The NanoZoomer XR is equipped with an easy-to-use and powerful software which has an intuitive x20 and x40 scanning modes in one system graphical interface.
x20 and x40 scanning modes in one system
The NanoZoomer XR includes both x20 (0.46 µm/pixel) and x40 (0.23 µm/pixel) scanning modes. To scan a batch of slides in a combination of x20 and x40 modes, simply select the magnification in the acquisition software.
High-speed scanning and high-quality digital images
The NanoZoomer XR scans slides quickly and produces high-quality digital images. Scanning a slide in the standard x20 mode takes about 1 minute for a 15 mm squarred scanned area. The digital images produced are true 24-bits RGB images with full-pixel resolution in each channel–courtesy of TDI (time-delay-and-integration) technology combined with a high-grade 3-CCD digital camera. This combination of technologies gives a significant increase in image quality compared to color cameras based on mosaic or RGB filtering (see our color imaging section).
Wide range of software solutions
We can offer a wide range of software solutions adapted to your applications. Whatever the field (education, image analysis, telepathology, TMA, toxicology, diagnoses, etc.), we can help you to decide the best solution for your application.
Z-stack feature on whole slide
Use your PC like a real microscope. The Z-stack function, a unique feature of the NanoZoomer XR, allows multilayer scanning at different focal planes of a specimen on a whole slide. Prior to slide scanning choose the number of planes and the spacing between each plane and then navigate between planes with the image viewer as if you were adjusting the fine or coarse focus screw of a microscope.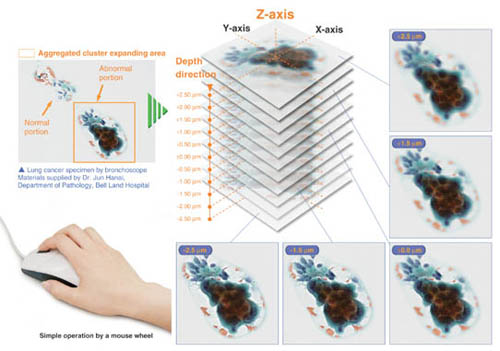 Z-Axis
The Z-stack feature is ideal for cytology (smears, cellular thin layers) or morphology studies (histology, rare events search, etc.), which requires obtaining the maximum information on each specific cell. The Z-stack function is also a powerful tool for brain mapping, TMA, any difficult samples with a wide variation of Z-position, and fluorescence studies.
Fluorescence option
In addition to standard brightfield applications you can upgrade your NanoZoomer XR system with the Fluorescence Illumination Optics option to scan fluorescence-labeled samples. The fluorescence illumination option together with the NanoZoomer XR's 3-CCD TDI camera allow the observation of low-light-level fluorescence tissue samples at high resolution.
The new NanoZoomer 2.0 series is twice the speed of the original NanoZoomer.
Features
High speed scanning
In standard 20x scan mode, a 20 mm x 20 mm area can be scanned in only 1 minute 40 seconds.
Improved 40x scanning speed, ideal for routine scans
Scanning time in the 40x scan mode is reduced from roughly 12 minutes to 4.5 minutes.
Easy upgrades from the original NanoZoomer
By adding boards and software, the original NanoZoomer can be easily converted to the NanoZoomer 2.0 series.
Benefits of faster scanning
Rapid access to consultation slides
The NanoZoomer 2.0 series enables rapid consultation work by shortening the time it takes to make slides available to remote users.
Rapid capture of high-precision 40x slide scans
Since the NanoZoomer 2.0 series drastically reduces the scanning time in 40x mode it makes it much more practical to be used. The 40x mode is especially beneficial for samples that require high-precision image quality like blood cells and bone marrow.
Rapid capture of Z-stack slides
The Z-stack scan is an unique feature of the NanoZoomer series that enables adjustable focus of a scanned slide. Because of high-speed scanning capability of the NanoZoomer 2.0 series, the Z-stack feature is more applicable to a variety of samples such as cytology samples and thick tissue samples.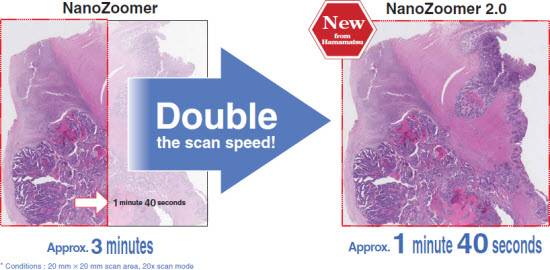 Currently we offer two models, our flagship NanoZoomer XR with its large slide loader and high-throughput capacity, and the more economical NanoZoomer 2.0-RS for more manual operation but with the same image quality and scanning speed as its bigger brother. As an option for all models, we also offer the NanoZoomer Fluorescence Unit. It can be purchased together with the scanner or retrofitted later.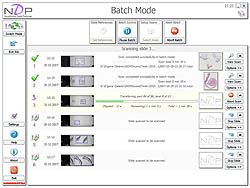 Standard Software
We offer all the software needed to easily scan slides; conveniently view the virtual NDP images locally or over a network; annotate images; organize images hosted on your own server; serve images over the LAN, your intranet or the Internet; and integrate NDP virtual microscopy into your workflow and existing IT and software infrastructure.
Services
Do you want to receive a sample DVD with NDP images? Or do you prefer to send us some of your own slides and ask us for a test scan? Do you want to see a NanoZoomer scanner in operation? Or see NDP images served live over the Internet? Do you have a specific technical request or question? Are you a software developer who is interested in integrating NDP into your products? Or are you already a NanoZoomer user who wants to give us feedback or report a publication?
Application-oriented Solutions
We can offer solutions to many application-specific needs, be it in clinical routine pathology, research, pharmacology, toxicology, student education, tissue and disease databases, and many others. Please contact us to obtain our proposal for your specific application.
NanoZoomer 2.0-XR
Scanning of standard-size (26 mm x 76 mm) slides
Slide loader can handle up to 210 slides per batch
Fully automatic, unattended batch scanning possible
Three easy-to-use operation modes (automatic, semiautomatic, and manual)
Two scanning modes: x20 (0.46 µm/pixel) and x40 (0.23 µm/pixel)
High-speed scanning
Superb image quality
Wide range of software solutions
Z-stack feature
Fluorescence as option