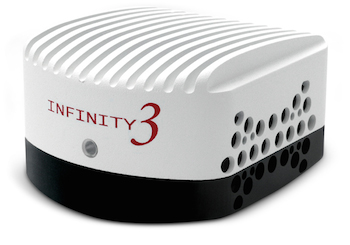 Infinity 3-1 UR
Lumenera's INFINITY3-1UR microscopy camera has been reengineered to offer exceptional dynamic range, read noise and dark current noise. This uncooled camera's performance and price make it an ideal solution for moderate fluorescence applications.
This product raises the bar for performance in an uncooled ICX285 sensor-based camera. Lumenera has developed a unique noise reduction technology that includes high grade components, low noise electronics and improved thermal management techniques. The combination of these efforts has resulted in the INFINITY3-1UR, the second research-grade camera unveiled by Lumenera with core technologies that are shared across the product line.
Camera Sensor
Image Sensor
Sony ICX285 , CCD, color or mono, progressive scan
Effective Pixels
1392 X 1040, 6.45 µm square pixels
Frame Rate
30 fps at full resolution, 54 fps at 640 x 480 (ROI)
Bit Depth
8 and 14-bit
Binning
2 x 2, 4 x 4
Dark Current Noise
< 1 e-/s at 22 °C
Read Noise
6 e-
Camera Controls
Mass
340 g
Power Requirement
USB bus power (or external 5 V DC, 500 mA)
Power Consumption
~2.5 W
Operating Temperature
0 to 50 °C
Operating Humidity
5 to 95%, non-condensing
Data Interface
USB 2.0
Dimensions
3.85 x 2.00 x 2.75 inch
Lens Mount
Adjustable C-Mount standard
Superior Sensitivity and Color Reproduction
Equipped with a high quality Sony ICX285 CCD sensor, the INFINITY3-1UR has the unmatched light sensitivity needed for low light applications. Superior performance is achieved through low noise electronics, high grade components and Lumenera's unique thermal management techniques. With an extremely high dynamic range and large 6.45 µm square pixels, this camera is an excellent choice for light-challenged applications.
Full Image Analysis Software Included
The INFINITY3-1UR includes INFINITY ANALYZE software for advanced camera control, image processing, measuring and annotation, and INFINITY CAPTURE, an intuitive user interface which includes all of the basic features needed to control your INFINITY camera and capture images. Both color and monochrome product models are available. Camera and software combine to create a complete microscopy imaging solution for your application.
Third-Party Software Integration
INFINITY cameras are integrated into a variety of third-party software packages through direct drivers or with TWAIN/DirectX support. A Mac camera driver and ImageJ plug-in are available for the INFINITY3-1UR. On-board memory buffering is included to guarantee image delivery to host computer. The INFINITY3-1UR is available in color or monochrome, as well as OEM form factors including board-level and custom enclosures.
Infinity 3 - 1 UR
Product Highlights
Low noise progressive scan 2/3″ 1.4 megapixel CCD image sensor
High-speed USB 2.0 interface for ease of installation on any computer
30 fps at full 1392 x 1040 resolution
Select 8 & 14-bit pixel data modes
Ordering Options
INFINITY3-1URC — Color 1.4 Megapixel Research-Grade CCD Camera
INFINITY3-1URM — Monochrome 1.4 Megapixel Research-Grade CCD Camera
LuSDK — Software Developer's Kit and Accessories