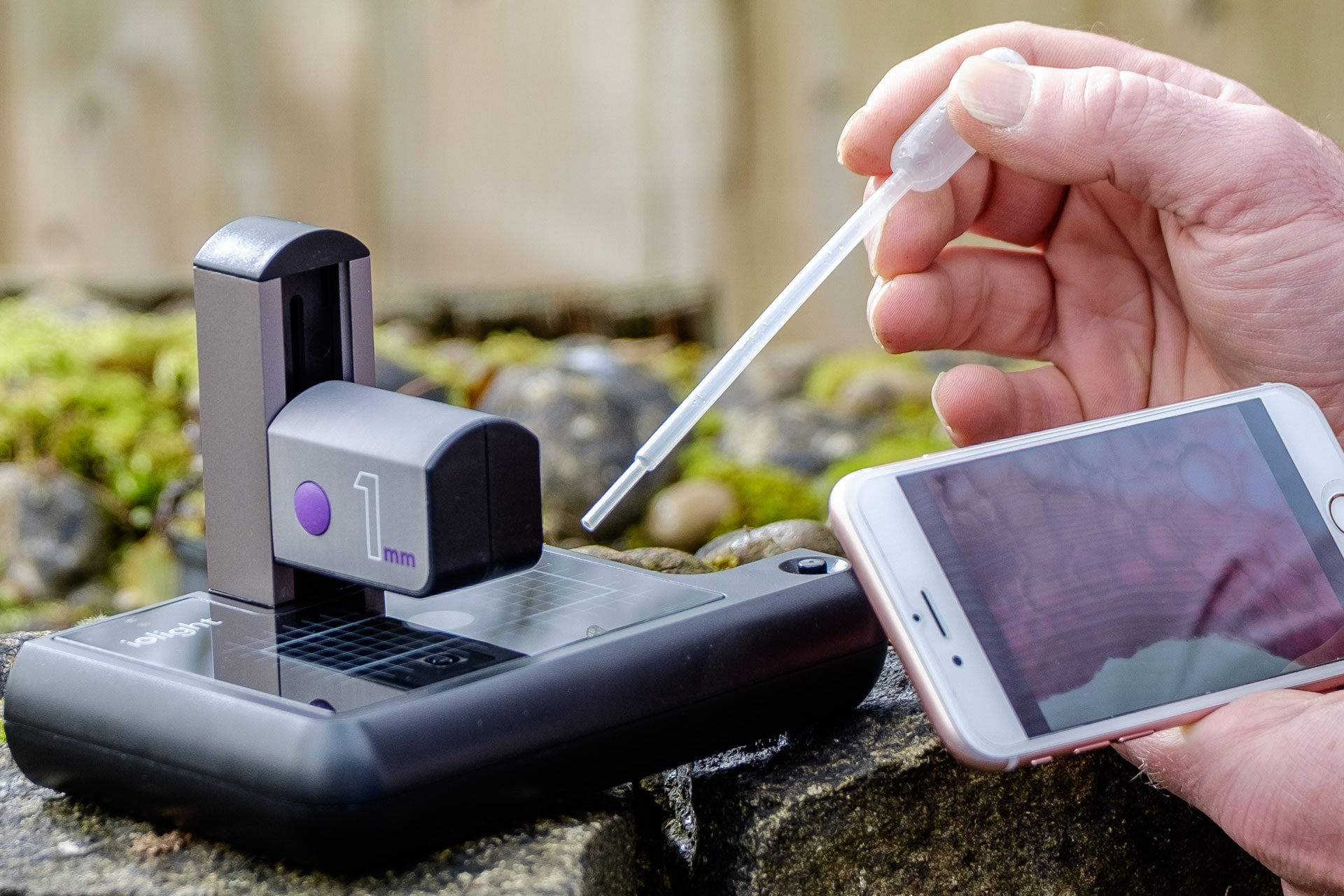 ioLight Limited
ioLight has invented a portable microscope, with a resolution of better than 1μm, which produces beautiful pictures of animal and plant cells and displays them directly onto your tablet or mobile phone.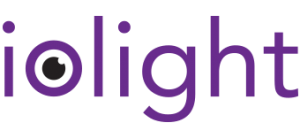 Patented laboratory resolution microscopes
Folds flat to fit your jacket pocket
Beautiful images on your phone, tablet or laptop for immediate sharing
Used in the Amazon, Antarctica, Kazakhstan and on Mount Everest
The best compact digital microscope
Compound microscopes produce great images but need a large, solid laboratory bench. Scientists increasingly work in the field, this includes ecologists, botanists, veterinarians, aquaculture and university researchers. Travelling in tough environments is difficult with a lab microscope. The pocket-sized robust ioLight microscope has proved its worth in Antarctica, Alaska, the Amazon and even on Mount Everest – anywhere your research takes you.
ioLight's compact inverted microscope is tough enough to work inside vertical flow hoods and other cell and tissue culture experiments in laboratories. It is the ideal CO2 incubator microscope for live-cell imaging, capturing images with the door shut so conditions are not disturbed.
ioLight microscopes have a resolution of 1 micron – powerful magnification to see animal and plant cells clearly.
It is the perfect pocket microscope for teaching, training, exhibitions and field trips. Both student and teacher see the same image on the TV or projector screen and it is easy to use for children and experienced microscopists alike.
ioLight is the cost-effective video microscope. Record high-resolution movies of microscopic algae and protozoa in pond water, on the beach or by the lake on your Android device iPhone or laptop computer.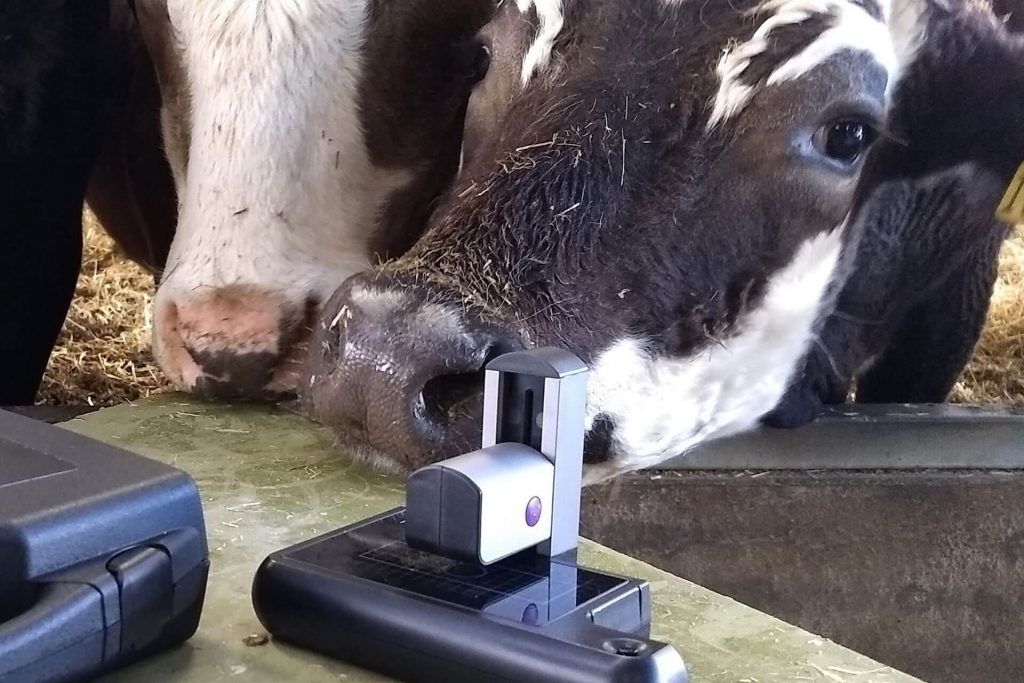 The UN projects that the world population will reach 9.8BN by 2050 and agriculture and aquaculture are under significant pressure to feed more people without clearing more land. The required productivity increases mean making rapid nutritional and health decisions on site. The ioLight microscope allows vets, agronomists and ecologists to diagnose disease in the field, minimising losses.
Robust, product. Proven in Antarctica, The Amazon and on Everest
Diagnosis and treatment at the farm increases productivity
Images on your phone or tablet for discussion with the client
Instant sharing for second opinions
Ideal for video microscopy
Leave precious species on site, just take images
Ideal tool for Fecal Worm Egg Counts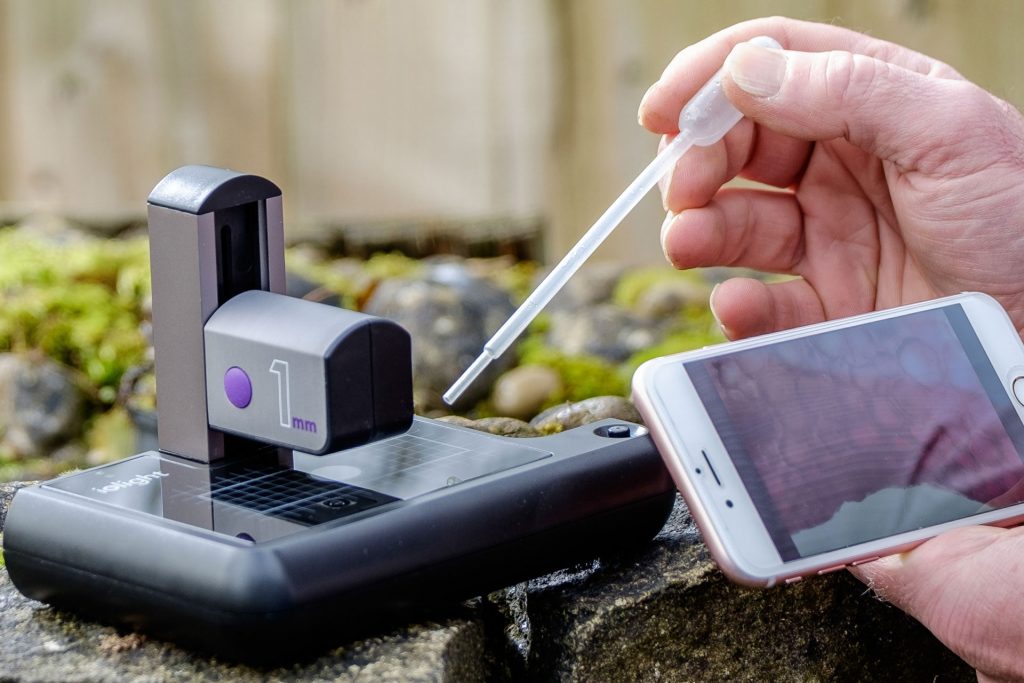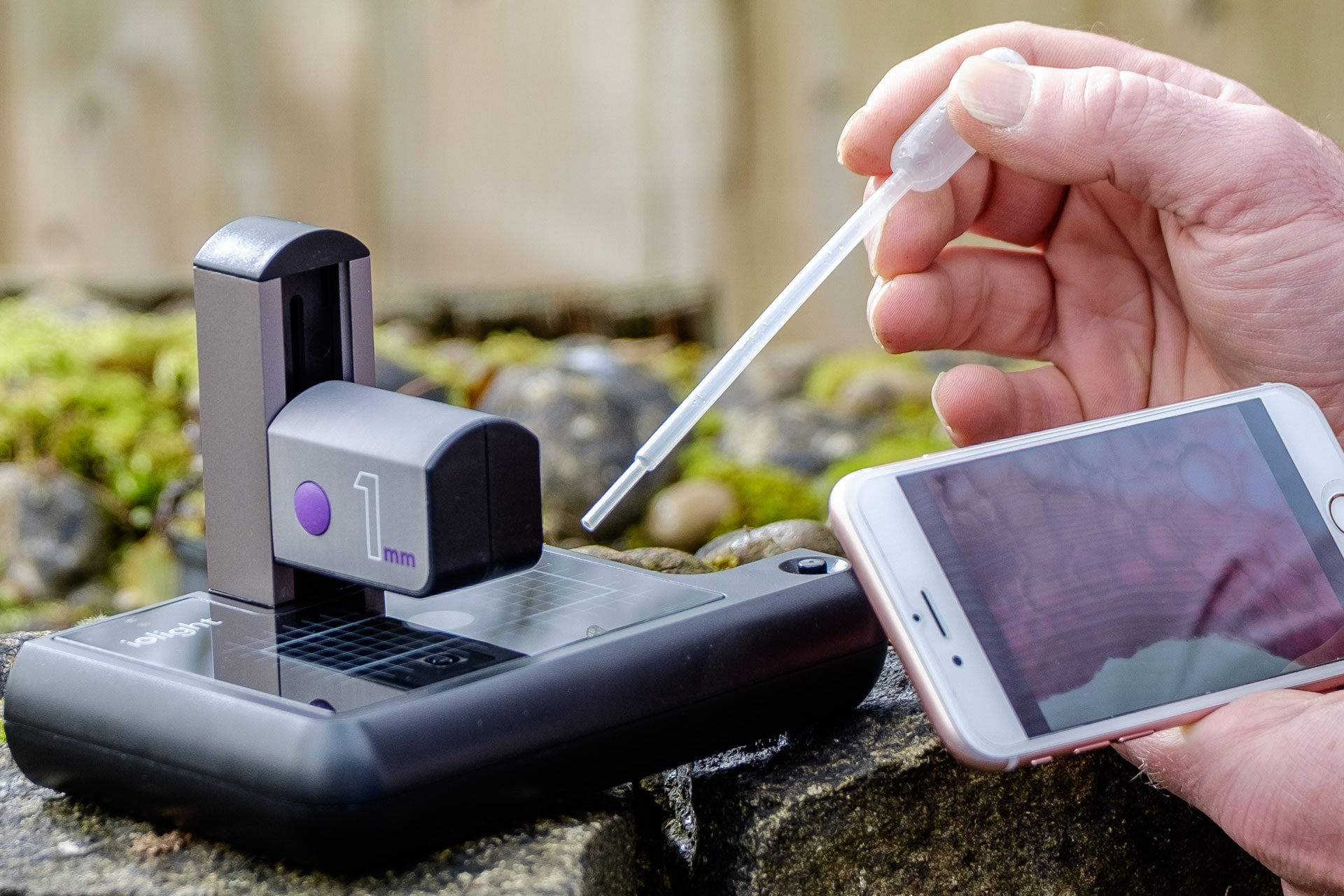 ioLight's compact inverted microscope can be left inside long term experiments. It is designed for use inside CO2 incubators so researchers can view progress without opening the door and disturbing experimental conditions. Images are displayed on a tablet outside the chamber and can be viewed remotely using Google Photos or other image sharing software.
Compact microscope fits inside small experiments including incubators
Inverted microscope sealed against humid CO2 atmospheres
Wireless link to an external display so the door stays closed
Remote viewing of images and sharing
Inverted microscope with darkfield and low and high NA brightfield illumination
Slides, petri dishes, flasks and well plates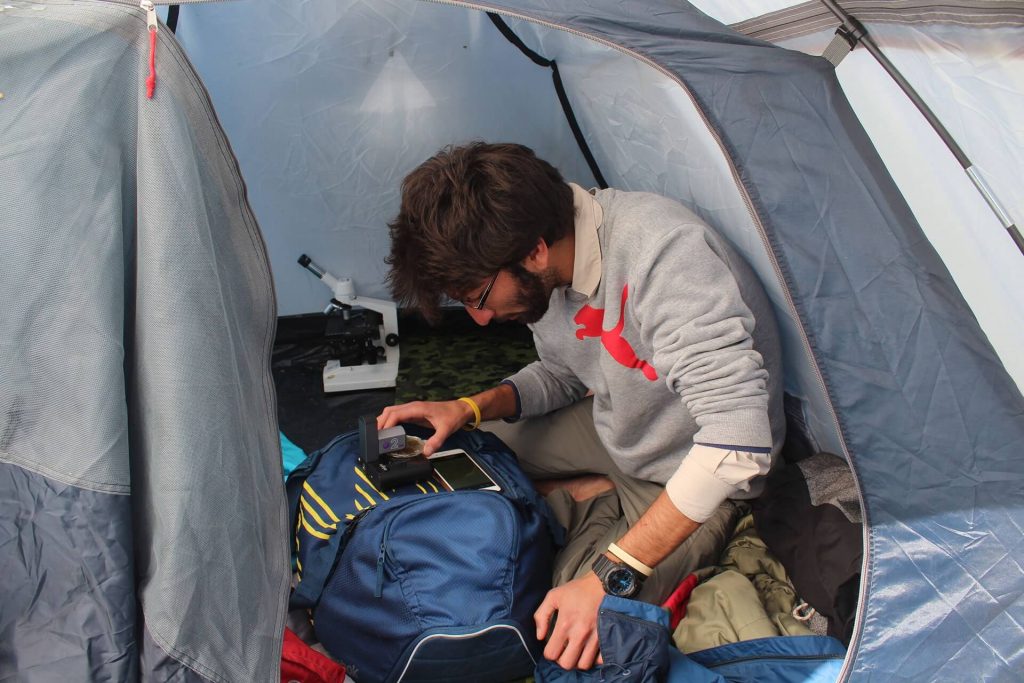 Compound microscopes are difficult to take to remote research sites and are easily damaged unless carefully packed in heavy, expensive flight cases. The ioLight microscope can be carried easily in your hand luggage so that you can share images and videos simply from your mobile phone. It has been proven in Kazakhstan, The Amazon and Antarctica. It has also been used by National Geographic on Mount Everest – the highest microscopy on the planet.
Go-anywhere microscope – fits a jacket pocket
Robust, product. Proven in Antarctica, The Amazon and on Everest
Uses the same sample prep as a compound microscope
Perfect for Haemocytometers, McMaster and most other counting chambers
Images and videos stored on your phone and shared to remote colleagues
Great tool for field service technicians
All day battery life. Suitable for solar chargers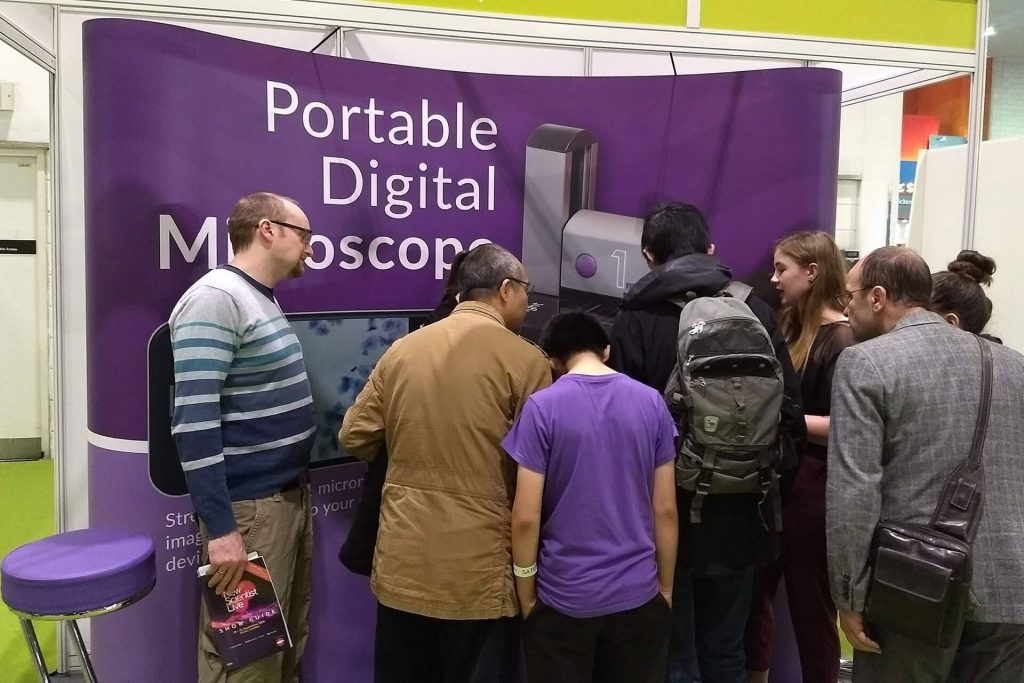 Compound microscopes are difficult, expensive and fragile. They discourage people from getting involved in science. The ioLight microscope is simple and uses technology familiar to all, they connect students and the public directly to the microscopic world without worrying about breaking anything. Try putting pond water videos on a big screen to draw the audience in.
Simple communication tool for scientists over 8
Everybody sees the same image – no more queues to view
Live videos on a TV or projector screen grab attention
Audiences and classes love screens
Robust and highly portable, ready for field trips, classrooms and exhibitions
Perfect for remote video microscopy learning over Zoom, Teams or Classroom
We even have a fluorescence microscope!