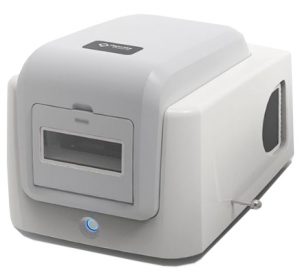 Glissando POL™ polarizing slide scanner
Fast, affordable polarized or brightfield slide scanning from Objective Imaging!
The new Glissando POL polarizing slide scanner from Objective Imaging delivers fast, high quality brightfield and polarized slide image acquisition in an affordable package. The compact footprint and simple, intuitive user interface make the Glissando POL polarizing slide scanner the ideal platform for quick scanning of standard 1×2 inch, 1×3 inch or 2×3 inch microscope slides.
The Glissando POL polarizing slide scanner integrates the latest automation technologies and high quality components with our proven Turboscan scanning engine to provide an effective, reliable—and affordable—tool for the rapid acquisition from standard glass microscope slides. Perfect for geologists or scientists viewing any type of birefringent samples.
The easy-to-use Glissando POL software's intuitive design and automated sample detection, focus setup, and barcode reading ensure excellent results, right out of the box.
Call one of our specialists today to learn how the Glissando POL polarizing slide scanner is right for your geological or birefringent applications. (281) 579-0342
Best images of any polarizing slide scanner!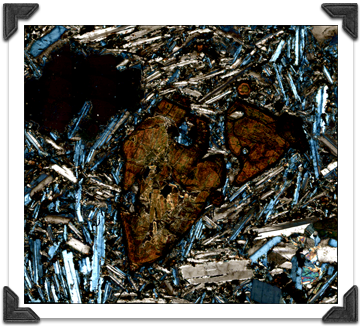 Huge dynamic range gives stunning incomparable images!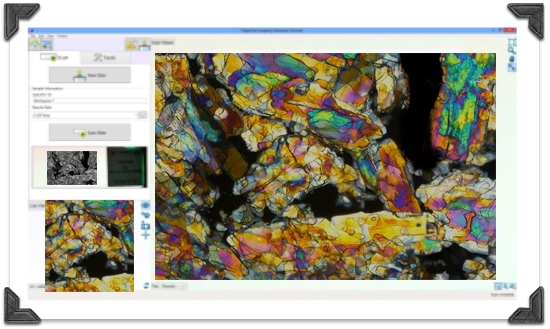 Specifications
Slide Capacity – 25 x 50 mm or 25 x 75 mm or 50 x 75 mm glass slides
Scanning Engine – TurboscanTM fast tiling technology with predictive focus
Sample Detection – Automatic region definition and focus setup
Scanning Objective Lens – 20x/0.75 Plan Apo (optional 10x/40x available)
Camera Sensor Size – 2048 X 2048 pixels
Sensor Image Resolution – 0.25 μm (with 20X objective)
Barcode Reader – Image-based 1D and 2D (Datamatrix, QR Code)
Control Computer – Integral Windows 10 mini-PC with Ethernet connection
On-board Storage – 500 GB solid state drive
Physical Dimensions – 320 mm (W) x 297 mm (H) x 447 mm (D)
Electrical – Universal AC input, 50/60 Hz
Glissando POL polarizing slide scanner
Excellent price/performance
Compact, convenient size
Scan geological or histology glass slides
Brightfield and polarized light scanning
Manual polarizer 0 or 90 degrees
Save images in multiple formats
1D and 2D barcode reader
Automatic sample detection and focus setup
Proven Turboscan™ high performance tile scanning engine
Integrated Windows 10 computer with Ethernet connection
Efficient, intuitive software interface