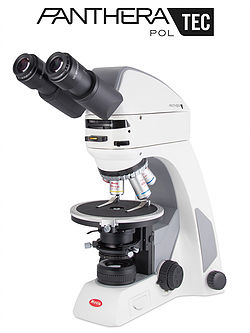 Panthera TEC POL
The Panthera TEC POL is a new generation of Polarization Microscopes combined with a focusable and centerable Bertrand lens system. The 2 models feature Strain-free Optics with a reversed 5 place nosepiece. The pre-centered rotating stage with 160mm diameter has a hard coated and chemical resistant surface. The 10/22 mm FOV high eyepoint eyepieces and 50/50 % trinocular observation tube allows Ergonomic observation and simultaneous photo-video imaging.
Choose between a simple model with transmitted illumination, capable of performing polarization, and a more advanced model that can offer both incident and transmitted illumination. Full and quarter wave plates plus a Quartz wedge plate are available along with a mechanical stage.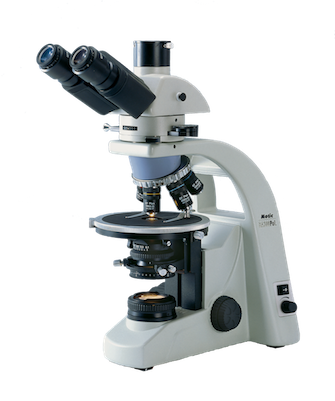 The Motic BA310 POL polarizing microscope is designed for the examination of birefringent samples for petrography and mineralogy, and can also be used for the synthetic materials industry where repeatable observations can be performed with efficiency and reliability. The BA310 POL also works especially well in educational settings or material professions, where affordability and ease-of-use are key requirements. The BA310 POL is the perfect microscope for all geological samples. Optional reflected light illuminator allows operation with opaque samples. Currently in Phase Out, check for lowest pricing!