Celebrating 37 Years in Business!
Providing high quality microscopes, cameras and imaging software to the bio-medical, industrial and scientific community since 1986!
Installation & Training
Improve your performance in the workplace, and stay on the cutting edge of technology. Accelerate your learning using the best electronic performance support systems. We offer one-on-one training, as well as for small groups; your place or ours. We partner with WebEx and offer remote consultation.
Our instructors bring exceptional skills to the learning experience. We offer advanced training in microscopy, digital photography, image processing and analysis.
We can tailor your training needs to any aspect of digital microscopy.
Our customers normally purchase imaging systems which must be assembled and calibrated before they can be used. Meyer Instruments offers the experience to provide this service throughout our territory.
If we are installing a digital camera or automated microscope to a computer system it is highly recommended to have an Internet connection and telephone located near by. After sale technical support with WebEx can be used to handle most issues. Downloading updates and drivers is also easily accomplished.
If you will be using your own computer be sure to determine whether or not it will meet our recommended criteria before you purchase.
Service & Repair
Meyer Instruments, Inc. offers factory authorized service for all the products we carry.
Cleaning, refurbishing, realignment, calibration and customization of your microscopes or related accessories is available.
Besides cleaning and service we offer refresher courses on how to use your microscope properly, how to take stunning photomicrographs and how to use your imaging software to its fullest potential.
Rental services for photomicroscopy and image analysis by a factory trained expert are also available for $250.00 per hour at our site.
Contact Rob Meyer for more information at rdm@meyerinst.com
Digital pathology slide scanning service
Digital pathology slide scanning service is also available with prices as low as $25.00 per slide scan. Any quantity and any type of 1×3 inch microscope slide can be scanned and saved for review, publication or analysis. Scan histology slides, H&E's, blood smears, bone marrows, FNA's. special stains and even fluorescence samples from 1.0x up to 700x magnification!
Contact Rob Meyer for more information at rdm@meyerinst.com
Our Showroom: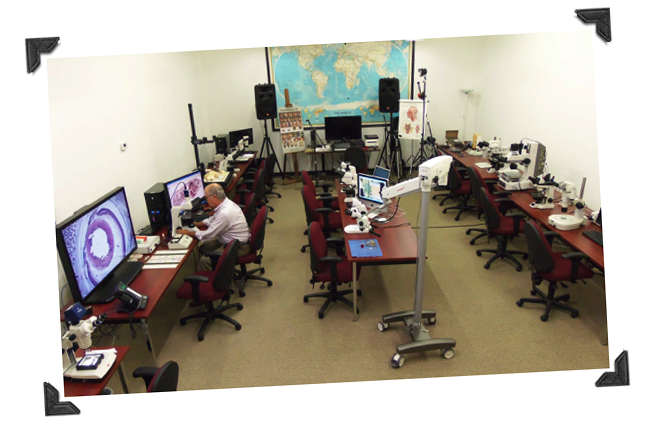 4202 Bear Lodge Court
Houston, TX 77084
Meyer Instruments, Inc. is an independent microscope and imaging dealer specializing in digital systems for microscopy. 
We provide state of the art optical microscopes, stereomicroscopes, surgical microscopes, digital cameras, digital scanners (both micro and macro) and imaging software for all biomedical, industrial and clinical applications. Additionally, we offer an array of microscope accessories including illumination devices, heating stages, lenses, micromanipulators, pipette pullers, copy stands and "C' mounts. We have three of our own successful products including the PathScan Enabler V, the Prelude light source and the Realtime Telepathology Imaging System (RTIS). For the past 37 years we have been offering outstanding product knowledge and imaging expertise. We offer systems integration and custom software developer. 
Meyer Instruments, Inc. office is located in West Houston. Most all of our instruments can be demonstrated remotely or in person. Our markets include biomedical research, pathology, industrial and geological microscopy. Customers include medical schools, universities, hospitals, clinics, oil companies, semiconductor manufacturers, government institutions and companies whose focus is bio-medically or industrially oriented. We offer instruments from student level microscopes and stereomicroscopes to specialized long distance microscopes, macro lenses and digital scanners. Digital slide scanning and macro photography are two of our many strengths! Pathologists love our product line of microscopes, cameras and  and scanners!
Meyer Instrument's Inc. concentrates but is not limited to the area including Texas, Oklahoma, Arkansas, Louisiana and Mississippi. Our factory trained sales representatives make onsite calls and can provide in-house demonstrations. Comprehensive installation and training is offered with every sale. Our staff is comprised of talented people all with a scientific backgrounds. Training after the sale is critically important and our people provide comprehensive instruction. Remote internet support after the installation is available to all our clients. Custom software applications can be tailored to your specific needs. We work with a senior program engineer Matt Batchelor, with over twenty three years of experience. We offer proof of concept proposals for all custom applications.
Meyer Instruments, Inc. offers factory authorized service through several local affiliate companies. Cleaning, refurbishing, realignment, calibration and customization of your instruments are available.
Meyer Instruments, Inc. can also be your source for a variety of 3rd party hardware, software, and microscope based consulting services required to complete your project. We offer hourly consulting and contract services including microphotography, scanning and image processing and analysis.