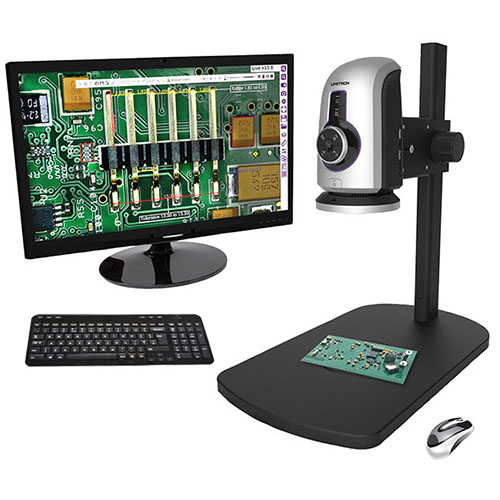 Unitron OMNI Core
UNITRON's OMNI Core Digital Inspection System is an integrated, full HD (1080p) digital microscope and measurement instrument that operates without a PC. The OMNI Core platform is fully customizable and incorporates a highly configurable and upgradeable set of inspection and measurement applications such as focus stacking, 2D measurement, side by side and overlay image comparison, custom on-screen reticle, lens distortion correction, DXF file import, and automatic measurement with on-screen pass/fail result.
The OMNI Core's platform has a powerful image processing and control engine that delivers superb full HD live video image quality at 60 frames per second enabling it to be used as a solution in a broad range of quality control, testing, rework, assembly, inspection and documentation tasks.
The GUI (Graphical User Interface) is a custom designed mouse-controlled interface delivering intuitive and efficient operation and control of the full application suite.
Its unique ability to stay in calibration over the entire zoom range is one of many features that differentiates this system from other digital inspection systems.
Camera control functions (auto/manual focus, exposure, gain, brightness, white balance) ensure ultra-sharp, high contrast imaging.
The OMNI Core's quick response, cable-free interchangeable illumination modules with intensity and quadrant control, ensure shadow-free illumination and glare reduction.
Unitron OMNI Core Series
Standard Specifications
Standard Specifications
Camera Resolution
HD 1080p (1920 x 1080); 60fps; 30x optical / 2x digital
Zoom
5D lens; 2.5x-122x (24″ screen)
Basic Functions
Auto / Manual focus, brightness adjustment, magnification adjustment, snapshot, overview, high contrast mode, height adjustable
Core Applications
Lens distortion correction, user privileges, document to network, send e-mail
Optional Applications
Automatic measurement, 2D measurement, annotation and graticule, import DXF files, image stacking, side by side image comparator, overlay image comparator
Reponse Time
5ms
Input/Output Modes
HDMI Output; USB 2.0 x4, RJ45 Ethernet network connector, General purpose IO port x3; DC 24v power jack
Monitor Format
HD ready or Full HD16:9 (recommended) – monitor not included
Power Supply
100 / 240v, 50/60Hz
Power Consumption
24 watts
Weight
3.85lbs. (1.75kg)
Dimensions
(216mm (d) x 125mm (w) x 136mm (h)
Temperature
Storage:  -10C to 60C; Operating:  5C to 40C
Optional Accessories
LED ring lights, Digital Cameras, Fiber Optic Illuminators, Fluorescent Ring Illuminators, Auxiliary Objectives, Iris Diaphragm, Beam Splitter/Photo Port, Coaxial Illuminator, Polarizer/Analyzer, and a Fluorescence Attachment.