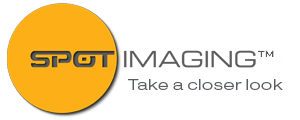 SPOT Imaging manufactures SPOT digital microscope cameras and life science imaging systems for pathology, bioresearch, and OEM applications. The systems are recognized worldwide for their easy-to-use workflow, excellent performance, and high reliability.
SPOT Imaging was founded in 1967 and is headquartered in Sterling Heights, Michigan.
All SPOT digital microscope cameras come with the SPOT Software™, an easy to use image capture application full of tools for microscopists, including scale bar, annotations, measurements, custom reporting, and time-lapse recordings. Cameras run on both Windows® and Macintosh® computers, and a Software Development Kit is available for integration with custom software. All SPOT cameras ship with a 2-year manufacturer's warranty and our exceptional track record for building reliable cameras that last for years.