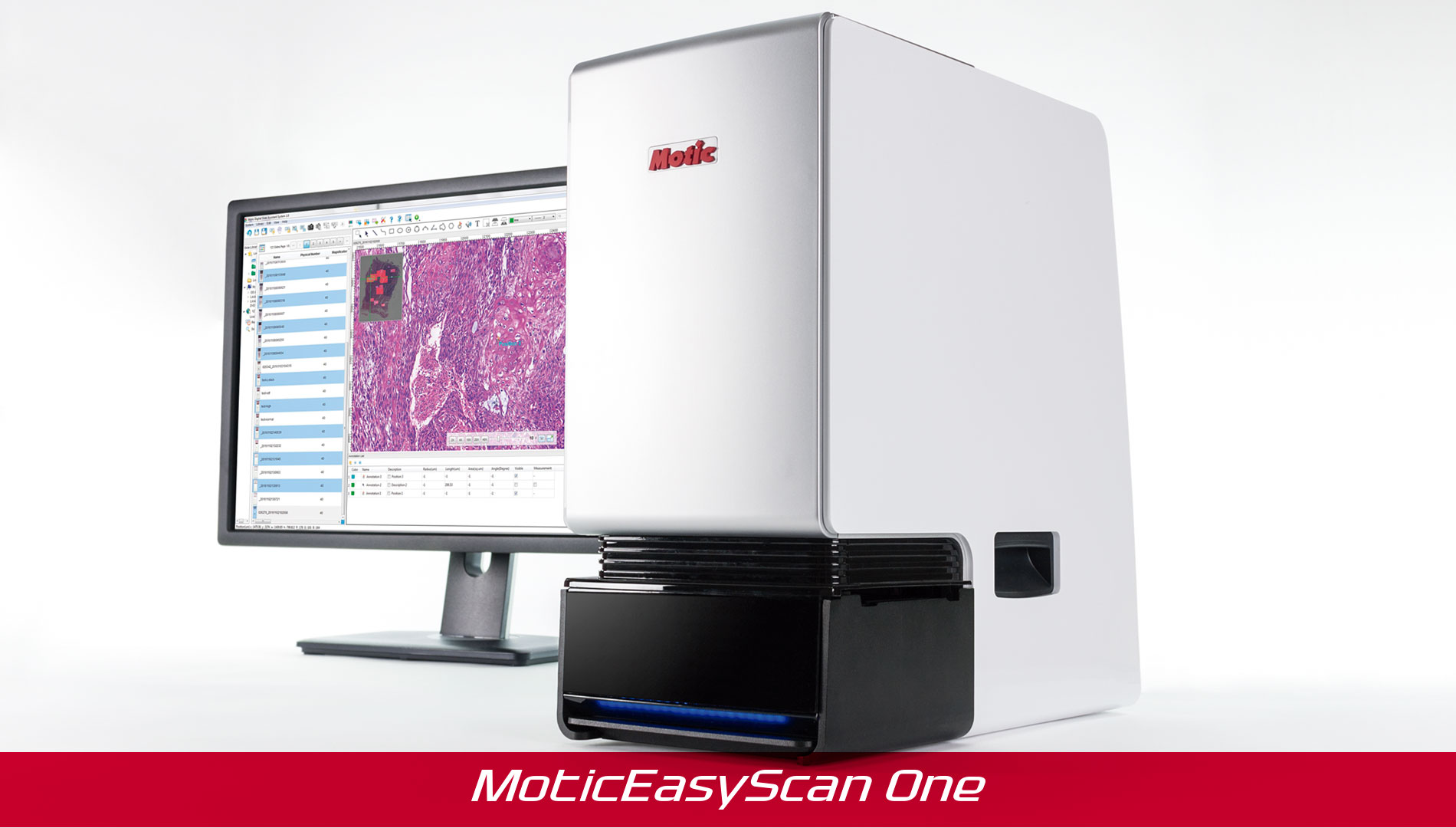 Motic EasyScan One Slide Scanner
BRING THE LAB TO YOUR DESKTOP
The Motic EasyScan One is the best "low cost" desktop slide scanner on the market today. Compact, powerful, and deployable anywhere, this scanner is the perfect assistant for any digital slide application. Share your slides with a single click, or switch to live mode for direct specimen observation. This scanning system sets a new industry benchmark with its affordable price and high performance, seamlessly integrating into any workflow and bringing lab-quality scanning to any work environment.
Motic EasyScan One slide scanners use a specially designed high-numerical aperture (n.a.) Plan Apochromatic objective ( 20x/0.75, ) to maximize color fidelity and resolution power. Combined with a large 2/3″ CMOS sensor, the Motic EasyScan One is able to image large fields of view in a split second, while delivering image detail equivalent to a high power 60X lens. REQUIRES OPTIONAL Windows 10 Computer and Monitor.
Hardware Features:
Single (1) slide capacity (5 cassettes included)
Complete scan time is 160 seconds (40x, 15mm x 15mm area) and 60 seconds (20x, 15mm x 15 mm area)
Three (3) place motorized nosepiece with room for three (3) objective lenses
Three (3) Camera System 2/3 "CMOS, 5M Pixel ; Resolution: 2448 x 2048, 15 fps, 3.45 X 3.45μm / pixel,
Single USB3 connectivity (faster and clearer)
Control Systems XYZ auto, repeat positioning accuracy ≤ 1um
Optical system CCIS, 10W LED illumination, working time > 30,000 hours
Includes high resolution S-Plan Ach 10x/0.3, and Plan Apo 20x/0.75  objective lenses to produce ultra-clear, color correct images
(Optional Plan S-Apo 40x/0.75 available)
Actual Image Resolution, 20x: 0.5μm / pixel, 40x: 0.25μm / pixel