Promicra QuickPHOTO – High Dynamic Range Module


Microscope Imaging Software
High Dynamic Range (HDR) Imaging Software Module for QuickPHOTO
High Dynamic Range (HDR) additional software module for QuickPHOTO programs is a powerful new visualization tool that allows you to see the entire dynamic range of your microscopic or stereomicroscopic samples. Traditional non-HDR digital cameras can only provide a fraction of a samples luminosity. Information in darker parts of the image are lost as well as information in saturated or extremely bright areas of the sample. Microphotographs with a limited exposure range result in the loss of detail in highlights or shadows. The module can be used for creation of HDR images of static samples acquired using microscopes, for macro images as well as for standard photography.
Features Overview:
Creation of excellent quality HDR images by merging series of bracketed images
Automatic or manual merging methods available. Following adjustments are available: overexposure compensation, underexposure compensation, midtone, brightness, contrast, saturation and hue.
Interactive preview and histogram of an HDR image
Suitable for microscopy images, macro images as well as standard photography
Can be used with Deep Focus (EDF) module to produce fully focused HDR images (EDF + HDR).
How It Works:
The procedure behind a creation of an HDR image is following:
Acquisition of Series of Bracketed Images
First step is the acquisition of series of bracketed images of a static sample (with consecutive change of exposure time). A series of bracketed images might look e.g. like this one:

Creation of an HDR Image
In second step a series of bracketed images is merged to an HDR image by HDR module.
The whole process can be done manually or it can be automated. The level of automation depends on a type of used imaging device (for more information see Automation tab).
---
Video Tutorials:
How to use HDR module with PROMICAM USB 3.0 digital cameras (Automated HDR Image Creation):
Automated HDR Image Creation:
The process of acquisition of series of bracketed images and HDR image creation can be automated, when following cameras are used:
Canon® EOS Digital SLR Cameras
Lumenera® Infinity cameras
This option makes the creation of an HDR images very comfortable and suitable also for routine work, because there is no need to manually acquire the series of bracketed images and prepare them for merging.
---
Features Available for Various Imaging Devices:
Use with Deep Focus (EDF) Module:
The HDR module can be used together with Deep Focus (Extended Depth of Filed) module to automatically acquire fully focused (EDF) HDR images.
In order to do so, following additional accessories are needed:
---
Gallery of Images Acquired Using HDR + Deep Focus (EDF) Modules Compared to Standard Deep Focus (EDF) Images: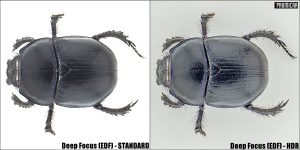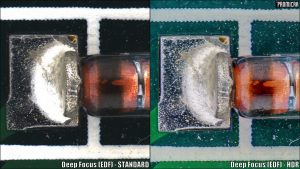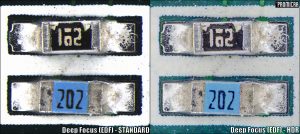 All images were acquired using HDR module, Deep Focus module, PROMICAM USB 3.0 camera, SUNFLOWER illuminator, SZ2-ST-ZM motorized stand on OLYMPUS® SZX7 stereomicroscope.
Here you can find an image of the used microscope setup.
System Requirements:
Minimum Requirements
Recommended Specifications
Processor
Single-core 2.4 GHz
Multi-core processor
Operating Memory
2 GB
 More than 2 GB
USB Ports
2x USB 2.0/3.0
2x USB 2.0/3.0
Operating System
Microsoft® Windows®
Vista/7/8/8.1/10 32 bit or 64 bit versions
Microsoft® Windows®
7/8/8.1/10 64 bit
Monitor Resolution
1024 x 768 pixels
1920 x 1080 pixels
QuickPHOTO High Dynamic Range Module Brochure

QuickPHOTO High Dynamic Range Module User Guide