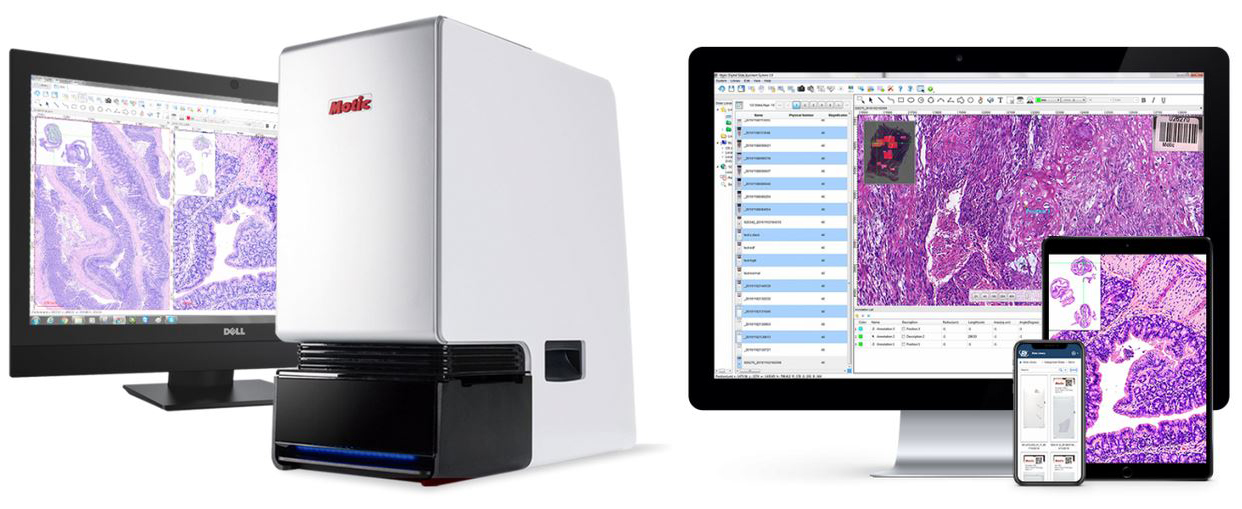 Now more ever than before, the Motic FS-Live Slide Scanner for Telepathology is your answer to real-time remote, robotic control and display.
The FS-Live is optimized for frozen sections, cytology, ROSE, and FNA adequacy evaluation.
View and operate anywhere REMOTELY.
Single (1) or six (6) slide capacity versions available.
The Motic EasyScan FS-Live telepathology system for frozen cases or fine-needle aspiration is here! This advanced, microscope-based whole slide imaging system provides high quality real-time images to pathologists from anywhere in the world, specifically for remote review and consultation. The FS-Live eliminates the need to send pathologists to out of the way hospitals solely to read frozen sections. The system allows any pathologist on the internet to view a case slide in a matter of seconds. The FS-Live scanner is best "low cost" Real-Time solution on the market today. Compact, powerful, and deploy-able anywhere, these scanners are the perfect assistant for any digital slide sharing application.  Enable live mode for direct specimen observation and robotic control or capture and share your slides with a single click. Its continuous automatic focus allows 2x, 4x, 10x, 20x, 30x and 40x fields of view. The FS-Live enables seamless integration into any workflow!
Motic EasyScan FS-Live slide scanners use specially designed high-numerical aperture (n.a.) Plan Apo objectives (4x/0.1, 10x/0.3, 20x/0.75) to maximize color fidelity and clarity. Combined with a 12 MP large 2/3″ CMOS sensor, the Motic EasyScan FS-Live is able to image large fields of view in a split seconds with stunning image detail!
Save time by isolating a portion of the slide and capturing all the layers of the image in one Z-stack composite; you scan only what you need to see and nothing that you don't.
Features include:
Macro Heatmap: Tracks which areas on the slide have been viewed thus saving time and duplicating efforts.
Live Gamma Adjustment: Digitally lighten over stained nuclei to reveal structural details.
Live Mode: A true robotic microscope-scanner! Users can remotely control focus, change objectives and move the XY stage from their own computer.
Scan Mode: Users can scan and save entire images or ROI's in seconds and save for review or share later in multiple formats.
Seamless Integration into Existing Workflows: An intuitive, uncomplicated interface built for collaboration through networked features such as a notepad for immediate onscreen communication, an add-marker function, and more.
Single (1) slide or (6) slide capacity.
Complete scan time is 60 seconds (20x, 15mm x 15 mm area) and 160 seconds (40x, 15mm x 15mm area)
Motorized nosepiece with three (3) objective lenses, Plan Ach 4x/0.1, Plan S-Apo 10x/0.3 and Plan Apo 20x/0.75
Real-Time video display with robotic, remote control
Microscope XYZ movements controllable from keyboard, mouse or virtual joystick
Three (3) Camera System 2/3 "CMOS, 5M Pixel ; 12 MP Resolution: 4000 x 2000, 15 fps
3.45 X 3.45μm / pixel, Single USB3 connectivity (faster and clearer)
Control Systems XYZ auto, repeat positioning accuracy ≤ 1um
10W LED illumination, working time > 30,000 hours
Complete with Windows 10, All-In-One computer with HD or 4K Display
Software Attributes:
Simple, intuitive user interface
Continuous AUTOFOCUS
Live measurements, manual tagging and notepad
Keyboard and or mouse control
Capture single or Z stack images for cytology samples
2x, 4x, 10x, 20x, 30x and 40x LIVE display on a 4K monitor
Gamma adjustable, for over or under stained samples
Traditional scan features for whole slide or ROI
Standard, High, EDF and Z stack modes
Free DSA Viewer