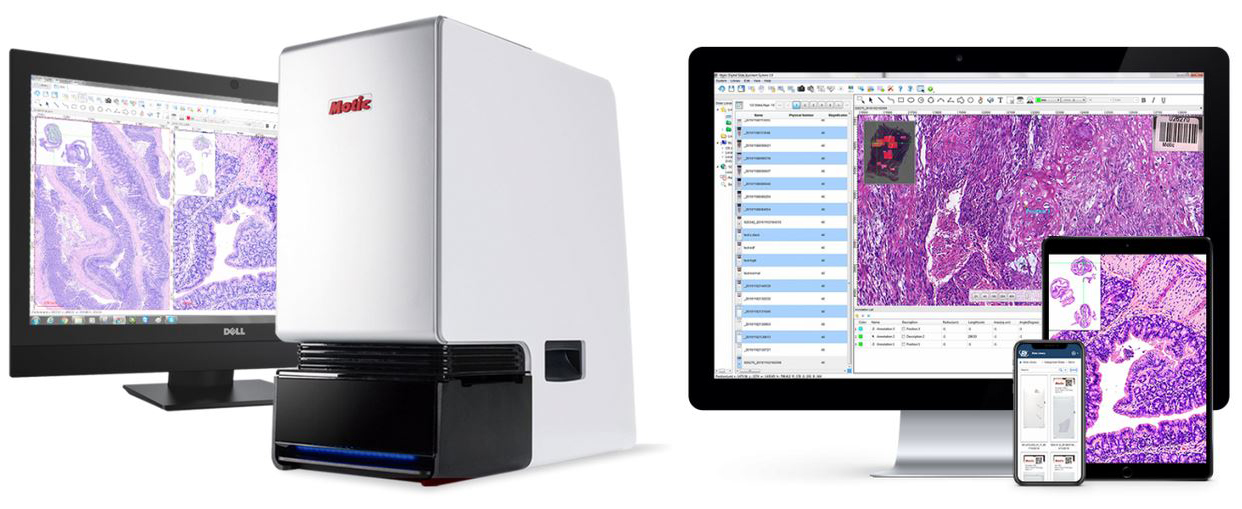 Motic EasyScan FS-Live Slide Microscope-Scanner for Frozen Sections and Fine Needle Aspirations.
Bring remote robotic control and real-time display to your desktop from anywhere. All at a price you can afford!
The Motic EasyScan FS-Live telepathology system for frozen cases or fine-needle aspiration is here! After a successful launch at USCAP 2019 in Washington D.C. this advanced, microscope-based whole slide imaging system provides high quality real-time images  to pathologists from anywhere in the world, specifically for remote diagnosis and consultation. The FS-Live eliminates the need to send pathologists to remote hospitals solely to read frozen sections. The system allows any pathologist on the network to view a case slide in a matter of seconds. It is the best "low cost" Real-Time desktop microscope-slide scanner on the market today. Compact, powerful, and deployable anywhere, this scanner is the perfect assistant for any digital slide sharing application.  Enable live mode for direct specimen observation and robotic control or share your slides with a single click. This scanning system sets a new industry benchmark with its affordable price and continuous automatic focus for seamless integration into any workflow.
Motic EasyScan FS slide scanners use specially designed high-numerical aperture (n.a.) S and Plan Apochromatic objectives (10x/0.3, 20x/0.75, 40x/0.75) to maximize color fidelity and resolution power. Combined with a large 2/3″ CCD sensor, the Motic EasyScan FS-Live is able to image large fields of view in a split second, while delivering image detail equivalent to a high power 75X objective lens.
Key Features:
Continuous Autofocus:
 Motic focusing technology keeps the image PERFECTLY IN-FOCUS, regardless of user XY movement or an uneven sample.
Live Mode:
A true robotic microscope-scanner! Users can remotely control focus, change objectives and move the XY stage from their own computer.
Liquid-Moisture Resistant:
Never worry about damage to internal components of the scanner as a result of wet or leaky slides.
Simple and Efficient Operation:
Log in -> Click once -> Interpret
User-Centered Design:
Developed in conjunction with one of the top cancer hospitals in the U.S., every feature is designed with convenience and usability in mind.
Hardware Features:
Single (1) slide or (6) slide capacity
Complete scan time is 60 seconds (20x, 15mm x 15 mm area) and 160 seconds (40x, 15mm x 15mm area)
Motorized nosepiece with three (3) objective lenses, S-Plan Apo 10x/0.3, Plan Apo 20x/0.75 and S-Plan Apo 40x/0.75
Real-Time video display with robotic remote control
Microscope XYZ movements controllable from keyboard, mouse or virtual joystick
Three (3) Camera System 2/3 "CCD, 5M Pixel ; Resolution: 2448 x 2048, 15 fps
3.45 X 3.45μm / pixel, Single USB3 connectivity (faster and clearer)
Control Systems XYZ auto, repeat positioning accuracy ≤ 1um
10W LED illumination, working time > 30,000 hours
Complete with Windows 10, All-In-One computer with 4K Display
Software Features:
Simple, intuitive user interface
Continuous AUTOFOCUS
Live measurements
Capture single or Z stack images at the press of one button
2x, 4x, 10x, 20x, 30x and 40x LIVE display
Gamma adjustable
Traditional scan features for whole slide or ROI
Standard, High, EDF and Z stack modes
AVAILABLE IN SINGLE (1) AND SIX (6) SLIDE CAPACITY MODELS!