The Excelis HD color microscopy cameras set a new standard for excellence in high definition imaging for scientific and industrial applications. The Excelis HD cameras are full featured offering super fast frame rates in video preview, with unrivaled color fidelity and on-board image capturing capability.
The Excelis HDS Camera & Monitor Systems allow users to view and capture images and video directly to the supplied SD card without the need for a computer or separate monitor! The 11.6″ HD display offers beautiful, crystal-clear image quality, and vibrant, true-to-life color with exceptional viewing from all angles. It can be used as a stand-alone system, or connected to a PC via USB cable where images can be displayed simultaneously on the Excelis HDS monitor and the PC. For even more flexibility and ideal for teaching environments, the HDMI architecture allows the Excelis HDS to be connected to an HDMI-enabled projector as well.
CURRENTLY OUR MOST POPULAR CAMERA OF ANY BRAND!     CALL US AT 281-579-0342 FOR A QUOTE.     ALWAYS IN STOCK !     FREE STANDARD SHIPPING IN THE US.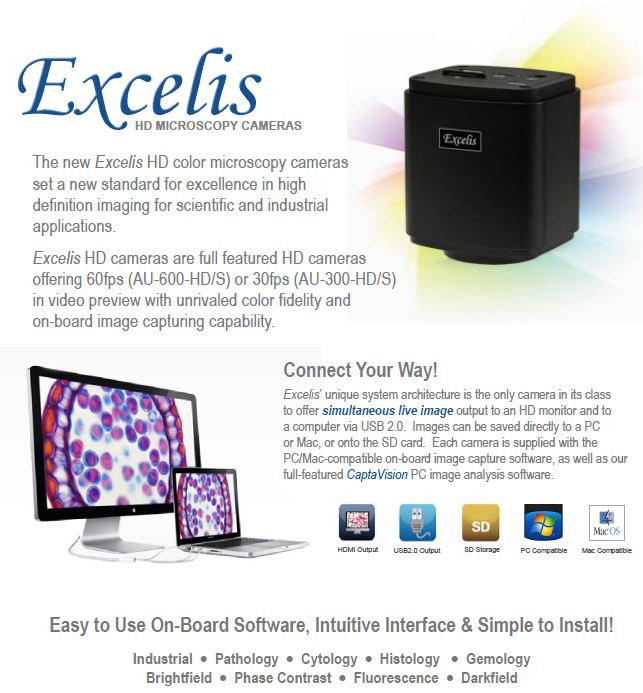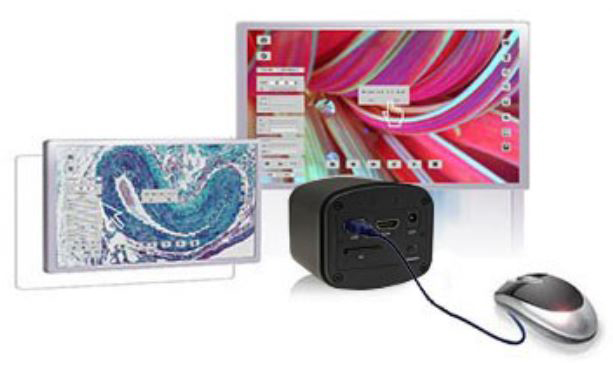 Built-in mouse control software for HDMI viewing and recording without a computer. Simultaneous live image output to an HD monitor and to a computer via USB2.0.
The Excelis HDS has the camera mounted directly to its own monitor, making it a stand-alone system and a space saving option for the lab or classroom.
Excelis High Definition Video Camera, 1080P HD, 30 fps with USB 3.0, 1/2.8″ CMOS
Output: 4GB SD Card 1920 x 1080 P, and /or 6 MP (3284 x 1840) via USB2 or USB3 to CPU, simultaneous HDMI
Advanced Camera Controls: Live/still image measurement and annotation, Flat field correction; Extended depth of focus (EDF); Image stitching from still image capture; High Dynamic Range (HDR) function; Fluorescence image settings; Fluorescence multi-color channel merge; monochrome and/or color images!
Image Types: JPEG, BMP, TIFF and RAW
Windows 7, 8, 10 support via USB2 , No Mac support
Includes: Excelis HD Camera, HDMI Cable, USB 2.0 Cable,
12V Power Adapter, 4GB SD Card, USB Mouse, CaptaVision PC
Imaging Software