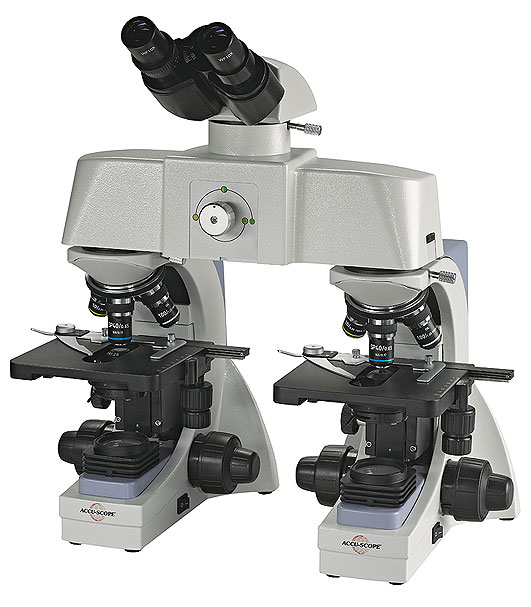 ACCU-SCOPE 3025 Comparison Microscope
The 3002-CB Series is an excellent classroom microscope for teaching forensics and comparative sciences. By allowing the comparison of two slide samples side by side users can view the slides in full right image, full left image, split image or super-imposed. Affordable and practical for educational institutions the 3002-CB Series allows for independent focusing of each microscope and is available with an optional trinocular viewing head for use with HD cameras or digital cameras for classroom viewing and image capture. 
Simplicity in Design
Users can easily select the viewing mode – full field right side, full field left side, superimposed or split image by rotating the knob on the center of the comparison bridge. A color coded label makes identification of the viewing mode simple and easy.
Fine Focus, Results Oriented
With its unique fine focus mechanism on the comparison bridge, the 3002-CB delivers best in class image quality.
Illumination
Available in either a halogen or LED configuration, the 3002-CB Series allows you to choose the best option for your particular application.
Speak with one of our specialists today to see if the 3002-CB Series is right for you!
(281) 579-0342
Accu-Scope 3002-CB Forensic Comparison Microscope
Optical Excellence
Binocular or Trinocular (20% / 80%) viewing heads

Digital and HD Cameras

Plan achromat objectives: 4x, 10x, 20xR, 50xR oil, 60xR, 100xR oil objectives

Achromat objectives: 20xR and 60xR objectives

Darkfield

Reticles

Simple polarizer/analyzer
Miscellaneous
Microscope dimensions: (L) x 178mm (W) x 360mm (H) x 483mm

Physical weight: 34lbs.
Warranty
5 year limited warranty for parts, labor and electronic components
1 year warranty on LED bulb