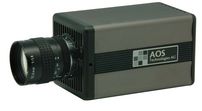 S-PRIplus High Speed Camera
S-PRIplus our entry level portable high speed camera. The S-PRIplus camera with its unique set of options can be scaled to the application. With S-PRIplus you never buy functionality you do not require. A fact that eases the pressure on your budget. Should in a later stage the application require a new option simply add this specific option. Adding an option to the camera you posses is easy and performed "on the spot". No return of the equipment back to manufacturing is necessary.
S-PRIplus
Product Highlights
Basic resolution of 800 x 600 pixel up to 1250 fps responce
900 x 700 pixels @ 1,000 fps
Impressive HD format (720p) up to  700 fps
8 Bit dynamic range, 10 Bit optional
Re-chargeable battery
Gigabit Ethernet interface
Excellent  light sensitivity in color or mono
Options (can be added anytime, NOT for F1, F2 models)

Option 1: Gain control, adding multiple gain settings and a 10 bit resolution
Option 2: High Resolution up to 1,280 x 1,024 up to 500 fps
Option 3: Extended speed of up to 4,200 fps
Option 4: extended I/O channels with multiple event markers
Option 5: External Synchronization possibilities to phase lock multiple cameras
Option 6: Full version of Imaging studio control software with enhanced control and image processing features.
S-PRI F2
An entry level system where the resolution is fixed either to 1,280 x 1,024 pixels up to 500 fps or 1,280 x 720 pixels up to 700 fps. A truly economical system.
S-PRI F1
An entry level system where the resolution is fixed either to 800 x 600 pixels or up to 1,000 fps or 640 x 480 up to 1,000 fps.
Optional Hardware
(this hardware upgrade is possible in factory only)
Built in  flash memory (removable or fix)
Auto Exposure control
IRIG-B time stamp and synchronization.