Stereomicroscope Fluorescence Adapter
The NIGHTSEA™ Stereo Microscope Fluorescence Adapter (SFA) adapts virtually any stereomicroscope (dissecting microscope) for fluorescence with no modification to the stereomicroscope itself. The modular design lets you easily switch between several different excitation/emission combinations to work with a variety of fluorescent proteins and other fluorophores. There are now six different LED excitation/emission combinations available, plus white light. Bright, LOW cost fluorescence, for your stereomicroscope, finally!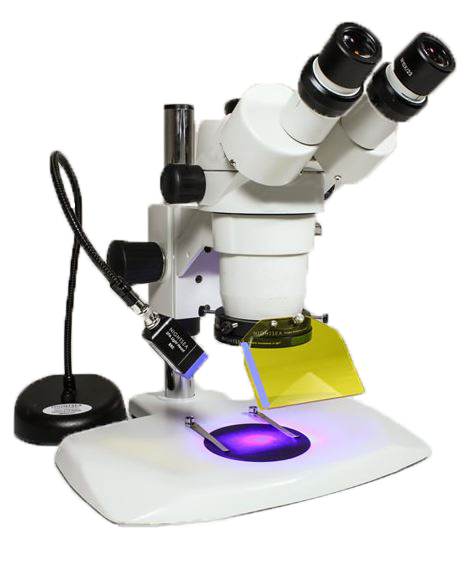 Fluorescence isn't just for
research microscopes anymore . . .
Now sort your samples on your inexpensive, laboratory grade stereomicroscopes to facilitate micro-manipulation and dissection. Expand stereomicroscope fluorescence from your research lab to your classroom.
Installs in seconds – magnetic filter just clicks into place. Interchangeable excitation/emission combinations. Move from stereomicroscope to stereomicroscope or purchase multiple units.
No modification to your stereomicroscope needed.
Low cost, affordable, inexpensive epi-fluorescence for any stereomicroscope.
Stretch your lab budget. Economical enough for classroom use.
Adds significant fluorescence capability to your as your lab as it grows.
6 different wavelength sets, plus white light
Royal Blue, with longpass barrier filter, Multiwavelenght Light. Excitation, 400-460nm, Emission – 500nm longpass filter. Works with GFP, eGFP, FITC, calcein, and lucifer yellow.
Royal Blue, with bandpass barrier filter, ONLY emits Green Light. Excitation – 400-460nm, Emission – 500nm-560nm bandpass filter. Works with GFP, eGFP, FITC, calcein, and lucifer yellow.
Green, Excitation – 510-540nm, Emission – 600nm longpass filter. Works with DsRed, TdTomato, RFP and others.
Cyan, Excitation – 490-515nm, Emission – 550nm longpass filter. Works with YFP, Venus and others.
Violet, Excitation – 400-415nm, Emission – 460nm longpass filter. Works with CFP and others.
Ultraviolet, Excitation – 360-380nm, Emission – 415nm longpass filter. Works with DAPI, Hoechst and others.
This light is especially useful for sorting tricky phenotypes.
James Major
University of Northern Colorado
NIGHTSEA Applications
Drosophila, Zebrafish, and C. elegans – quickly screen your fluorescent genotypes
Fluorescence-aided dissection, injection, or micro-manipulation
Biofluorescence
Bioluminescence
Biophosphorescence
Forensic sample identification
Gemology, mineralogy, geology
Organic liquid identification
Free up your research-grade fluorescence stereomicroscopes for more demanding work
New faculty start-up budgets will love this affordable, inexpensive, fluorescence stereomicroscope solution
SFA finally brings low cost fluorescence into the teaching laboratory
The NIGHTSEA Stereomicroscope Fluorescence Adapter kit consists of:
Flexible gooseneck lamp base with power supply
LED fluorescence light head (Royal Blue, Green, Cyan, Violet, Ultraviolet and White)
Ring adapter for stereomicroscope
Barrier filter
Filter shield
NIGHTSEA Stereomicroscope Fluorescence Adapter
The light head, barrier filter, and filter shield are interchangeable so that you can easily switch between excitation/emission light+filter combinations.
The filter mounting adapter fits up to 67mm to work with the majority of stereomicroscopes.
Once you are set up for one excitation/emission wavelength combination, additional low-cost combinations can be added by purchasing a kit that consists of a light head, barrier filter, and viewing shield. These three elements can be removed and replaced in seconds, and color coding ensures that you are using the right combination. The barrier filter clicks on to the ring filter mounting adapter.
adapter magnetically, so it is easy to remove it to switch back to white light viewing.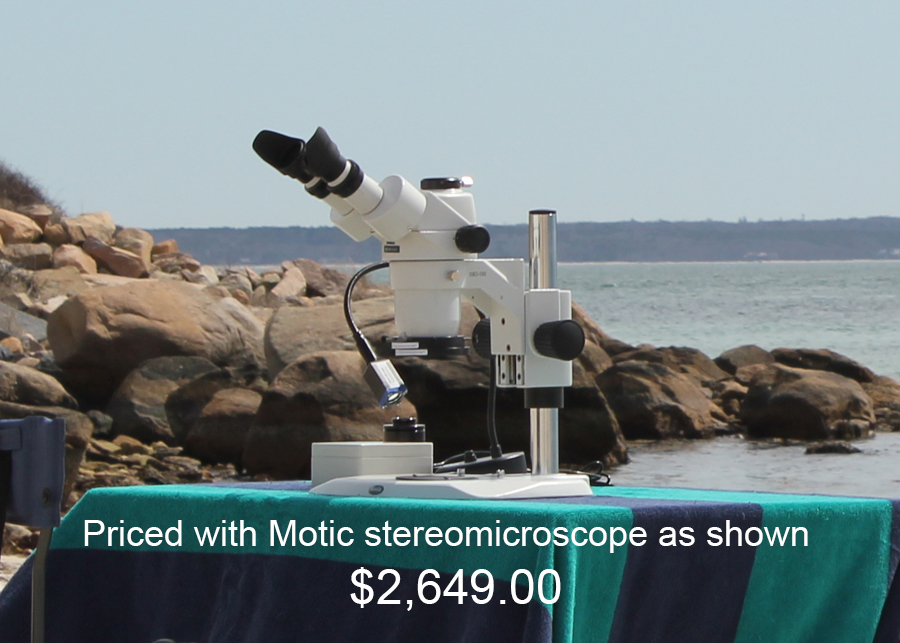 Every fly lab needs one of these!
Ruth Johnson
Wesleyan University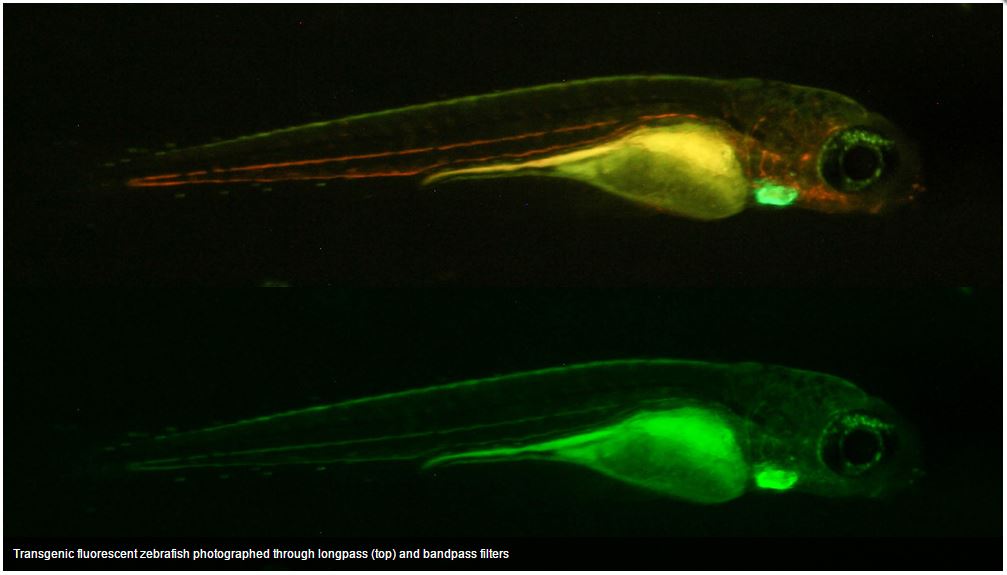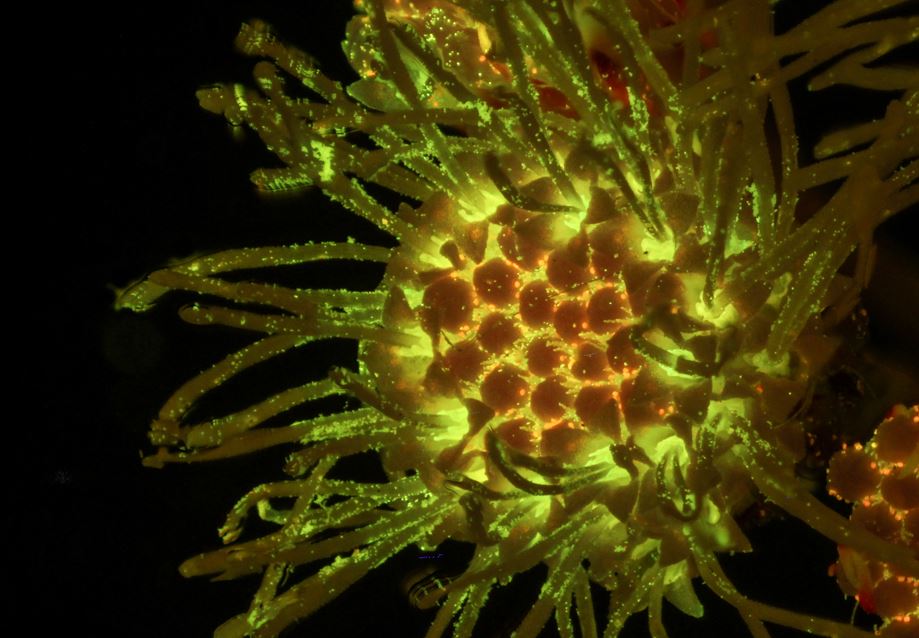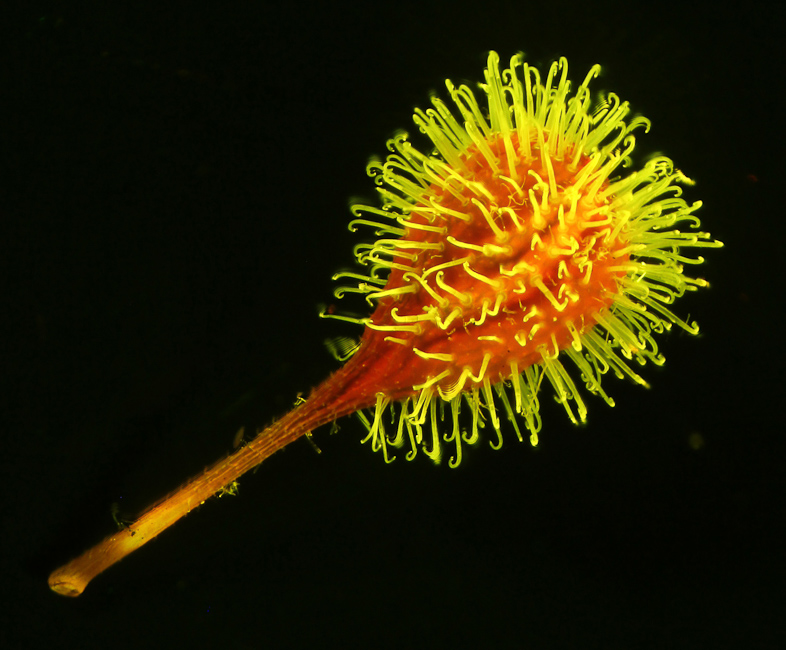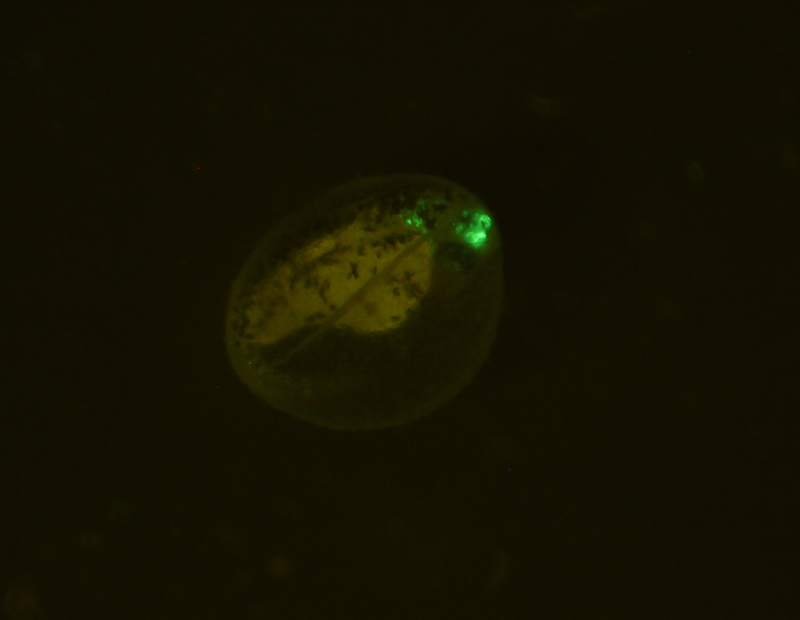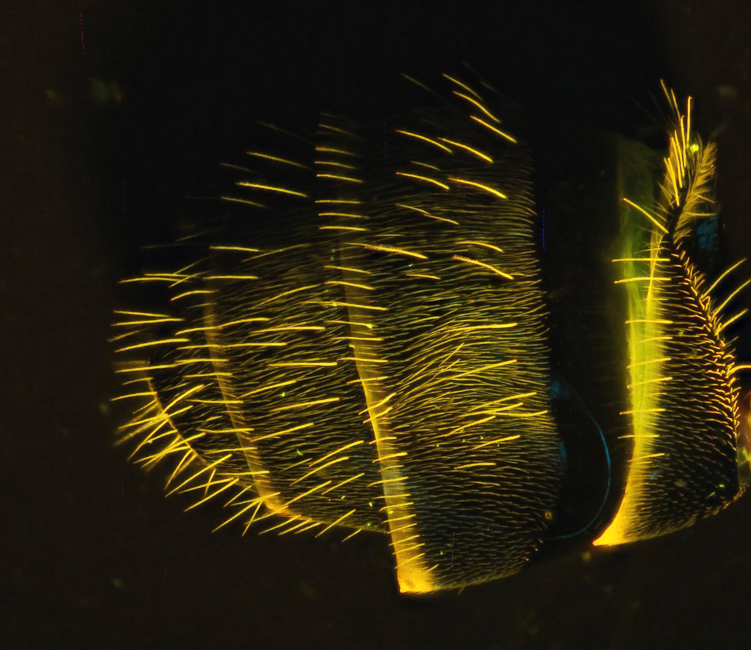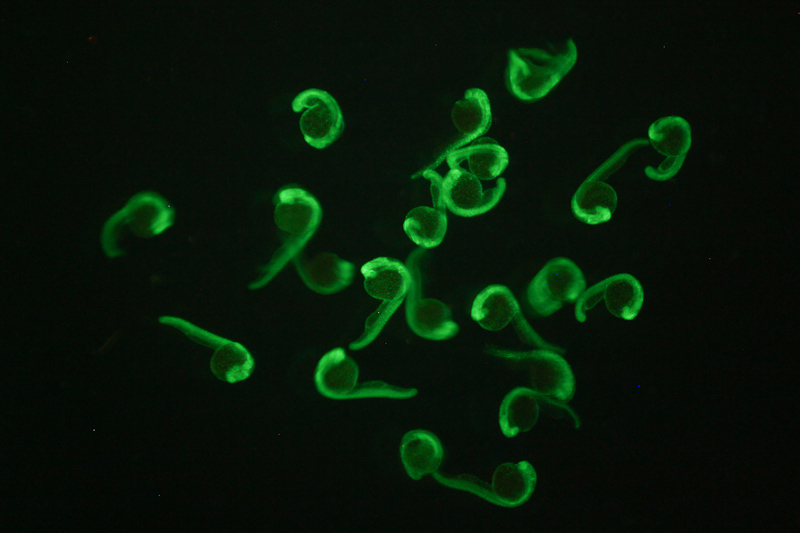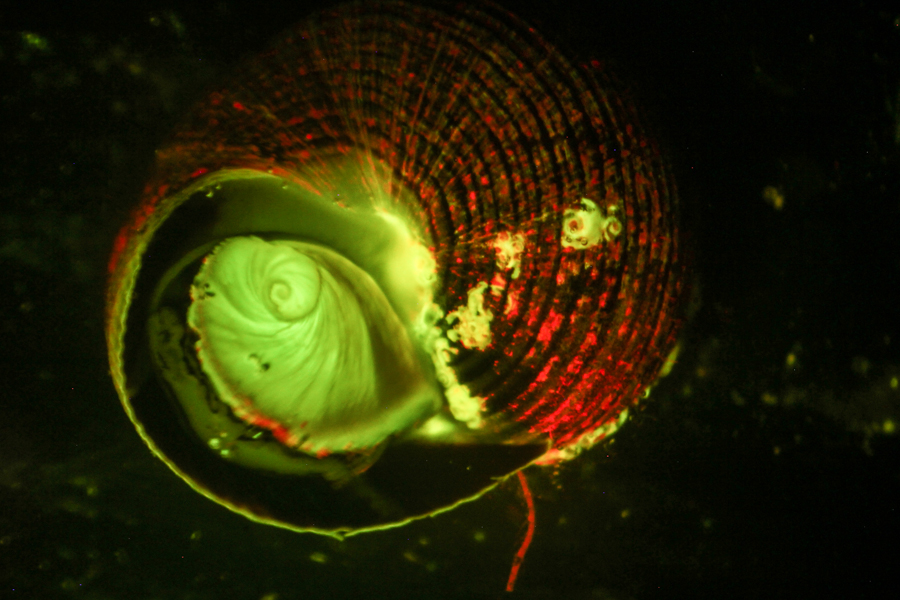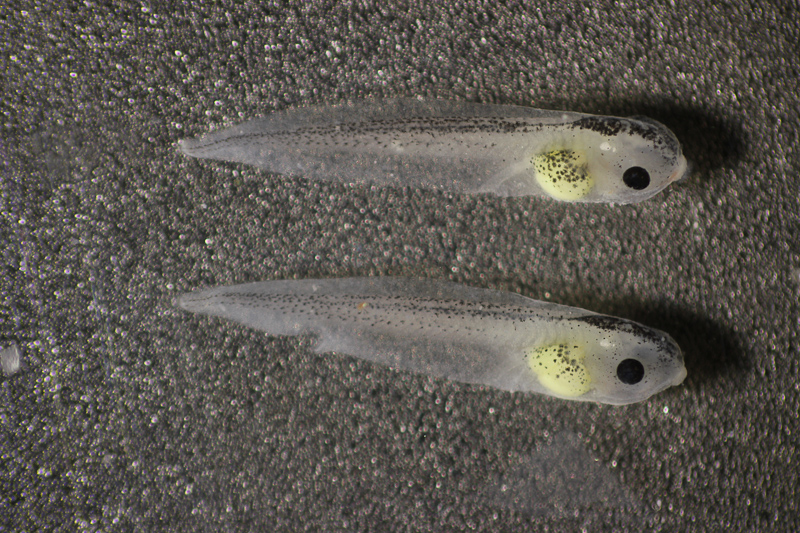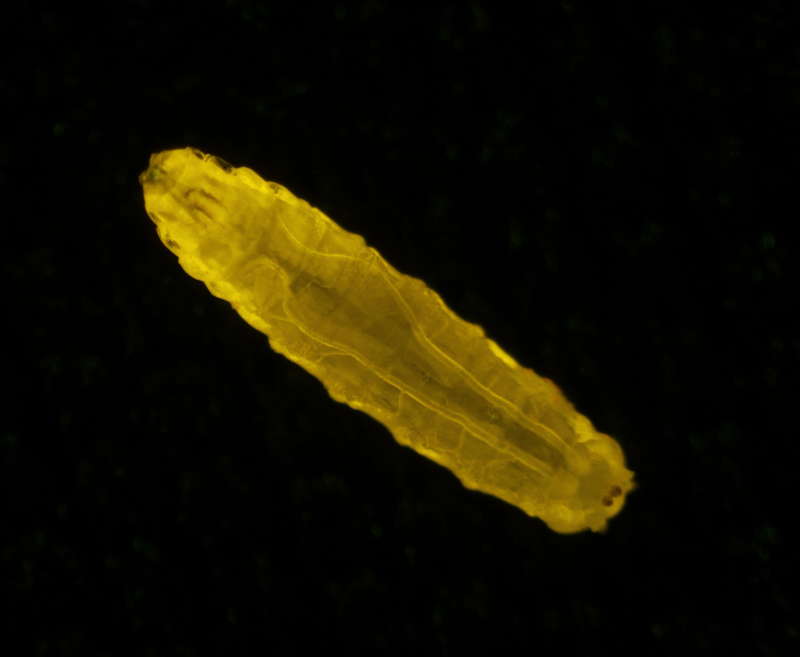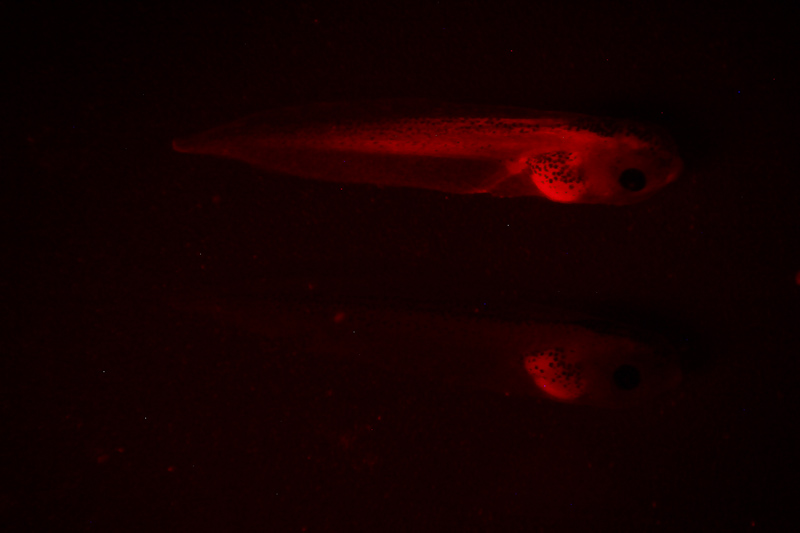 The product is very simple to use and fits most dissecting microscopes. The materials are quality made and simple to assemble. There are ways to make something similar yourself, but this product takes out all the guesswork and works out of the box. It's a great solution for teaching and research applications in with bright GFP or RFP reporters.
Keith Choe
University of Florida