Linkam Integrated Peltier Stages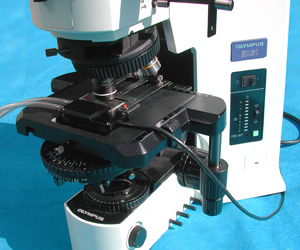 Call Meyer Instruments, Inc., for pricing and to learn more about Linkam temperature controlled stages
Call 281 579-0342 Today!
These simple to use Linkam Integrated Peltier Stages are built into the manually operated XY table of the upright microscope. The thermoelectrical temperature controlled element is perfectly inline with the surface of the XY table ensuring that short working distance, high numerical aperture condensers can still be used. Temperature range from 120 C to -25 C with accessories.
The specially designed slide holder enables enough XY sample manipulation to see the virtually the entire cover slip. With 0.1°C accurate temperature control, Linkam Integrated Peltier Stages are ideally suited to applications requiring high magnification, high resolution objective and condenser combinations, such as in cell biology and high magnification pharmaceutical work.