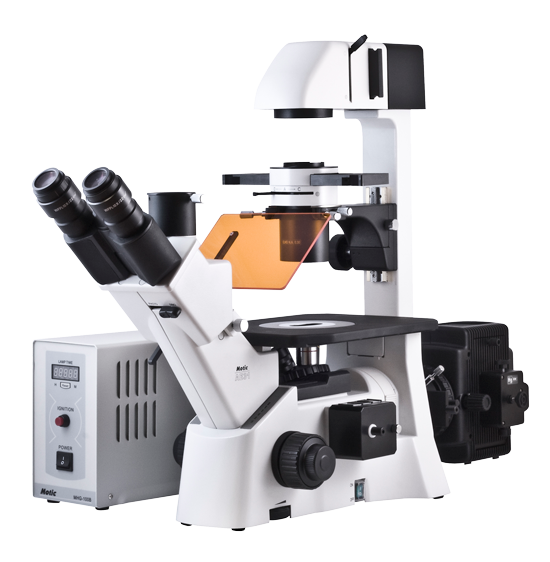 The AE31 Elite is Motic's new statement for a professional inverted microscope providing best image quality, ergonomic design and clever illumination features. The AE31E is the perfect platform for all kind of routine microbiology applications in clinical and pharmaceutical laboratories with best options for university research environments.
In full accordance with Motic's CCIS© Infinity System, the new LWD Plan
Achromatic objectives with an intelligent Phase contrast concept deliver a
remarkable image quality. Phase contrast is an integral part of all standard
packages, while the optional 4X Phase objective is dedicated to fast screening.
The AE31E stand carries an encoded 5-fold nosepiece with a light memory
function. The illumination intensity for each objective position is memorized and replicated once the respective objective is swung in again. Rich illumination power is given by the 30 Watt Halogen light source in a Full-Koehler configuration, simply interchangeable with 3W LED modules of different color temperatures.
For maximum power requests, a 100W Halogen version is available.
The Auto ON/OFF function, based on a built-in IR-sensor, deactivates the
microscope in case it is left by the user; no need for a final instrument check when work is finished.
An upgrade with fluorescence is offered for the entry level of research applications. Documentation is facilitated by the 100:0/0:100 light split option for shortest possible exposure times.
The complete AE31E microscope is manufactured in compliance with European RoHS standards to avoid contact with lead-containing materials. An anti-fungus treatment is applied to all parts of the microscope to protect the system in humid environments.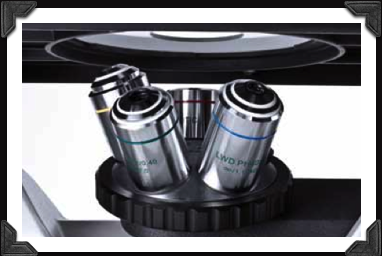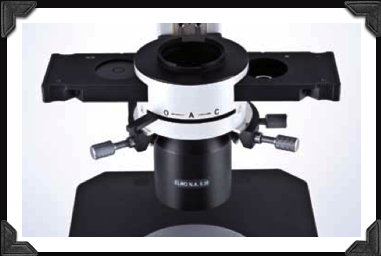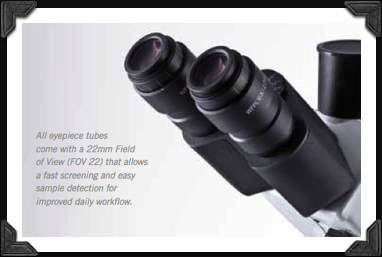 Microscope Stand
Designed as an Inverted microscope series with multiple applications in mind, the AE31 is available in 3 stand variations: a Binocular and (2) different Trinocular versions – each coming with a small footprint to meet limited space conditions in modern laboratories. Also, the instrument's "Y" shaped base provides extra lateral stability. Effective ergonomic design has been implemented in the AE31 Series to allow easy and quick access to all important functions. 
Eyepiece Tubes
For all stand types, a viewing angle of 45° is realized for comfort and posture management. The interpupillary distance can be adjusted between 55-75mm, ensuring fatigue-free observation.
Besides the standard Binocular stand, the Trinocular versions come with 2 different beam-split options. For light-sensitive methods like Fluorescence, Motic recommends the 100:0/0:100 beam split, allowing 100% of the light to pass through to the photo exit and thus simplifying imaging work especially with living samples. For standard applications like Bright field and Phase contrast, the 100:0/20:80 split may be more appropriate. 
Objectives
Long working distance (LWD) objectives are essential for use with all Inverted Microscopes. This lens design allows easy focusing through the bottom of various culture media into the nutrition media, especially in cases of non-adherent cells. Further, optical compensation is designed for thick vessel bottoms of Petri dishes or well plates to ensure maximum image quality. Motic's AE31 CCIS® objectives fulfil two criteria critical for optimal sample viewing: these Plan Achromats are designed for improved contrast as well as field flatness over the entire 22mm Field of View.
Eyepieces
In the AE31 Series, Motic's Infinity Corrected CCIS® Optical System displays field flatness across its entire 22mm interme- diate image plane. The high eye point principle of the AE31's eyepieces ensures true colour and sharp resolution, while minimizing eye fatigue and strain. Each eyepiece contains a diopter adjustment, an integral part to help spectacle wearers, in addition to optimized reticule usage.
Fluorescence
The modular concept of the AE31 Series allows an
easy upgrade to an EPI-Fluorescence microscope
by using the fluorescence attachment. This slider- device may carry up to 3 filter cubes. The optional Fluorescence package consists of:
• Fluorescence attachment with three filter positions
• XBE-HBO 100W lamp house with mirror for improved brightness
• Starter unit
A complete range of filter cubes is available, covering all routine applications from UV to NIR excitation. Supplied with band pass barrier filters, multi color applications can also be performed. Specialized filter combinations are available upon request.
Illumination
The AE31's 6V/30W Halogen light source provides a bright and even illuminated image at any magnification. Its center-able lamp house can be adjusted by external knobs without any special tool. The illuminated field can be varied by a built-in field diaphragm; while a filter holder may carry different glass filters for color temperature adjustments or other imaging requirements. Together with the condenser system, perfect Koehler illumination setup can be performed.
Stage
The AE31's convenient low positioned fixed stage plate, optimized for viewer posture and easy access, has a hard coated surface resistant against abrasion and corrosion. The standard stage plate of 200x260mm can be enlarged by adding a pair of auxiliary plates. The optional attachable x/y stage comes with a well plate holder of 128x86mm included.
Condenser
The standard condenser of Motic's AE31 Series has a working distance of 72mm, giving sufficient working space for most vessels. It can be adjusted in height by a brass rack and pinion system. This material ensures a long life time and precise movement. Together with the field diaphragm located in the illumination arm, Koehler illumination is easily set up.
Digital Documentation

The combination of an AE31 with a member of the Moticam series of digital cameras delivers excellent live images, which can easily be stored for future usage. All Motic cameras come equipped with software to transform the AE30 into an analy- sis and documentation workstation. For the Binocular AE31, eyepiece adapters for Motic cameras are available.
Motic offers a complete range of digital cameras, starting with a basic resolution of 1.3MP (CMOS) up to the research grade Moticam Pro Line (CCD) with a maximum of (at the moment) 5MP, including Monochrome and Cooled versions. These Moticam cameras deliver sharp live images with an easy post-capture handling.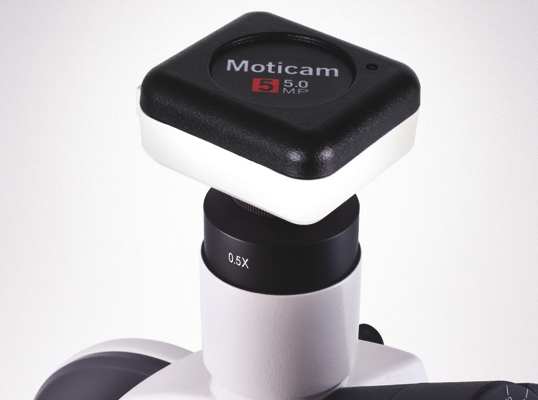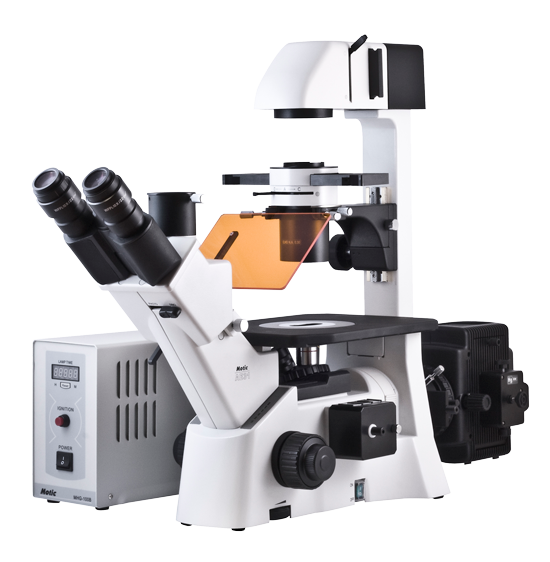 Motic AE31E
Binocular/Trinocular head, 45° inclined (light split in Trino head 100:0/20:80; option: 100:0/0:100)
Interpupillary distance 55-75mm
Widefield High eyepoint eyepieces, WFPL10X/22mm, with diopter adjustment on both eyepieces, with rubber eyecups
Reversed quintuple revolving nosepiece, left side orientated
CCIS® PL4X, PL PH10X, LWD PL PH20X, LWD PL PH40X
Coaxial coarse and fine focussing system, with torque adjustment for coarse focus
Total coarse movement 10mm, by nosepiece
Fine focus with 2μm minimum increment
Stage 200X260mm
Condenser ELWD N.A. 0.3, working distance 72mm
3-Position Phase slider, with Phase ring Ph1 (10X, 20X) and Ph3 (40X)
Koehler 6V/30W Quartz Halogen illumination with intensity control
Universal power supply 100-240V
Metal stage plate, glass stage plate, blue filter, green filter, phase centering keys, phase centering telescope, power cord and vinyl dust cover are included