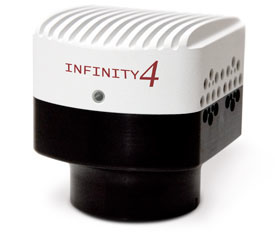 Infinity 4-11
The INFINITY4-11 boasts excellent color rendition, making it ideal for life science, clinical, and industrial applications.
Lumenera's INFINITY4-11 digital CCD camera is based on the Kodak KAI-11002 11 megapixel sensor. Matching the large field of view of a 35mm camera, this USB 2.0 camera offers 3.5 frames per second at full 4008 x 2672 resolution, fast 60 fps through binning and ROI, and on-board processing for superior image quality. Live video preview provides for real-time focus while auto exposure and auto white balance efficiently capture your optimal image. A USB 2.0 digital interface ensures a simple plug-and-play installation.
Capture high quality images through Lumenera's INFINITY ANALYZE — an advanced image capture, measurement and processing software package that is included with your camera. The INFINITY4-11 can also be fully integrated with other third-party imaging applications through our TWAIN driver.
A custom coupler engineered for all microscope models is available for the INFINITY4-11. This F-mount coupler allows you to take full advantage of this high resolution camera by ensuring that the entire 43mm field of view is visible. For more information please refer to the Large-Format Custom Coupler datasheet.
The INFINITY4-11 is available in color or monochrome, as well as OEM form factors including board-level and custom enclosures.
The INFINITY4-11 camera is supported by an experienced team of technical support and imaging experts. We understand your imaging needs and are here to help you get the most out of your camera.
Camera Sensor
Image Sensor
35mm large format Interline Kodak KAI11002 11 megapixel color or monochrome progressive scan CCD sensor
Effective Pixels
4008 x 2672, 9µm square pixels
Frame Rate
3.5 fps at full resolution, 60 fps with binning and ROI
Dynamic Range
65dB
Digital Output
8 and 12-bit
Readout Frequency
32 MHZ
Camera Controls
Dimensions (W x H x D)
3.50" x 3.85" x 4.09"
Mass
~940 g
Power Requirement
External 12 VDC – 2 A
Power Consumption
~18.7 Watts
Operating Temperature
0° C to +50° C
Operating Humidity
5 to 95%, Non-condensing
Integration Time
1/5000 to 364 ms.
Shutter
Progressive scan with global shutter
ROI
User Selectable through mouse click and drag
Binning Options
2×2, 3×3, 4×4
Auto Exposure
Automatic / Manual
White Balance
Automatic / Manual
Gain
Programmable / 1 to 10x
Interface Connector
Standard USB 2.0 high-speed interface
Lens Mount
F-Mount lens adapter (ordered separately)
Infinity 4-11
Product Highlights
Large format 11 megapixel CCD sensor
Excellent sensitivity with high fidelity color reproduction
Custom coupler for all microscope models
Progressive scan with electronic global shutter
Ideal for the most demanding brightfield and darkfield microscopy applications, including clinical pathology and cytology, histology, life science and geology
3.5 fps at full 4008X2672 resolution, 60 fps with binning and reduced preview resolution
Ordering Options
INFINITY4-11CB — 11 Megapixel CCD Color Camera
INFINITY4-11MB — 11 Megapixel CCD Monochrome Camera
Lu9019-XX — Large-Format Custom Coupler (Please refer to the coupler datasheet for part numbers and ordering information)