OptraSCAN OS-FS Digital Pathology Scanner For Frozen Sections
OptraSCAN® OS-FS Frozen Section Slide Scanner is a dual modality scanner with Live View Mode will enable pathologists and hospital networks to work together seamlessly to turn around pathology reviews remotely, in less time. Surgeons and patients will have reduced waiting periods as pathologists will be able to review a frozen section specimen or fine needle aspiration (FNA) instantly using OptraSCAN's OS-FS Live View Mode feature. These frozen section tissue slide scanners provide exceptional image quality, speed and reliability for whole slide imaging, that every pathologist or medical professional requires. IMAGEPath®, the Image Management System apt for viewing, storing and archiving as well as TELEPath®, Telepathology software used for real-time, remote consultations are accompanied with OS-FS.
Optra Scan OS-FS Features
Cloud-enabled FFPE and Frozen Section Scanning
7-slide cartridge for Frozen Sections, 15 Slide cartridge for FFPE
Desktop Scanning
20x or 40x magnification
Live view mode during scanning
Real time collaboration between technicians and pathologists
Instant diagnosis for frozen sections
Seamless and automatic upload and archival on the cloud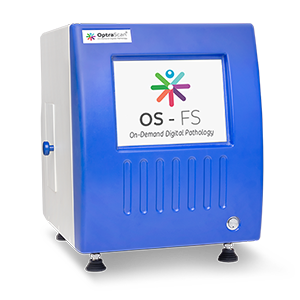 281-579-0342
Call Meyer Instruments today to find out if this is the right product for you.