Prior Scientific High Speed Filter Wheels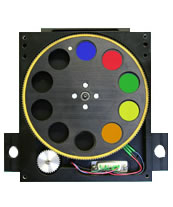 High Speed Filter Wheels Key Features
High speed filter change
Mounts to emission or excitation ports
6, 8 or 10 positions wheels are available.
Available for 25mm or 32mm filters.
Magnetic covers for ease of filter changing.
Optional filter wheel keypad.
Large selection of microscope adapters available
High Speed Filter Wheels Description
The filter wheel system can be provided as a standalone unit with either the OptiScan or ProScan controllers. A large selection of microscope adapters are available to mount the wheels to either excitation or emission ports. They are available as either a 6 position (25mm filters), 8 position (32mm filters) or 10 position (25mm filters) wheel. With the magnetic covers and easily visible numbering system the mounting of filters is quick and easy.
High Speed Filter Wheels Specifications
Number of
Filters
Filter Size
(mm)
Speed
(ProScan)*
Speed
(OptiScan)*
With Stand
HF108A
8
32
55ms
120ms
–
HF108
8
32
55ms
120ms
YES
HF110A
10
25
55ms
120ms
–
HF110
10
25
55ms
120ms
YES
* Speed measured per adjacent positions.