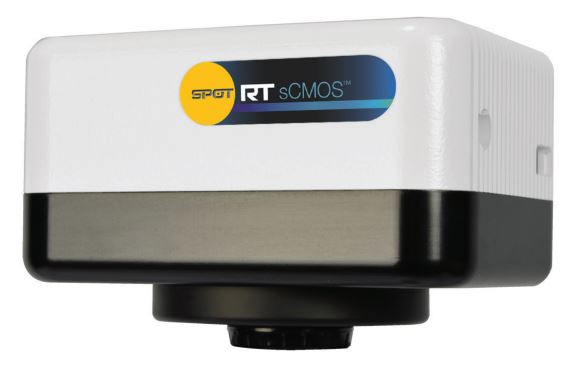 New SPOT RT sCMOS Camera
is a game changer.
The SPOT RT sCMOS uses Sony's breakthrough PregiusTM CMOS sensor.
Now you can experience unprecedented speed and sensitivity in a CMOS camera. Deep
cooling allows dim images to be seen without becoming obscured by dark current. A global shutter
ensures undistorted images of moving specimens. The RT sCMOS is optimal for fluorescence
microscopy, FISH, GFP imaging, immunofluorescence and 3D deconvolution applications.
Cooling
Deep-cooling of the image sensor to -25°C supports long exposure times. How cool is that?
• Lower dark current
• Long exposure capability
• Software enable/disable cooler and fan
Sensitivity
Step up to a new level of sensitivity: 8x more sensitive than the previous RT3.
• Back-Illuminated sensor
increases sensitivity
• 1/8 the read noise
• Enhanced Near-IR
Resolution
2 and 1/2 times the resolution of the RT3.
• 5 MP live and captured image resolution
• High resolution picture quality
Speed
Our RT3 camera was fast. This one's over seven times as fast. Why wait?
• Super fast USB3
• 36 frames per second at full resolution
• 70 frames per second with 2 x 2 binning