All-In-One HD Video Solution
Change the way you view and capture HD video forever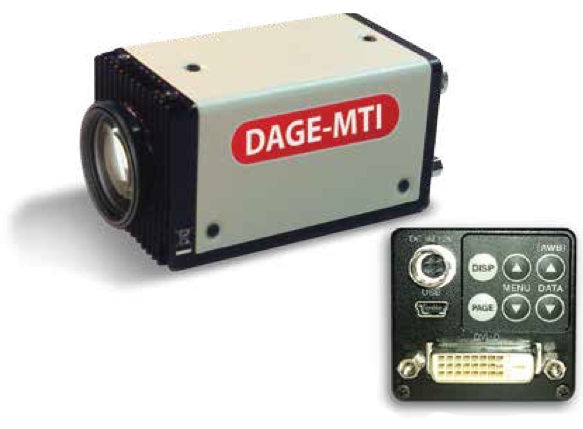 HD-210U High Definition Video Camera
In Stock
The HD-210U is the latest innovation from DAGE-MTI's solution oriented line of HD video cameras. This new "all-in-one" device offers the premier solution to viewing highly detailed images in a real-time live mode, with the ability to simply capture selected images directly to your computer.
The HD-210U is programmed for perfect color by adjusting yellow, cyan, green, magenta, red and blue (not just red, green and blue). Push one button (AWB) to view perfect color images and begin analysis. The HD-210U all-in-one solution will change the way you view HD video.
• Real time HD / Single chip CMOS camera
• True High Definition (1920 X 1080)
• Perfect Color Reproduction
• Programmed for simple one-push operation
• Full Screen Video (16:9) with smooth motion
• Simultaneous USB2 and DVI/HDMI connection
• Highest frame rate for real-time live viewing (60 frames per second)
Intuitive Click & Capture "Magic App" Software
• Dage-MTI's Magic App allows a user to easily capture images with a simple click of the mouse.
• Capture and review HD images with no lag time and no jitter.
• Images automatically labeled and saved with folder name(s), image #, date and time.
• Scroll the mouse wheel to instantly review saved images.
• Easily save any HD image in jpg, tiff, png or bitmap formats.
• TWAIN interface with 3rd party software for live image and image transfer.
Full Screen HD Video with Optimum Accuracy
• The HD-210U offers a true 16:9 ration image for full screen display.
• No compression, stretching, black bars or cropping of image.
• High frame rate means no smear or lag in viewing.
• USB connection with simultaneous HDMI/DVI outputs.
DageMTI HD210U
• Exceptional detail 2.1 million pixel HD sensor
• Perfect color reproduction
• Live HD image adjusts quickly to magnification or scene change.
• No image smear, lag or jitter
• Eliminates eye fatigue from repetitive eyepiece viewing
• Enables collaborative diagnostics in group setting
• Allows entire class to view a live image on monitor or DLP projector • 16:9 HD images fill the monitor screen
• Standard C-mount for connection to microscope or lens.
• Requires 0.33x, 0.4x or 0.5x coupler to microscope
• Dage-MTI service and support from industry leader