Real Time, Full Screen HD Video
Real Time 3CCD HD Camera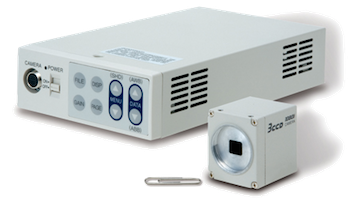 RealView HD-330D High Definition Microscope Camera
In Stock
The RealView high definition 3CCD microscope camera is the superior solution for critical applications requiring highly detailed color images in a real time live mode. The unique prism block technology offers the sharpest, clearest, true HD color imagery available, the fast frame rate provides smooth motion, and the high S/N ratio gives exceptional sensitivity.
The RealView camera is especially effective in applications including pathology labs, cell biology, and fluorescent imaging, teaching environments and industrial inspection.
Combine with the RealView HD Magic Box for an unparalleled imaging capture and review system.
Full Screen HD Image
Outputs a true 16×9 ration HD image for full screen display
No vertical compression or horizontal stretching
No black bars and no cropping of images
Matches your monitor's HD specs for a true pixel to pixel image
Real Time Viewing
Outputs images at a high frame rate (30 fps) for a smooth real time live motion
1080i output
True 1080i vertical resolution
Connects simply with DVI cable or HDMI converter cable
No PC or software required
Dage-MTI HD-210D
Exceptional detail 2.1 million pixel HD sensor
True 1920×1080 resolution at 30 frames per second
Superior color reproduction with 3CCD prism
Increased sensitivity for live viewing of moderate level fluorescence
Preprogrammed for best brightfield color imaging
Preprogrammed for best fluorescent color imaging
Live HD image adjusts quickly to magnification or scene change
No image smear, lag or jitter
Eliminates eye fatigue from repetitive eyepiece viewing
Enables collaborative diagnostics in group settings
16:9 HD images fill the monitor screen
Easy to connect with standard DVI output
Standard "C" mount for simple connection
1/3″ optical coupler recommended for microscope
Dage-MTI service and support from industry leader