Magic Box Image Capture Device
So simple and intuitive, it feels like magic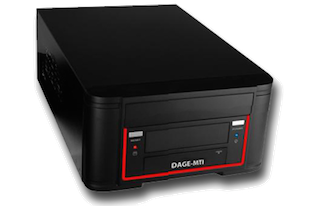 Dage-MTI RV-DR "Magic Box"
In Stock
Just what is the Magic Box? For starters, you won't even know it's there. That's how simple it is to use. When you turn it on, a live HD image from your microscope instantly appears on your monitor. Just one click of the mouse saves your image to a memory stick, and one scroll of the wheel allows you to review all the images you've captured.
The Magic Box is especially effective in settings such as tumor review boards, clinical rounds, pathology labs, teaching environments, and industrial inspection. Any user can operate it immediately without prior instruction or experience.
Combine with the RealView HD Camera series for an unparalleled imaging capture and review system.
The Magic Box
Captures HD images with the single click of a mouse
Scroll and review saved images with no lag
Easily save desired images to a USB memory stick
Not a DVR and not a PC, rather a newly designed device
Save to Memory Stick
The Magic Box saves HD images automatically to USB memory stick
Automatically stores images to a folder for random access review
Easily transfer saved images to work station
Includes USB memory stick, mouse and DVI cable
Dage-MTI HD-210D
Full screen display
Saved in JPEG format
No delay between images
Delete unwanted images