Linkam FTIR600 Infra Red System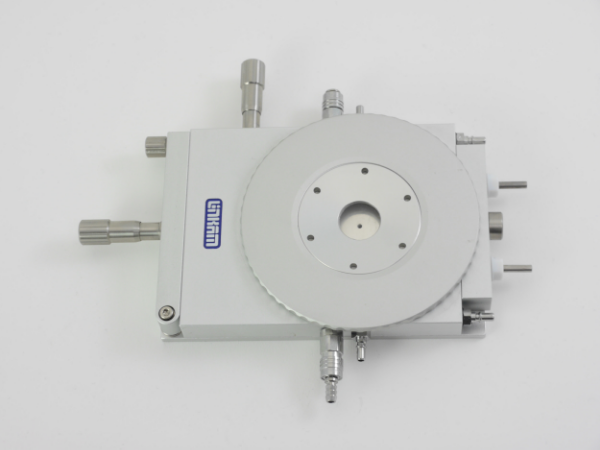 The Linkam FTIR600 stage, has been adapted from our market leading high precision THMS600 to allow infra red analysis of samples from -196 up to 600°C covering all applications from pharmaceutical to polymers on most benchtop IR microscope systems. Different window materials such as Zinc Selenide and Barium Fluoride are available. Please contact us to find out about the range of window materials we have.
The Linkam FTIR600 stage can be mounted horizontally as in IR microscopy setups and vertically for cabinet type IR spectroscopy. The silver block has a tapered hole to allow maximum transmittance of IR without interference.
FTIR600 INFRA RED SYSTEMS SPECIFICATIONS
Temperature range -196°C to 600°C
Fast heating rates up to 150°C/min
Fast cooling rates up to 100°C/min
Temperature stability <0.1°C
16mm XY sample manipulation
Sample area 22mm diameter
Quick-release gas valves for atmospheric control
Compatible with most IR systems.
100 Ohm platinum resistor sensor
Light aperture: 3mm diameter for high accuracy control
Silver heating block for high thermal conductivity
Direct injection of the coolant into the silver block
Range of IR transparent windows available
Objective lens working distance: 4.5mm
Can also be used with all optical microscope techniques
Water cooled stage body for high temperature work (>300°C)
Suitable for Confocal, Laser Raman and X-Ray
Stage body size: 137x92x22mm