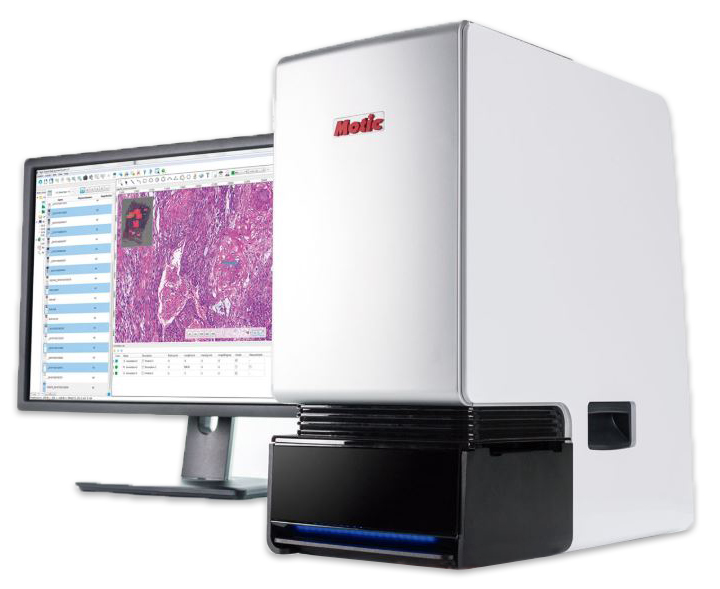 INEXPENSIVELY SCAN WHOLE 1×3″ PATHOLOGY SLIDES IN MINUTES!
EASYSCAN PRO 1

As a low cost, high performance single (1) whole slide imager (WSI) scanner, the Motic EASYSCAN PRO 1 slide scanner offers incredibly simple to use software for the most demanding whole slide applications. Capable of high resolution scans for secondary diagnosis this is the perfect scanner for instant consultation. The EASYSCAN PRO 1 is perfect for H&E's, cytology sections, bone marrows , frozen sections, fine needle aspirations, or any histological specimen on a 1 x 3 inch glass slide. Capable of 10x, 20x and 40x scans. If you have ever thought about purchasing your OWN slide scanner the Motic EASYSCAN PRO 1 is worth considering. Whether you are in private practice, in a hospital setting or research area this is only scanner you need!
Hardware Features:
Single (1) slide capacity
Complete scan time is 160 seconds (40x, 15mm x 15mm area) and 60 seconds (20x, 15mm x 15 mm area)
Three (3) place motorized nosepiece includes Plan Achr 10x/0.3 and Plan Apo 20x/0.75 objectives for ultra-clear, color correct images
Optional Plan S-Apo 40x/0.75 objective available
Three (3) Camera System 2/3 "CMOS, 5M Pixel ; Resolution: 2448 x 2048, 15 fps, 3.45 X 3.45μm / pixel
Single USB3 connection ( faster and clearer )
Control Systems XYZ auto, repeat positioning accuracy ≤ 1um
Optical system CCIS, 10W LED illumination, working time > 30,000 hours
Actual Image Resolution, 20x: 0.5μm / pixel, 40x: 0.25μm / pixel
All-in-One Windows 10 HD computer included
Easy Scan Pro One slide holder insertion - It's so EASY!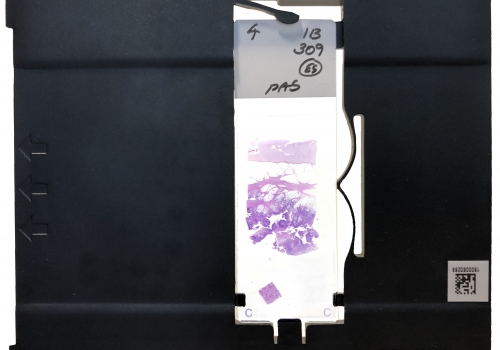 Software Features:
FAST SCAN TIMES: 15 x 15 mm  full tissue area, 20x, 60 seconds and 40x, 160 seconds
REALTIME AUTOFOCUS: Time consuming pre-mapping focus points is no longer necessary
WALK AWAY ONE-BUTTON SCANNING: Incredible time savings
CAPTURES PREVIEW IMAGES IN SECONDS: Not minutes, high definition (HD) overview display
GAMMA ADJUSTMENT: For under or over stained samples

OPTIONAL REAL-TIME REMOTE CONTROL: FS-Live software allows real-time display and control for tele-consultation
Z STACK CAPTURE: Allow rolling focus of images
EXTENDED DEPTH OF FIELD:  EDF image creation, publication quality images and prints
BAR CODE READER: Helps keep accurate record keeping
MULTIPLE IMAGE DISPLAY: View images sides by side for direct comparison
INDIVIDUAL 2x, 4x, 10x, 20x, 40x MAGNIFICATIONS: Or continuous zoom control
SCALE BAR, ANNOTATION, MEASURE, IMAGE TAGS: Simple, easy to add and undo
CONVERT SLIDES TO JPEG, JPEG2000,TIF or SVS format:  Whole slide or region of interest (ROI) conversion for use with 3rd party software packages at any magnification
Motic EASYSCAN PRO 6 pathology slide scanning for digital applications:
More: 
Fully automatic and manual region of interest (ROI) modes, high-precision (X-Y-Z repeat positioning accuracy ≤1um), stable and reliable.
High resolution digital imaging device scans 10mm x 10mm samples in under a minute at 20X.
Multi-slide auto loading device automatically scans in unattended scanning mode, reducing the amount of labor the pathologist or technician has to provide, improving work efficiency.
Standard, high-precision, multi-function or 3D scanning software modes with multiple ROI's allow different scanning needs.
Image-Processing allows zoom, pan and scroll, annotating, measurements, application of grids and masks, synchronized multiple side by side image comparison, image rotation, adjustment and enhancing.

Create movies for teaching and education

using the built-in AVI audio and video recorder. Post videos to YouTube for sharing your best cases
Inexpensive, low maintenance cost and quick return of investment make it a scanner worth considering!

Motic EASYSCAN DSServe pathology slide scanning software for tele-consultation:
Additional Features: 
Optional DSServe Software, allows remote hospital access to the digital sections and associated clinical data, all data is automatically uploaded through the consultation platform. After login, digital slides can be seen from browser to browser, allowing secondary discussion. Additional users can use iPad, iPhone and other mobile devices for mobile consultation.

Pathology quality control center for primary hospital can upload digital slides and assure quality control through statistics.

Add an optional Windows 10, 4K All-in-One computer workstation to increase field of view over four times that of conventional HD display.

Easy Scan Pro Main Menu - It's so EASY!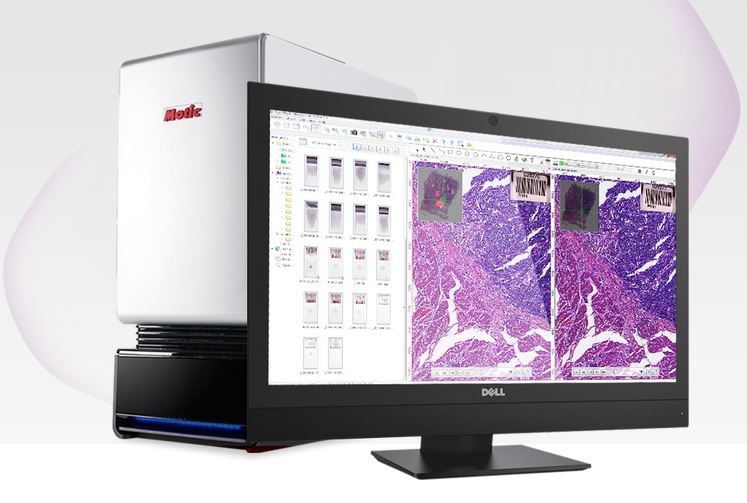 Easy Scan Pro DSAssistant Main Menu - It's so EASY!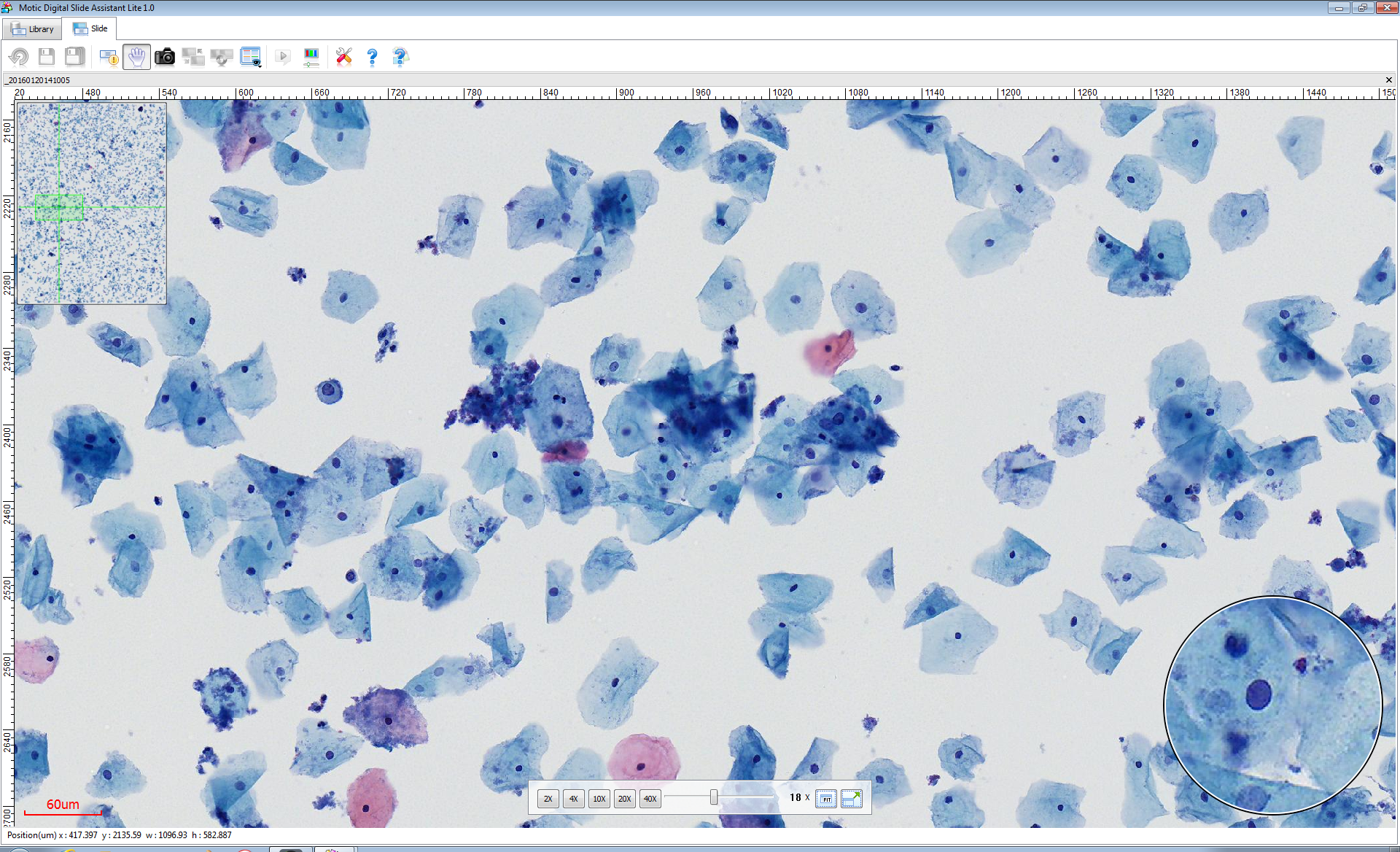 Easy Scan Pro DSAssistant Thumbnail Views - It's so EASY!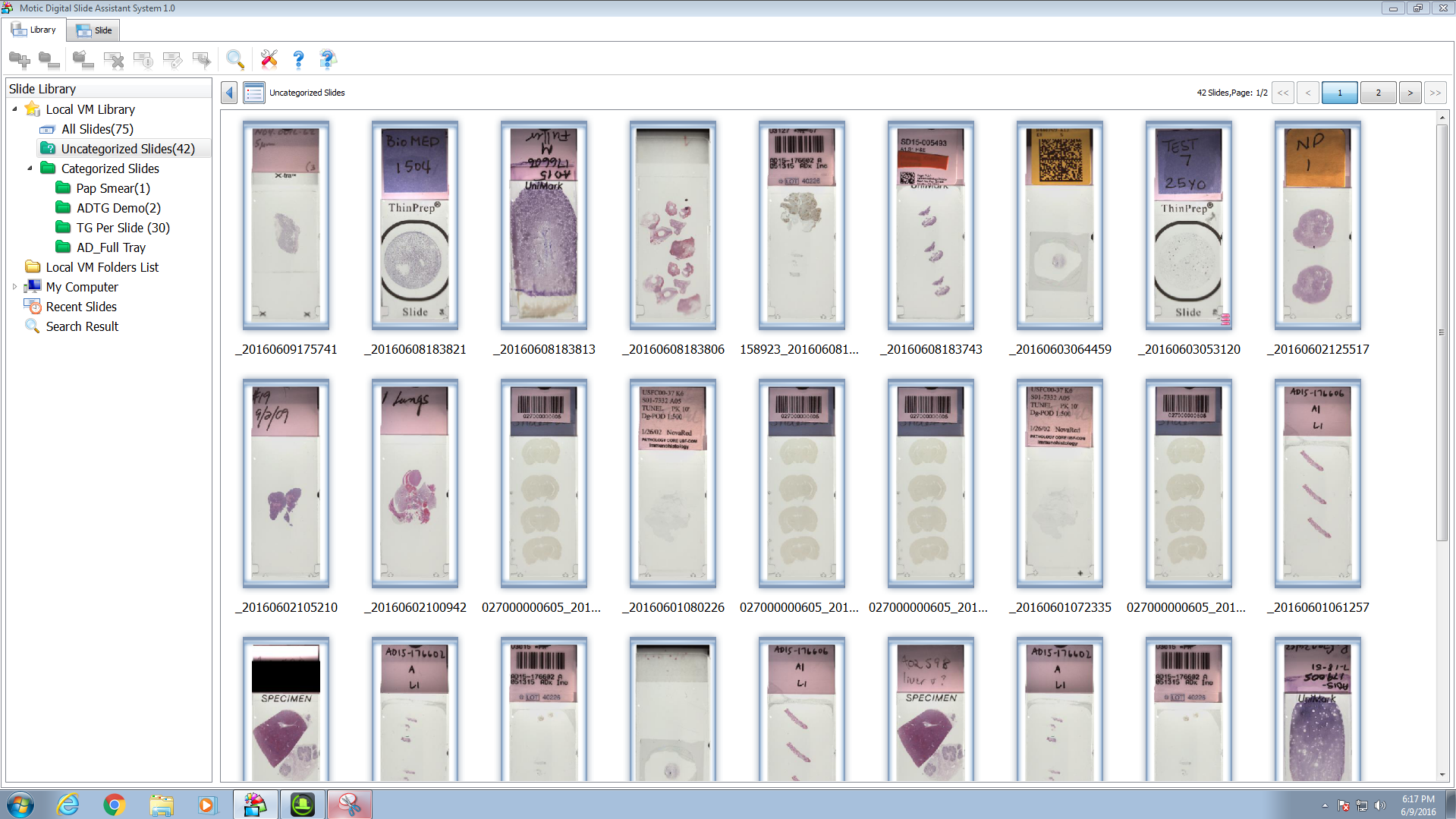 Easy Scan Pro DSAssitant Image Comparison - It's so EASY!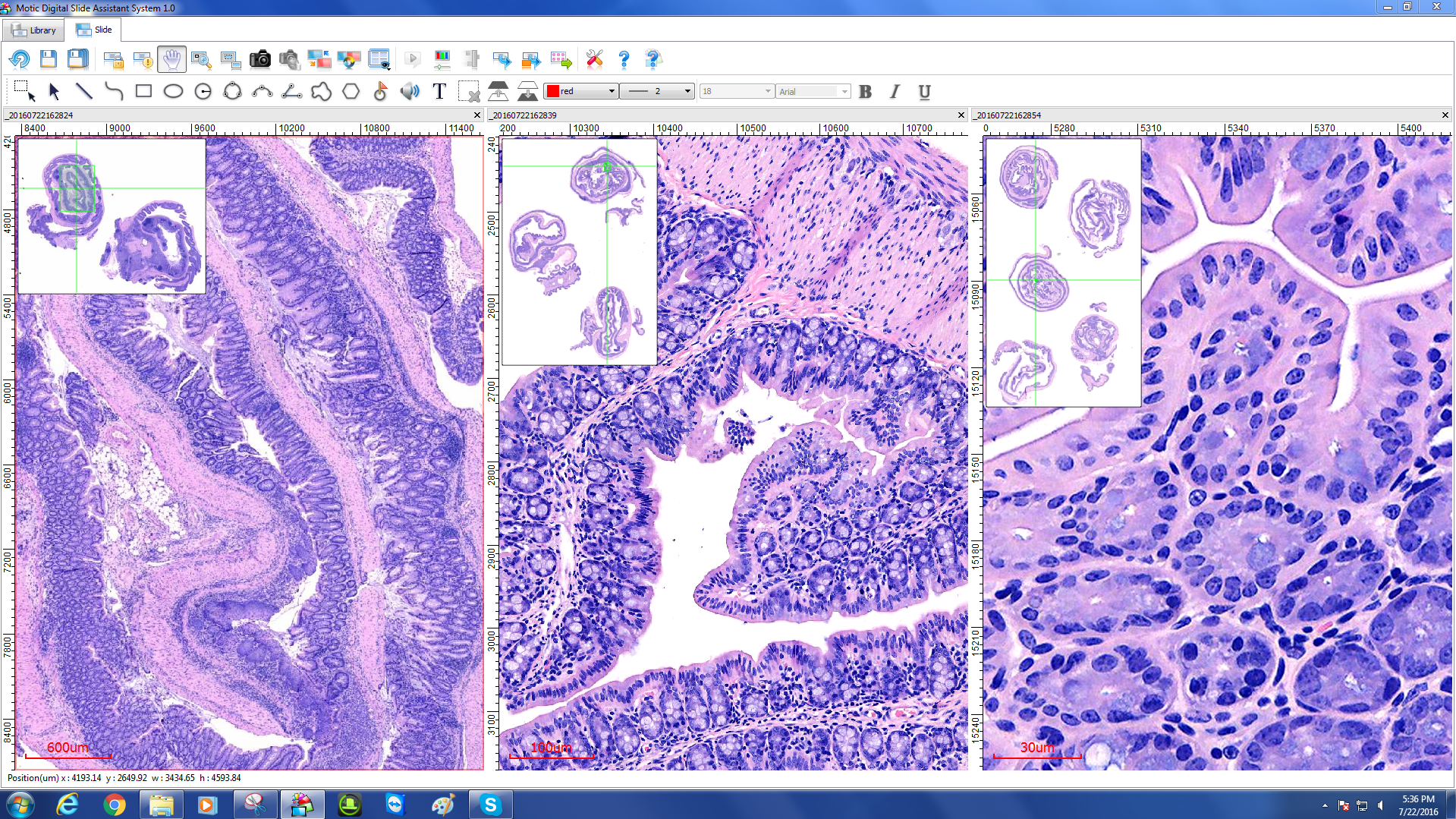 Easy Scan Pro Optional 4K display increases your field of view over 4 times! - It's so EASY!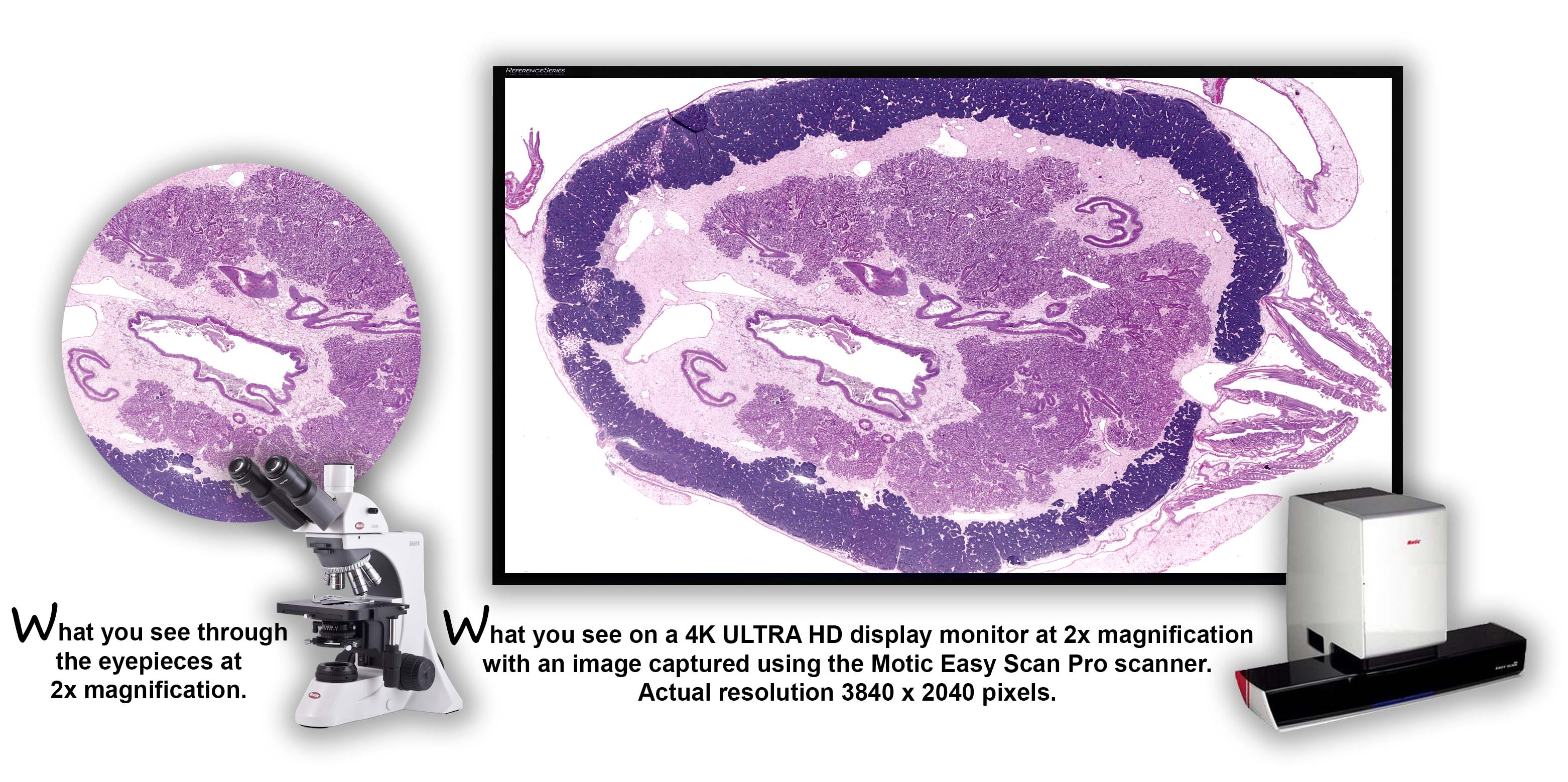 Standard Image verses Extended Depth of Field Image - It's so EASY!

All data and pricing subject to change without notice . . .
All Motic EASYSCAN PRO 1 digital pathology slide scanners are for research purposes ONLY!  
Worldwide hundreds have been sold and are currently in use. Considered one of the easiest to use slide scanners on the market today.