ACCU-SCOPE EXC-400 Microscope
The perfect inexpensive research microscope for any doctor or scientist! Heavy stable base, butter smooth fine-coarse focus, superb optics, true-color LED transmitted light, white ceramic stage, low cost fluorescence! Optional motorization and deconvolution.
The ACCU-SCOPE EXC-400 is specifically designed to meet the demands of today's research laboratories. The EXC-400 delivers both in performance and value that are required for routine observations in pathology, dermatology, hematology, cytology and other clinical applications. The EXC-400's standard configuration provides exceptional value and performance, Its modular design allows for customization to fit most any application. Featuring Infinity Plan Achromat, Plan Semi-Apochromat or Plan Phase objectives, the EXC-400 advantage capitalizes on the latest advances in optical design to deliver crisp, high resolution, bright images. Totally interchangeable with Olympus © objectives!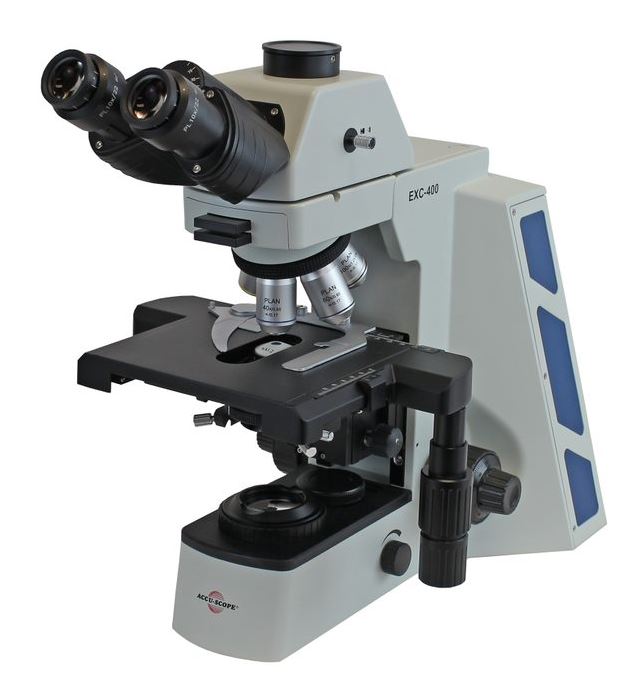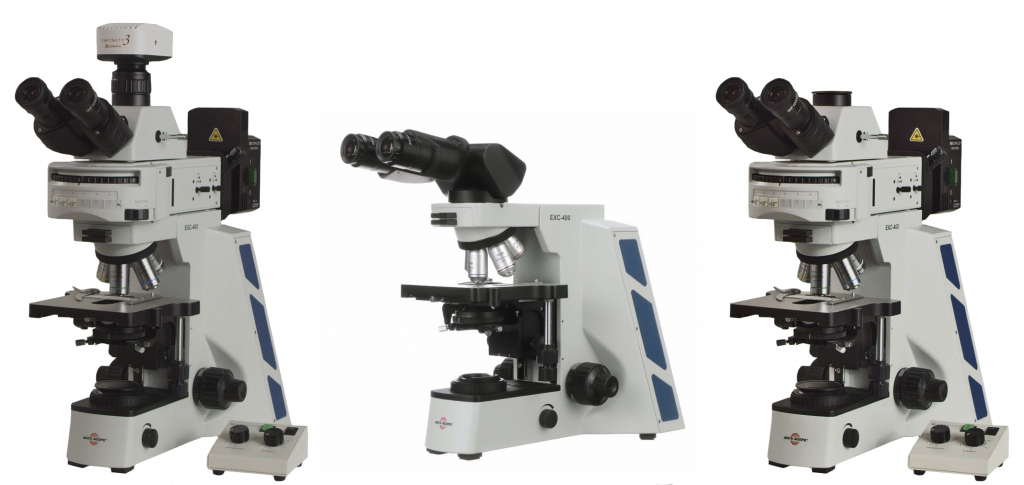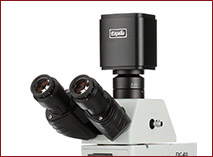 Standard trinocular observation head with wide 22mm field of view is always ready to accept a digital camera for imaging. Available in 100%; 50%-50% or 100%-0; 0%-100% split design.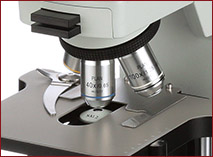 Infinity-corrected Plan Achromat objectives deliver excellent clarity and detail. Optional semi-Apochromat objectives are especially well suited for fluorescence observation and imaging.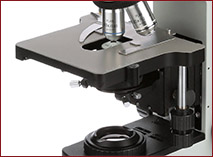 The optional ceramic, hard-coated XY stage provides exceptional durability to withstand the rigors of daily use.
Dependable Performance, Exceptional Value
ACCU-SCOPE's EXC-400 is designed and built with attention to detail, providing laboratories with a dependable microscope that meets or exceeds user expectations. The top-quality optics, ceramic stage, and comfortable operational controls are ideal for routine observation, work efficiency, and deliver remarkable value in a laboratory microscope.
Optical Excellence
ACCU-SCOPE's Infinity Plan Achromat objectives deliver best-in-class optical performance for crisp, brilliant, flat images. Customize your experience with a wide variety of specialty objectives for oil immersion, high dry, fluorescence or phase contrast applications.
Illumination
The EXC-400 features a 3W LED and intensity control for over 20,000 hours of continuous, worry-free use.