Linkam RH95 Humidity Controller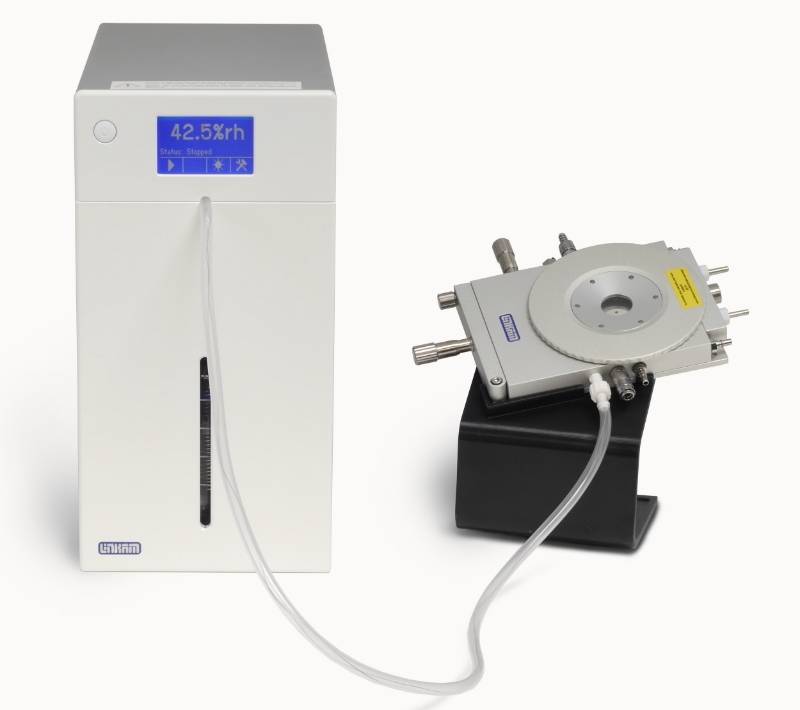 The new Linkam Humidity Controller is our latest instrument to add yet further sample control and is once again developed by in depth feedback of many Linkam stage users.
The RH95 quickly controls humidity inside a linkam stage or any other sealed chamber up to a volume of 2000cc from 5 to 90%.
Unlike other humidity systems, no costly dry air supply is required.  Ambient air is dried through a specially designed automatic recycling desiccant system and so can be left controlling humidity for months at a time.
Rather than simply monitoring the humidity of the air supplied to the chamber we also place a sensor inside the chamber to create a feedback loop to the controller.
Call Meyer Instruments, Inc., for pricing and to learn more about Linkam temperature controlled stages
Call 281 579-0342 Today!
Linkam RH95 Humidity Controller Features
Can be used as standalone humidity generator and controller or with LINK software to log data from sensor.
Relative humidity entered via touch screen display
Maximum controllable volume 2000cc
Long cycle times – can be left running for months.
Sensor calibration chamber supplied with salt ampoule testing kit
Sensor regeneration module available
Specifications:
Sensor Type: Combined temperature and humidity digital capacitance sensor
Recommended range:  10 to 90% RH
Stability at control value: +/- 0.5%
Ramp speed: ~7RH% /min
Operating Range:  0-100%
Sensor Response: ~8sec