TissueFAXS SL
SLIDE LOADER
All TissueFAXS upright systems configurations (Fluo, Histo, PLUS) are also available as TissueFAXS SL (Slide Loader) high-throughput systems.
In this configuration, they are additionally equipped with an automatic slide loader and a specially adapted version of the TissueFAXS scanning and image management software.
This software version also includes TGs new SV (Slide Validator) technology.
 TissueFAXS SL systems are also available in scan only configurations.
 TissueFAXS SL systems can be upgraded to the same configurations as the non-loader systems (Histo and Fluo to PLUS, epifluorescence to confocal or high-speed).
TissueFAXS SL – UNIQUE FEATURES
State of the art tissue detection
Multi-channel fluorescence & brightfield
Brightfield/Fluorescence only available
Extended Focus Imaging & Z-Stacking
120 slides scanning
Slide ID Scanner
Quantitative image analysis option
TMA & FISH
Auto-oiling & oil objectives
Image and metadata storage, management and archiving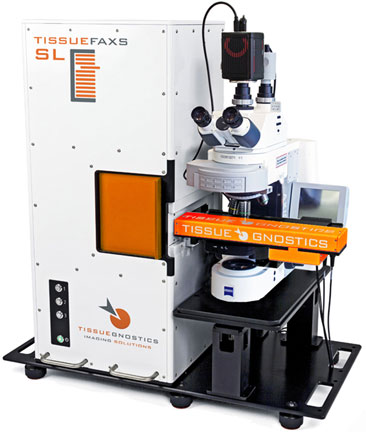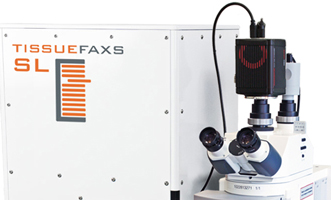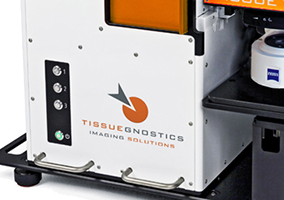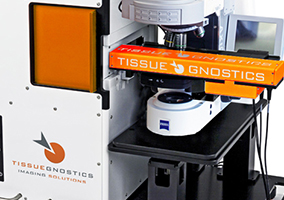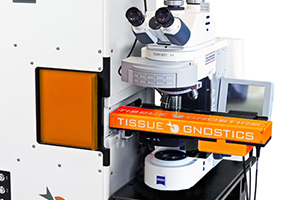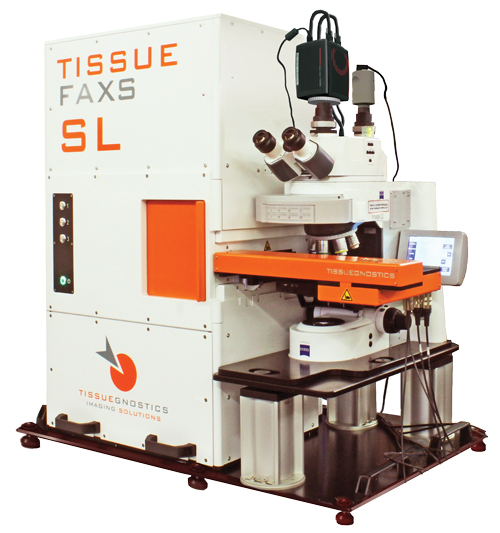 TissueFAXS SL
TECHNOLOGY
TissueFAXS SL integrates TissueGnostics Slide Validator technology to ensure a high level of digital slide sharpness. Each scanned FOV is evaluated for sharpness on-the-fly during the scan process.
If the validation algorithm deems the FOV to be not sharp enough it will be rescanned on-the-fly.
CONFIGURATION
TissueFAXS SL systems are loaded with up to three 40 slide magazines with each magazine containing 20 two slide metal clips for a total of 120 standard slides.
Alternatively, 60 double sized (76 × 52 × 1 mm) slides can also be loaded and scanned, making TissueFAXS SL system one of the few in the market capable of doing this.
The clips are magnetically gripped and moved out to the stage for scanning. In this way, any contact of the slides with moving parts is prevented, safeguarding them against breakage.
TissueFAXS SL systems provide automatic scanning of brightfield and/or fluorescence slides. TMA scanning is supported in all configurations. Combined with TissueGnostics integrated high-speed cameras it provides high-throughput for slides with a speed and versatility in the top range.
TissueFAXS SL is capable of oil immersion scanning.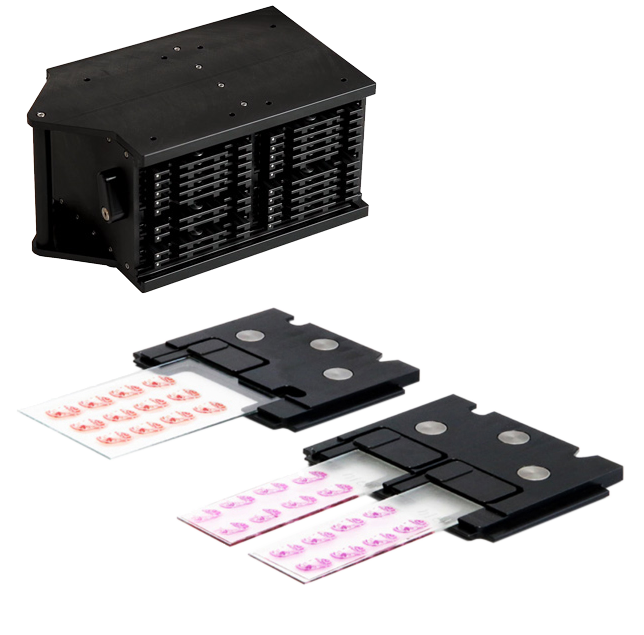 TissueFAXS SL
Workflow
TissueFAXS SL comes with a new version of the TissueFAXS software designed for the perfect handling of the high amount of samples, data validation and storage. There are two main workflows, a simple workflow for one type of slides and an advanced workflow for mixed samples types: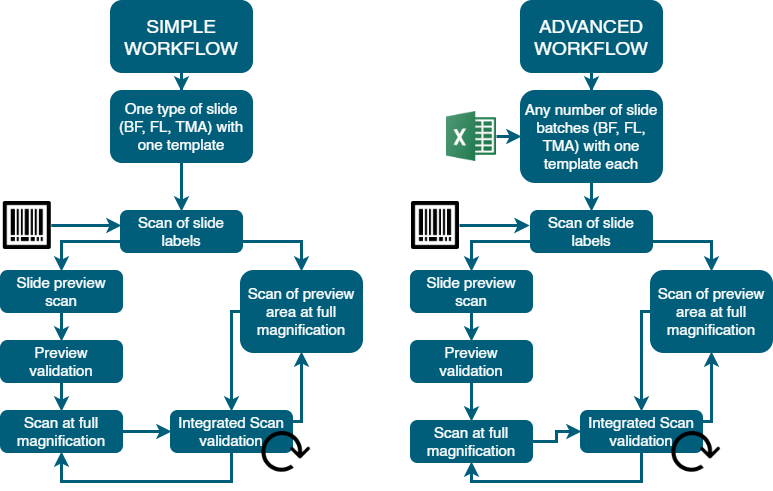 Modular (Microscope, Automatic Slide Loader, Cameras, Light-source, PC with 2 Monitors)
Fluorescence, Brightfield
All standard and over-sized slides
Up to 7 Objectives (2.5-100x)
CCD Camera (14-bit, 1.4 Megapixel, Monochrome)
CMOS Camera (8/10-bit, 4.2 Megapixel, Color)
VIS-LED
Solid-state Light Engine
QUEST line (Algorithms for tissue detection, area measurement, scattergrams for cells and many more)
TissueFAXS, OME-TIFF, TIFF, JPEG, BMP, PNG
Integrated, stand-alone freeware