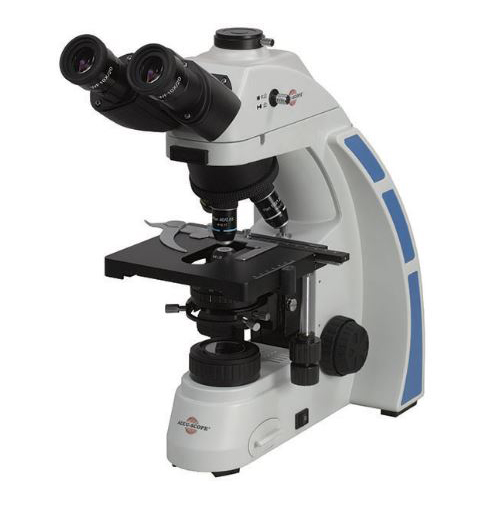 ACCU-SCOPE EXC-350 Microscope
To meet the needs of today's demanding clinical laboratories, ACCU-SCOPE's EXC-350 provides the performance and value required for routine analysis in pathology, dermatology, histology and cytology applications. The EXC-350 Series' modular design is compatible with many accessories for fluorescence, phase contrast and darkfield applications. Siedentopf trinocular viewing head, inclined at 30°, with an industry leading 50mm-75mm interpupillary distance adjustment and a 180° eyepoint adjustment to accommodate users of different body types. A wide variety of options are available for fluorescence applications including S-APO objectives, an integrated LED fluorescence illuminator, or a 4-position reflected illuminator with a ScopeLED® fluorescence illuminator.
Optical Excellence
Using our AIS Infinity Plan Achromat, S-Plan Apochromat or Plan Phase objectives the EXC-350 delivers best in class optical performance, superb resolution and sharp, crisp images. Each EXC-350  microscope features an inward facing 5-position nosepiece with infinity plan objectives.
Low Cost Fluorescence
If purchased with our low cost single channel LED fluorescence illuminator, one can have an extremely cost effective solution for under $5.000.00!
Illumination
LED illumination provides bright crisp images without the need to ever change bulbs. 25 year expected life.
ACCU-SCOPE EXC-350 Microscope
Optical Excellence
Trinocular viewing head
Digital cameras, HD video cameras
Single channel fluorescence attachments, DAPI, FITC, TRITC and Texas Red
Illumination light sources – CoolLED illuminators, metal halide and mercury
Plan achromat objectives: 2x, 20xR, 50xR oil and 60xR and 100xR oil
S-Plan Apo objectives: 4x, 10x, 20xR, 40xR and 100xR oil
Turret phase contrast set with telescope
Gout kit for polarized light
Darkfield Condensers
Aluminum carrying case
Simple polarizer/analyzer
Reticles
Optical Excellence
Microscope Dimensions – Standard Configuration (LWH): 387mm x 196mm x 391mm
Physical weight (standard configuration): 22lbs.
Warranty
5 year limited warranty for parts, labor and electronic components
1 year warranty on LED bulbs