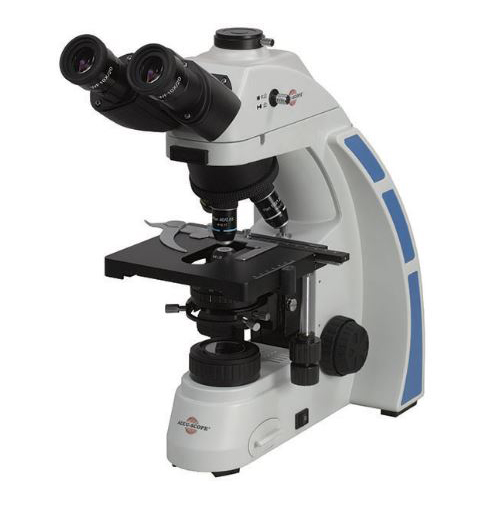 Accu-Scope 350 Microscope
In Stock
To meet the needs of today's demanding clinical laboratories, ACCU-SCOPE's EXC-350 provides the performance and value required for routine analysis in pathology, dermatology, histology and cytology applications. The EXC-350 Series' modular design is compatible with many accessories for fluorescence, phase contrast and darkfield applications. Siedentopf trinocular viewing head, inclined at 30°, with an industry leading 50mm-75mm interpupillary distance adjustment and a 180° eyepoint adjustment to accommodate users of different body types. A wide variety of options are available for fluorescence applications including S-APO objectives, an integrated LED fluorescence illuminator, or a 4-position reflected illuminator with a ScopeLED® fluorescence illuminator.
Optical Excellence
Using our AIS Infinity Plan Achromat or Plan Phase objectives the EXC-350 delivers best in class optical performance, superb resolution and sharp, crisp images. Each EXC-350  microscope features an inward facing 5-position nosepiece with infinity plan objectives.
Illumination
LED illumination provides bright crisp images without the need to ever change bulbs. 25 year expected life.
Speak with one of our specialists today to see if the 3025 Series is right for you!
(281) 579-0342
Accu-Scope 3025 Microscope Series
Optical Excellence
Digital cameras, HD video cameras
Trinocular viewing head
Fluorescence attachments;
Fluorescence illumination light sources – CoolLED LED illuminators, metal halide and mercury illuminators
Plan achromat objectives: 2x, 20xR, 50xR oil and 60xR
S-Plan Apo objectives: 4x, 10x, 20xR, 40xR and 100xR oil
Turret phase contrast set
Gout kit
Darkfield Condensers, Reticles
Simple polarizer/analyzer
Reticles
Optical Excellence
Microscope Dimensions – Standard Configuration (LWH): 387mm x 196mm x 391mm
Physical weight (standard configuration): 22lbs.
Warranty
5 year limited warranty for parts, labor and electronic components
1 year warranty on LED bulb