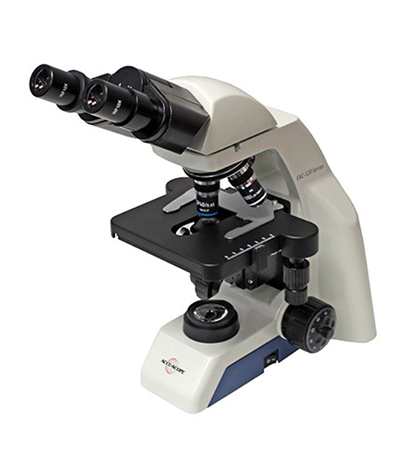 ACCU-SCOPE EXC-120 Microscope
Engineered for clinical and classroom applications, ACCU-SCOPE's EXC-120 student microscope is equipped with sharp, high contrast objectives on a rugged, die-cast aluminum frame designed for years of heavy use. Featuring ergonomic focusing controls, all brass gears and the widest field of view eyepieces in its class, the EXC-120 delivers exceptional value and performance for a student microscope.
Optical Excellence
Developed specifically for the educational and clinical markets, the EXC-120 objectives provide sharp, clear images with front lens surfaces that are flush and easy to clean. Objectives are available in achromat, semi-plan and plan achromat. 160mm tube lenght.
Ergonomics
The low positioned coaxial focusing mechanism provides complete ergonomic comfort to users during extended viewing periods. The coaxial focusing controls allow the user to rest their hand on the counter while focusing the microscope, allowing for maximum comfort. Integrated carrying handle for easy transport.
Illumination
Available with a LED illuminator allowing for tremendous energy savings the EXC-120 Series provides superb brightness. Power cord hanger for convenient storage.

ACCU-SCOPE EXC-120 Microscope Series
Optional Accessories
Monocular, Binocular or Trinocular (20% / 80%) viewing heads

Digital and HD Cameras

Plan achromat objectives: 4x, 10x, 20xR, 50xR oil, 60xR, 100xR oil objectives

Achromat objectives: 20xR and 60xR objectives

Darkfield

Reticles

Simple polarizer/analyzer

Microscope carry case
Miscellaneous
EXC-120 Microscope dimensions: 231mm (L) x 178mm (W) x 360mm (H)

Physical weight: 14 lbs.

Shipping dimensions: 15″ x 11″ x 19″

Shipping weight: 17 lbs.
Warranty
5 year limited warranty for parts, labor and electronic components
1 year warranty on LED bulb