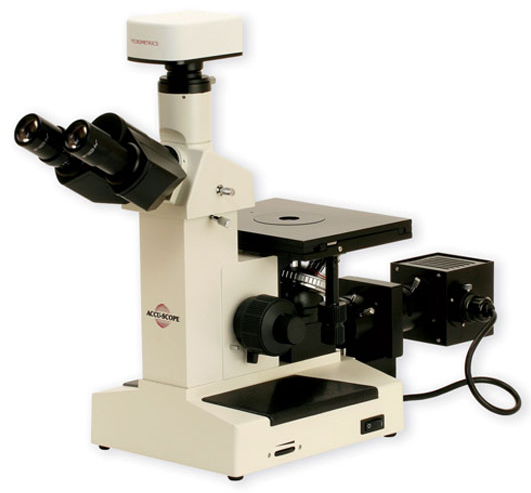 Accu-Scope 3035 Inverted Metallurgical Microscope
ACCU-SCOPE'S 3035 Inverted Metallurgical Microscope is used for identification and analysis of the structures of different metals and alloys. The 3035 Microscope Series is an ideal instrument for research institutions, factories, foundries, and educational institutions for studying metallography, heat treatment and metal physics.
Digital Imaging, HD Ready
The trinocular head allows for the quick and simple set-up of a digital or HD camera for applications that require image capture, measurement, annotation or to simplify viewing of the sample by multiple people on a large screen.
Optical Excellence
Using our DIN Metallurgical Plan Achromat objectives the 3035 Series delivers best in class optical performance, superb resolution and sharp, crisp images at up to 1000x with the optional 100x dry objective.
Illumination
Each microscope is supplied with a 6 volt 30 watt halogen Koehler illuminator. The lamp house incorporates a centering mechanism allowing for simple and easy bulb centration, allowing for bright, even illumination over the entire field of view.
Speak with one of our specialists today to see if the 3025 Series is right for you!
(281) 579-0342
Accu-Scope 3035 Inverted Metallurgical Microscope
Optional Accessories
Digital cameras, HD video cameras

Plan achromat objectives: 40xR, 80xR and 100xR dry

Measuring reticles, Austenite Grain Reticles

Eyepieces: 15x and 20x
Miscellaneous
Microscope Dimensions (LWH): 458mm x 191mm x 368mm

Physical weight (standard configuration): 25 lbs.

Shipping weight: 25 lbs.

Shipping dimensions: 19″ x 17″ x 13″
Warranty
5 year limited warranty for parts, labor and electronic components.