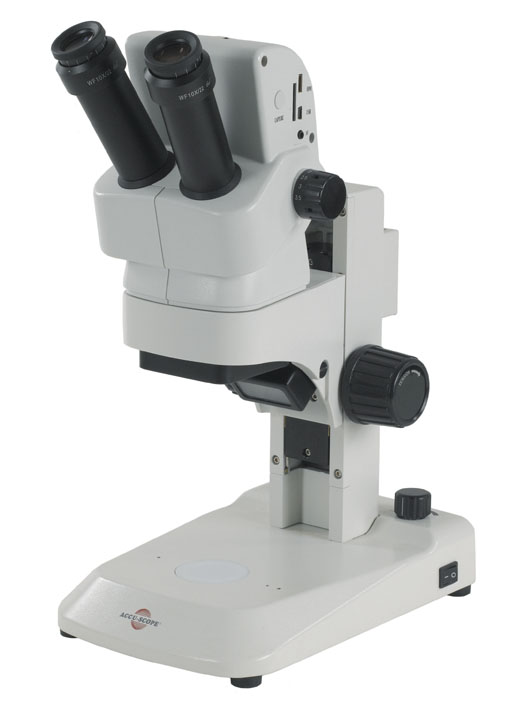 Accu-Scope 3078-HDR Stereomicroscope Series
Amazing HD quality live video with fast living imaging on an HD display, coupled with an integrated SD card for image capturing make the 3078-HDR a best in class choice for industrial inspections, biology, anatomy and chemistry courses. The 8x – 35x zoom range provides high resolution images which can be captured on the 5 Megapixel CMOS Camera directly onto the SD card and transferred to a computer via the USB port for further review and analysis.
High Definition - HD Output
Incredible detail, fast 60fps live image viewing allows the 3078-HDR to be an excellent microscope for training applications in an educational or industrial environment.
4.4:1 Zoom
With an 8x -35x zoom range the 3078-HDR provides high resolution, sharp images with outstanding depth of focus at all magnifications.
5 Megapixel CMOS Camera
The integrated 5 Megapixel CMOS Camera allows for quick image capture with the touch of a button to the SD Card. Images can be transferred out to a computer via the USB port for further analysis. Images can be viewed in any photo viewing software or can be measured and annotated via our optional Micrometrics® software.
Speak with one of our specialists today to see if the 3078-HDR Zoom Series is right for you!
(281) 579-0342
Accu-Scope 3078-HDR Stereomicroscope Series
Optional Accessories
Eyepieces: 15x, 20x and 25x

Microscope carry case

HD Monitors

Micrometrics® Image Analysis Software
Warranty
5 year limited warranty for parts, labor and electronic components. LED bulbs are warranted for 1 year.