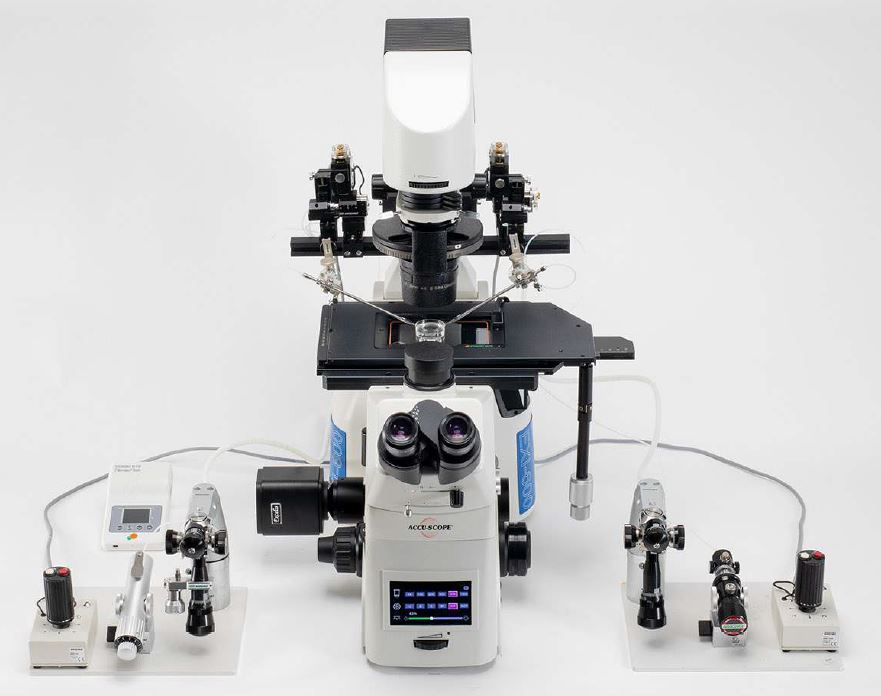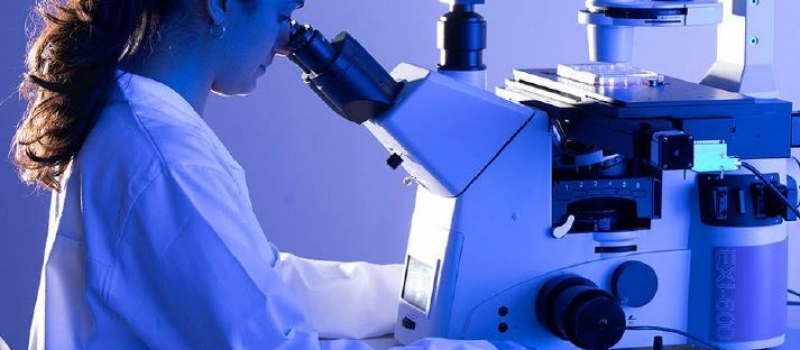 ACCU-SCOPE EXI-600 Inverted Microscope
The New ACCU-SCOPE EXI-600 Research Inverted Microscope delivers outstanding optical performance, value and resolution for the study of tissue cultures and live cells in university laboratories, hospitals and educational institutions.  Optimized for automation with motorized components from companies including Prior, Ludl, Sutter or ASI. Live cell imaging, micromanipulation, fluorescence, DIC, modulation contrast, phase contrast and brightfield illumination are all offered finally at a truly affordable price!
Ease of Viewing
The EXI-600 is available a-la-cart featuring a selection of contrast methods including brightfield, phase contrast, DIC, modulation contrast and fluorescence. All suitable to address a wide variety of applications. Each microscope is supplied an engageable Bertrand lens, magnification changer and with three camera ports. Optional C mount adapters can connect digital, HD video or low light cameras.
Compact Design, Saves Space
The research design of the EXI-600 assures stability in today's crowded lab environments. Idea for phase contrast or DIC and simultaneous or stand alone fluorescence. The perfect, comprehensive research inverted microscope designed for micromanipulation and microinjection applications.

Pre-Configured Simplicity
Push button controls and visual displays lets you see all illumination techniques easily, even in the dark.  The EXI-600 offers a safe, uncomplicated choice for researchers of all disciplines.

ACCU-SCOPE EXI-600
Specifications
Infinity Optical System
Observation Methods: Brightfield, Phase Contrast, Normarski DIC, Modulation Contrast, Fluorescence
Viewing Body: Siedentopf Viewing Head, Inclined at 45°, Interpupillary 48-75mm; 100%
Left-side camera port 80%, right side port 80% and top port 100%
Eyepieces: SWF 10x/22mm,
Nosepiece: Sextuple
Objectives: 210mm correction
Infinity Plan S-Apochromatic 4x, 10x, 20x, 40x
Infinity Plan S-Apochromatic Phase Contrast 4x, 10x, 20x, 40x
Infinity Plan S-Apochromatic Modulation Contrast 10x, 20x, 40x
Interchangeable with all Nikon® objectives
Engageable Bertrand lens
Magnification Changer 1.5x, 1.0x
LCD screen display with simplified controls
Push button light selector
3 Plate mechanical stage movement range 130mm(X) × 85mm(Y)
Holders:
Terasaki holder / Ø65mm petri dish holder
Ø35mm petri dish holder
Ø54mm petri dish holder, hemocytometer, glass slide holder
Well clamper
Universal holder for Terasaki plate holder, glass slide, Ø35-65 dish
and 1×3″ slide
Ø90mm petri dish holder
Long working distance turret phase contrast condenser, WD 40mm, NA 0.55
3W S-LED transmitted illuminator
Fluorescence:
6-position filter cube turret encoded, multiple illumination options
Focusing:
Coaxial coarse and fine focus; fine-focus precision 0.002mm;
focus range: 7mm up, 1.5mm down; total travel limit 18.5mm

0.35x, 0.5x, 0.65x and 1.0x adjustable C-mount adapters

Accessories:
Eyepieces, reticles, micrometers; IF550nm green filter; dust cover
Dimensions (LWH):
800mm x 276mm x 686.6mm
with fluorescence configuration)
Warranty:
5-year limited warranty for parts, labor and electronic components.
1-year warranty on LED bulbs