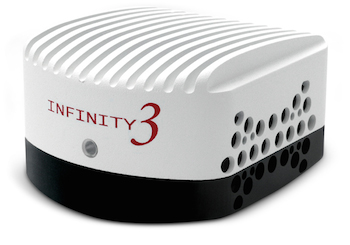 Infinity 3-1
Lumenera's INFINITY3-1 camera is designed for use in a wide variety of scientific applications. Cooled models are ideal in low-light conditions and where high dynamic range is required.
With 1392×1040 resolution and on-board processing, these cameras deliver outstanding image quality and value for industrial and scientific imaging applications. Uncompressed images in live streaming video and still-image capture are provided across a USB 2.0 digital interface.
Hardware and software based synchronization trigger is available as an option provided. On-board memory is available for frame buffering. The INFINITY3-1 is available in color or monochrome, as well as OEM form factors including board-level and custom enclosures.
The INFINITY3-1 includes INFINITY ANALYZE software for advanced camera control, image processing, measuring and annotation, and INFINITY CAPTURE, an intuitive user interface which includes all of the basic features needed to control your INFINITY camera and capture images. Both color and monochrome product models are available.
All Lumenera products are supported by an experienced team of software developers and application engineers. We understand your imaging needs and are here to help you with your integration and development.
Camera Sensor
Image Sensor
Sony ICX285 2/3" format, 1.4 megapixel color or monochrome progressive scan CCD sensor
Effective Pixels
1392 X 1040, 1.4 million pixels
Frame Rate
15 fps at 1392×1040, increased through binning and ROI
Digital Output
8 and 12-bit
Dark Current (e-/s)
0.15 electrons / pixel / s when cooled
Pixel Size
6.45 X 6.45 µm
Full well capacity
>18,000 electrons
Readout Noise
8 e- rms
Cooling type
Hermetically sealed and dry gas filled thermoelectric cooling to 25 degrees Celsius below ambient
Readout Frequency
28.6 MHZ
Camera Controls
Power Requirement
External 5 V DC – 3 amp
Power Consumption
~2.5 W uncooled / ~8.5 W cooled
Operating Temperature
0 to +50° C
Operating Humidity
5 to 95%, Non-condensing
Integration Time
3.5μs to 20 minutes
Auto Exposure
Automatic / Manual
White Balance
Automatic / Manual
Gain
1 to 10X programmable
Interface
USB 2.0 high-speed interface
Dimensions (L x W x H)
3.85 x 3.5 x 2.446 inch
Lens Mount
C-Mount lens adapter
Binning Options
2×2, 3×3, 4×4
Infinity 3-1
Product Highlights
High-speed USB 2.0 (480Mbits/sec) interface for ease of installation with any computer
Cooled feature reduces thermal noise during low light fluorescent imaging
Low noise progressive scan 1.4 megapixel CCD image sensor
Crisp color quality for the most demanding brightfield, phase contrast, and fluorescent applications including GFP, FISH, NIR, FRET, life science and geology
15 fps at full 1392×1040 resolution
Ordering Options
INFINITY3-1C — 1.4 Megapixel Color Cooled CCD Camera
INFINITY3-1M — 1.4 Megapixel Monochrome Cooled CCD Camera
LuSDK — Software Developer's Kit