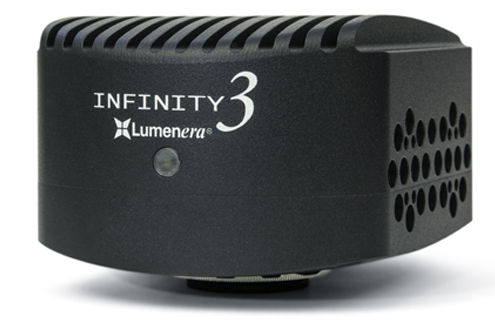 Infinity 3-1 PF
The INFINITY3-1PF is Peltier cooled and features a high signal to noise ratio. An ideal solution for applications with extremely long integration times where dark noise must be eliminated. Uncompressed images in live streaming video and still-image capture are provided across a USB 2.0 digital interface. Hardware and software based synchronization trigger is available as an option provided. On-board memory is available for frame buffering.
INFINITY Fluorescence Camera Series Bundle
INFINITY3-1PF
1.4 MP Cooled USB 2.0 Camera
INFINITY ANALYZE & Capture Software
Easily capture and process images with excellent reproducibility and accuracy. Windows and Mac compliant (Windows 8, 7, XP, Vista, Mac OS X 10.7, 32 and 64-bit operating systems)
LuIAP-2
INFINITY Advantage Pack 2: Includes USB Key for extra INFINITY ANALYZE license + advanced features module, 1 advance product replacement, additional 3 year warranty
Image-Pro Premier Software
Free 9-month trial for Media Cybernetics Image-Pro Software
Camera Sensor
Image Sensor
Sony ICX285 2/3" format, 1.4 megapixel color or monochrome CCD sensor
Effective Pixels
1392 X 1040, 1.4 million pixels
Frame Rate
15 fps at 1392×1040, increased through binning and ROI
Digital Output
8 and 12-bit
Dark Current (e-/s)
0.15 electrons / pixel / s when cooled
Pixel Size
6.45 X 6.45 µm
Full well capacity
18,000 electrons
Active Area
Diagonal 11 mm
Readout Noise
8 e- rms
Cooling type
Hermetically sealed and dry gas filled thermoelectric cooling to 25 degrees Celsius below ambient
Readout Frequency
28.6 MHZ
Camera Controls
Power Requirement
External 5 V DC – 3 A, power supply (included)
Power Consumption
~2.5 W uncooled / ~8.5 W cooled
Operating Temperature
0 to +50° C
Operating Humidity
5 to 95 %, Non-condensing
Integration Time
3.5 μs to 20 minutes
Auto Exposure
Automatic / Manual
White Balance
Automatic / Manual
Gain
1 to 10X programmable
Interface
USB 2.0 high-speed interface
Dimensions (L x W x H)
3.85 x 3.5 x 2.446 inches, 97.79 x 88.9 x 62.1284 mm
Lens Mount
C-mount lens adapter
Binning Options
2 x 2, 3 x 3, 4 x 4
INFINITY Fluorescence Series Bundle
Complete fluorescence microscopy imaging solution, consisting of Lumenera's high-end INFINITY3 series scientific cameras, feature rich software packages and a 5 year warranty.
INFINITY FLUORESCENCE SERIES BUNDLE INCLUDES:
INFINITY3-1PF
INFINITY ANALYZE & INFINITY CAPTURE Software
Free 9-month trial version of Media Cybernetic's Image-Pro Premier Software
INFINITY Advantage Pack LuIAP-2
Infinity 3-1 PF
Product Highlights
1.4 megapixel cooled Sony ICX285 CCD image sensor
Cooled feature reduces thermal noise during low light fluorescent imaging
15 fps at full 1392×1040 resolution
Monochrome or color available
Ordering Options
INFINITY3-1PFC — 1.4 Megapixel Color Cooled CCD Camera
INFINITY3-1PFM — 1.4 Megapixel Monochrome Cooled CCD Camera
LuSDKSW — Software Developer's Kit (Web Download)
LuIAP-2 — INFINITY Advantage Pack 2
LuSDKSW-DVD — Software Developer's Kit (DVD)
La20515 — 5 V DC, 2.5 A, 12.5 W Power Supply