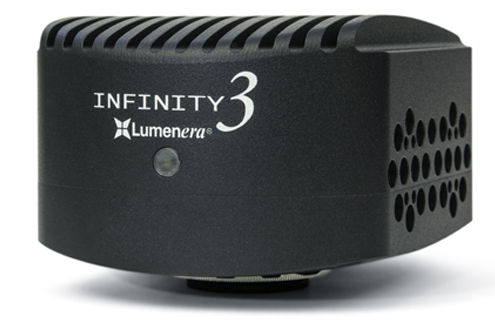 Infinity 3-1 URF
This product raises the bar for performance in an uncooled ICX285 sensor-based camera. Lumenera's INFINITY3-1URF microscopy camera has been engineered to offer exceptional dynamic range, read noise and dark current noise. This uncooled camera's performance and price make it an ideal solution for general fluorescence applications.
INFINITY Fluorescence Camera Series Bundle
INFINITY3-1URF
1.4 MP Uncooled USB 2.0 Camera
INFINITY ANALYZE & Capture Software
Easily capture and process images with excellent reproducibility and accuracy. Windows and Mac compliant (Windows 8, 7, XP, Vista, Mac OS X 10.7, 32 and 64-bit operating systems)
LuIAP-2
INFINITY Advantage Pack 2: Includes USB Key for extra INFINITY ANALYZE license + advanced features module, 1 advance product replacement, additional 3 year warranty
Image-Pro Premier Software
Free 9-month trial for Media Cybernetics Image-Pro Premier Software
Camera Sensor
Image Sensor
Sony ICX285 2/3" format, 1.4 megapixel color or monochrome CCD sensor
Effective Pixels
1392 X 1040, 6.45 µm square pixels
Frame Rate
30 fps at full resolution, 54 fps at 640 x 480 (ROI)
Bit Depth
8 and 14-bit
Binning
2 x 2, 4 x 4
Dark Current Noise
< 1 e-/s at 22 °C
Read Noise
6 e-
Camera Controls
Mass
340 g
Power Requirement
USB bus power (or optional external 5 V DC, 500 mA)
Power Consumption
~2.5 W
Operating Temperature
0 to 50 °C
Operating Humidity
5 to 95%, non-condensing
Data Interface
USB 2.0
Dimensions
3.85 x 2.00 x 2.75 inch
Lens Mount
Adjustable C-Mount standard
INFINITY Fluorescence Series Bundle
Complete fluorescence microscopy imaging solution, consisting of Lumenera's high-end INFINITY3 series scientific cameras, feature rich software packages and a 5 year warranty.
INFINITY FLUORESCENCE SERIES BUNDLE INCLUDES:
INFINITY3-1URF
INFINITY ANALYZE & INFINITY CAPTURE Software
Free 9-month trial version of Media Cybernetic's Image-Pro Premier Software
INFINITY Advantage Pack LuIAP-2
INFINITY 3-1 URF
Product Highlights
1.4 megapixel Sony ICX285 CCD image sensor
30 fps at full 1392 x 1040 resolution
Select 8 & 14-bit pixel data modes
Monochrome or color available
Ordering Options
INFINITY3-1URFC — 1.4 Megapixel Color Uncooled CCD Camera
INFINITY3-1URFM — 1.4 Megapixel Monochrome Uncooled CCD Camera
LuSDKSW — Software Developer's Kit (Web Download)
LuIAP-2 — INFINITY Advantage Pack 2
LuSDKSW-DVD — Software Developer's Kit (DVD)
La20515 — 5 V DC, 2.5 A, 12.5 W Power Supply