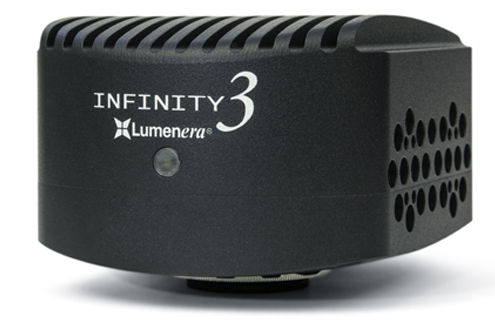 Infinity 3-3 URF
Lumenera's INFINITY3-3URF is a high-speed, high sensitivity, versatile camera. The INFINITY3-3URF unleashes the high frame rate capability of the Sony ICX674 by using a high-speed, plug-and-play USB 3.0 data interface at 5 Gbits/s to send streaming video and still image capture to a computing platform. This camera takes advantage of Lumenera's unique memory buffer technology, reliably delivering images while running the camera at the sensor's maximum output.
INFINITY Fluorescence Camera Series Bundle
INFINITY3-3URF
2.8 MP Uncooled USB 3.0 Camera
INFINITY ANALYZE & Capture Software
Easily capture and process images with excellent reproducibility and accuracy. Windows and Mac compliant (Windows 8, 7, XP, Vista, Mac OS X 10.7, 32 and 64-bit operating systems)
LuIAP-2
INFINITY Advantage Pack 2: Includes USB Key for extra INFINITY ANALYZE license + advanced features module, 1 advance product replacement, additional 3 year warranty
Image-Pro Premier Software
Free 9-month trial for Media Cybernetics Image-Pro Software
Camera Sensor
Image Sensor
Sony ICX674 , CCD, color or mono
Optical Format
2/3″
Pixel Size
4.54 x 4.54 µm square pixels
Frame Rate
53 fps at 1936 x 1456, 60 fps at 1920 x 1080, 109 fps at 640 x 480
Bit Depth
8 and 14-bit
Binning Modes
2 x 2, 4 x 4, 8 x 8 (3 x 3 mono only)
Region of Interest Control
Any mulitple of 16 x 16 pixels (quad tap mode)
Dark Current Noise
<1 e-/s (at 22 ºC ambient, 41 ºC internal)
Read Noise
6.2 e- (4 taps, 16 fps, 25 ºC ambient, 41 ºC internal)
Camera Controls
Mass
340 g
Power Requirement
External 5 V DC, 1.2 A, power supply (included)
Power Consumption
6 W maximum in full frame rate mode
Operating Temperature
0 to 50 °C
Operating Humidity
5 to 95%, non-condensing
Data Interface
USB 3.0
Dimensions

57.15 x 97.79 x 39.62 mm
2.75 x 3.85 x 1.56 inch

Lens Mount
Adjustable C-mount standard
INFINITY Fluorescence Series Bundle
Complete fluorescence microscopy imaging solution, consisting of Lumenera's high-end INFINITY3 series scientific cameras, feature rich software packages and a 5 year warranty.
INFINITY FLUORESCENCE SERIES BUNDLE INCLUDES:
INFINITY3-3URF
INFINITY ANALYZE & INFINITY CAPTURE Software
Free 9-month trial version of Media Cybernetic's Image-Pro Premier Software
INFINITY Advantage Pack LuIAP-2
Infinity 3-3 URF
Product Highlights
2.8 megapixel Sony ICX674 CCD image sensor
53 fps at 1936 x 1456, 60 fps at 1920 x 1080, 109 fps at 640 x 480
Select 8 & 14-bit pixel data modes
Monochrome or color available
Ordering Options
INFINITY3-3URFC — 2.8 Megapixel Color Uncooled CCD Camera
INFINITY3-3URFM — 2.8 Megapixel Monochrome Uncooled CCD Camera
LuSDKSW — Software Developer's Kit (Web Download)
LuIAP-2 — INFINITY Advantage Pack 2
LuSDKSW-DVD — Software Developer's Kit (DVD)
La20515 — 5 V DC, 2.5 A, 12.5 W Power Supply (included with camera)
La2000PAFL — GPI/O Breakout Cable