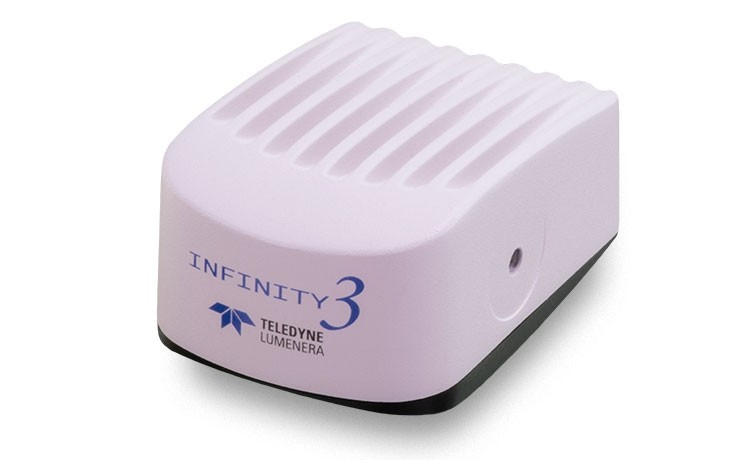 Infinity 3-6 UR
INFINITY3-6UR
Lumenera's INFINITY3-6UR is a high-speed, high sensitivity research-grade camera with a six megapixel resolution. The INFINITY3-6UR incorporates Sony's remarkable ICX694 CCD sensor, that provides high dynamic range and speed. Full resolution 6.0 MP images are sent to a host computer at up to 27 frames per second (fps). The research-grade designation of the INFINITY3-6UR is a testament to the low noise electronics, high-grade components and unique thermal management techniques used in the camera. The result is an industry-leading, high-performance, low noise digital camera, alone in its class. This microscopy camera is designed for use in a wide variety of scientific, life science, clinical and industrial applications requiring optimal color reproduction, extreme sensitivity, increased resolution and high speed.
Superior Sensitivity and Color Reproduction
The INFINITY3-6UR has the unmatched sensitivity needed for low light applications. Relying on Sony's EXview HAD II technology, this camera offers extremely high dynamic range, 4.54 x 4.54 μm pixels and very low noise. With 2×2 binning, there is a fourfold increase in sensitivity while providing a 1.5 MP (1376×1096) resolution. The INFINITY3-6UR delivers outstanding image quality and value for challenging low light applications such as fluorescence and NIR imaging.
USB 3.0 High-Speed Plug-and-Play Interface
The INFINITY3-6UR uses the latest USB 3.0 technology at 5 Gbits/sec to deliver the fastest image transfer – even at its highest resolution. Image captures can be synchronized using either a hardware or software trigger. 128 MB of onboard memory for frame buffering ensures dependable and reliable image delivery at full frame rate and highest resolution even in the most demanding systems. USB 3.0 is the ideal choice for microscopy as it is readily available on today's computers, while plug-and-play connectivity makes for easy installation.
Full Image Analysis Software Included
INFINITY CAPTURE, an intuitive image capture program, and INFINITY ANALYZE, a full image analysis package offering camera control, multi-spectral capture and composition, measurement, annotation, tiling and post capture enhancement, are included with the camera. Camera and software combine to create a complete microscopy imaging solution for your application.
Superior Technical Assistance Center (TAC)
All Lumenera cameras are supported by an experienced team of technical support and imaging experts widely acclaimed in the industry. As a Lumenera customer you gain access to the TAC group and knowledge base, providing full support for cameras, software and microscopy applications.
Camera Settings
| | |
| --- | --- |
| Image Sensor | CCD, Sony ICX694, Avail in Color or Monochrome |
| Optical Format | 1″ |
| Frame Rate | 27 |
| Bit Depth | 8 or 14-bit |
| Read Noise | 6.5 e- (Quad-Tap Mode, 25 ºC ambient, 41 ºC internal) |
| Dark Current | <1 e-/s (at 22 ºC ambient, 41 ºC internal) |
| Pixel Size | 4.54 x 4.54 µm square pixels |
Camera Controls
| | |
| --- | --- |
| Mass | 395 g |
| Power Requirement | External 5 V DC, 1.2 A, power supply (included) |
| Power Consumption | 6 W maximum in full frame rate mode |
| Operating Temperature | 0 to 50 °C |
| Operating Humidity | 5 to 95%, non-condensing |
| ROI | Any multiple of 16 x 16 pixels (quad tap mode) |
| Interface Connector | USB 3.0 (USB 2.0 supported for lower frame rates) |
| Dimensions | 57.15 x 97.79 x 39.62 mm 2.75 x 3.85 x 1.56 inches |
| Lens Mount | Adjustable C-mount standard |
| Binning Options | 2 x 2, 4 x 4, 8 x 8 (3 x 3 mono only) |
Infinity 3-6 UR
Product Highlights
27 fps at 6.0 megapixel, 46 fps (binned 2×2), 75 fps at VGA (640 x 480)
Industry leading Sony EXview HAD ll sensor technology with high QE
Color or monochrome ICX694 CCD sensor with 1" optical format providing a resolution of 2752 x 2192
using 4.54 x 4.54 μm pixels
High-speed USB 3.0 interface for ease of installation on any computer
GPIO for control of peripherals and synchronization. 1 optically isolated output, 1 optically isolated input and
2 configurable I/O ports
128 MB of onboard memory for frame buffering results in reliable image delivery for demanding systems
Select 8 and 14-bit pixel data modes
Ordering Options
Included in the Box
INFINITY3-6URC — 6.0 Megapixel Uncooled Color CCD USB 3.0 Camera or INFINITY3-6URM — 6.0 Megapixel Uncooled Monochrome CCD USB 3.0 Camera
USB 3.0 Cable
La050300 — Power Supply, 5 V DC, 12.5 W
Ordering Options
5YR Protection Plan 2 — Additional 1 year warranty, 1 advanced hardware replacement
La2000PAFL — GPI/O Breakout Cable
LuSDKSW — Software Developer's Kit (Web Download)