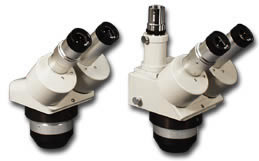 Meiji EMT Series Turret stereo microscope bodies have two objective pairs in a turret mount that allows the viewer to change from one magnification to another (e.g. from 10x to 30x) by rotating the turret. While not as flexible as a zoom stereo (EMZ) body, turret bodies are more economical.
The EMT-1 turret stereo microscope body permits magnification to varied by means of a objective turret changer. The EMT-1 microscope body enable one-touch magnification power switch over between 1x and 2x. Because the operator's hand is kept at a distance, it decreases the possibilities the contamination due to dust and particulates is minimize. A long 108mm working distance and a wide field of view makes the EMT-1 a perfect turret microscopes that provides excellent maneuverability proving optimum for special applications. Such as gemology, horology, hair transplants, and dental labs.
NOTE: Additional items are needed to create a full microscope system. The following components are normally ordered:
• Stereo Microscope Body (Zoom, Turret or Fixed)
• Eyepieces (Requires 2 of identical magnification) 
• Stand (Pole stands, rigid arm stands, boom stands, heavy duty boom stands, wide surface stands or articulated arm stands)
• Illumination Source (Fiber optic halogen, fiber optic LED, fluorescent ring or LED illumination)
Speak with one of our specialists today to see if the EMT Turret Series is right for you!
(281) 579-0342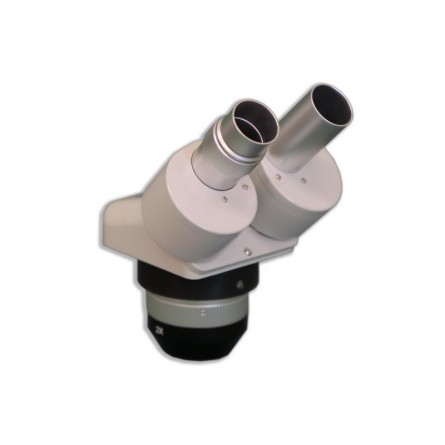 Meiji EMT Series Turret Stereo Microscopes
Modular Flexibility:
Meiji EMT Series turret stereo microscopes are most the rugged microscopes from Japan and tailored to fit the needs of each and every customer. Modular design enables the user to engineer their own custom solution for virtually any application, selecting components from the widest range bodies, stands, eyepieces, supplementary lenses, illuminators, camera adapters, and accessory components available in the microscope industry today.
Superb Optics:
Multi-coated optical components, free form chromatic and spherical aberration, provide crystal-clear, high resolution images. The Greenough optical design provides superior erect, unreversed, stereoscopic images, rich in contrast, brightness and correct in their original color. Excellent depth of field and a flat image rendition are also characteristic of the Meiji EMT Series product line.
Rugged Dependability:
All-metal aluminum alloy microscope bodies and components with chemical resistant finishes guarantee stability and rugged dependability for a lifetime of day-in and day-out use. Superior craftsmanship, quality components and materials result in long-lasting, high-performance products.
Ergonomic Design:
All Meiji EMT Series turret stereo microscope bodies feature a compact lightweight design. Every stereo body features adjustment diopter tubes and interpupillary distance adjustment. Observation tubes are inclined at 45°, 60° or 90° for convenient fatigue free viewing depending on the application, A range of fixed of tilting focus blocks are available to mount the microscope body onto existing O.E.M. equipment. A choice of Zoom, Turret or Fixed magnification bodies with various working distances, optional auxiliary objectives and eyepieces, multiple adjustable stands, versatile illumination systems, and auxiliary components allow the end user to design a system to fulfill their specific requirements.
Applications:
Meiji EMT Series turret stereo microscopes are the prefect modular microscope systems for a multitude of applications ranging from biological and industrial fields to educational and training situations. A wide variety of professional groups currently use the EMT series product to their advantage: Biologist, Physicians, Geologists, Engineers, Dentists, Dental Technicians, Veterinarians, Paleontologists, Entomologists, Gemologists, Educators, Scientific Researchers, Quality Control Personnel, Quality Assurance Personnel, Assemblers, Forensic Document Examiners, Art Restoration Experts, Textile Specialists, Wire and Die Manufacturers, Environmental Specialists, Ophthalmic Specialists, Dermatologists, Metrology Personnel, Tool and Die Professionals, Circuit Board Rework and Repair Personnel, Aquaculture Professionals, Embryo Transplant Professionals, Horticultural Experts, Exterminators, Fish and Wildlife Departments, U.S. Customs Service, Semiconductor Manufacturers, Foresters, Pharmaceutical Manufacturers, Electroplating Specialist, Ballistics Experts, and more!
Model EMT-1 (EMTR-1 is discontinued)
Body: Binocular (EMT-1) or Trinocular (EMTR-1) rotatable 360°
Paired Objectives: 1x, 2x
Magnification: 10x, 20x (10x eyepieces)
Field of View: 23mm, 11.5mm
Working distance: 108mm
Eyetube Inclination: 45°
Interpupillary Distance: 54mm – 75mm
Dioptric Adj: Left eyetube (+/- 5 diopters)
Extended Mag Range: 5x – 60x
Model EMT-2 (EMTR-2 is discontinued)
Body: Binocular (EMT-2) or Trinocular (EMTR-2) rotatable 360°
Paired Objectives: 1x, 3x
Magnification: 10x, 30x (10x eyepieces)
Field of View: 23mm, 7.7mm
Working distance: 81mm
Eyetube Inclination: 45°
Interpupillary Distance: 54mm – 75mm
Dioptric Adj: Left eyetube (+/- 5 diopters)
Extended Mag Range: 5x – 180x
Model EMT-3 (EMTR-3 is discontinued)
Body: Binocular (EMT-3) or Trinocular (EMTR-3) rotatable 360°
Paired Objectives: 2x, 4x
Magnification: 20x, 40x (10x eyepieces)
Field of View: 11.5mm, 5.75mm
Working distance: 63mm
Eyetube Inclination: 45°
Interpupillary Distance: 54mm – 75mm
Dioptric Adj: Left eyetube (+/- 5 diopters)
Extended Mag Range: 10x – 240x
Model EMT-4 (EMTR-4 is discontinued)
Body: Binocular (EMT-4) or Trinocular (EMTR-4) rotatable 360°
Paired Objectives: 1x, 4x
Magnification: 10x, 40x (10x eyepieces)
Field of View: 23mm, 5.7mm
Working distance: 63mm
Eyetube Inclination: 45°
Interpupillary Distance: 54mm – 75mm
Dioptric Adj: Left eyetube (+/- 5 diopters)
Extended Mag Range: 5x – 240x