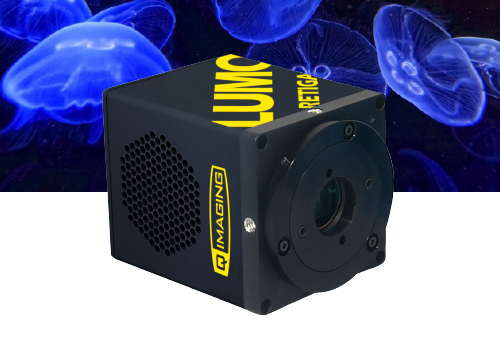 Retiga LUMO CCD Camera Features
6 Million Pixels deliver detail and quality
Small pixels designed to best match microscope resolving power
75% peak QE combined with low noise electronics reveals weak signals missed by industrial cameras
Image capture capability in color or can be read out as monochrome for tinting and merging
Large field of view capture – capture two times the field of view of a classic color camera
The camera's large field of view gives you the freedom to capture more of what you're seeing
Capture more detail with improved quality than with other color cameras
Retiga LUMO CCD Camera Applications
Brightfield Microscopy
Fluorescence Microscopy
Pathology, Histology, Cytology
Hematology
Still Image Animation

Retiga LUMO CCD Camera
The solution for bioluminescence and routine fluorescence imaging
Scientific cameras are the cornerstone of the highest performing imaging instruments in a lab. Through careful selection of image sensors and components, the LUMO will redefine your expectations for bioluminescence imaging, as well as more routine fluorescence applications.
The Retiga LUMO is packed with advanced technical features that enable detection and quantification of ultra-low light luminescence signals. This is accomplished by coupling deep cooling with FPGA-based intelligent features that correct defective pixels and remove accumulated dark current. The result is a camera that outperforms bioluminescence cameras more than twice the price.
A great camera deserves great software for acquisition. Ocular is QImaging's all new imaging platform and is included with every camera purchase. View Ocular videos to learn more!