SPOT Insight CMOS 5MP USB3 Camera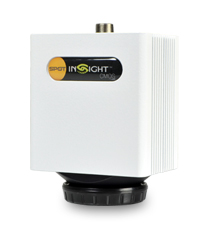 5.1 megapixel resolution
22 frames per second at full resolution
Low read noise maintains the camera's sensitivity at high speed
USB3 interface for universal connectivity to laptop and desktop computers
Global shutter produces distortion-free live viewing of moving specimens
Compact design allows it to fit into tight lab spaces
Vivid, accurate colors enhanced by SPOT software's Correct Color Technology
Windows and Mac OS compatible
Included SPOT Basic Software provides live preview, reporting, annotations, reticles and calibration marks in live and captured images, time lapse and other microscope imaging tools
SPOT Insight CMOS 5MP USB3 Camera
SPOT Insight CMOS Camera
The Insight CMOS Camera with the Sony Pregius™ CMOS sensor is a leap forward in digital imaging technology. This new generation of affordable Insight CMOS cameras delivers features previously found in much higher-priced cameras.
The SPOT Insight CMOS camera's USB 3.0 interface and Sony Pregius global shutter work with our best-ever auto-exposure scheme in SPOT software to produce distortion-free, live image viewing of moving specimens at a fast, fluid 22 fps, at full resolution. The Insight CMOS Camera combines low read-noise and high QE, furnishing sensitivity not previously seen in uncooled cameras.
Many applications are supported due to the wide range of capabilities of the Insight CMOS cameras, including live-cell, brightfield, histology, pathology, cytology and bright fluorescence imaging.
New 4K Camera