Sutter Instruments MP-225
Motorized Micromanipulator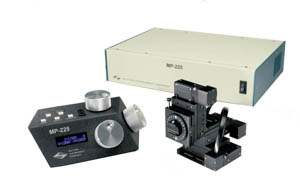 The Sutter MP-225: Early in the development of the Sutter manipulator line, production, machining and design changes allowed us to produce a motorized manipulator that was a more affordable alternative to the industry standard MP-285. At the time, the changes seemed risky, but today the MP-225 is one of out best sellers. While the Sutter MP-225 feature set is less comprehensive than the MP-285, it includes the most popular features with a user interface that is simpler to use. The mechanical design utilizes a miniature stepper motor and integral anti-backlash gear head. Pre-loaded ball bearing slides provide smooth movement throughout the 25mm of travel. The controller uses low-noise, linear-drive output circuitry identical to that found in the MP-285. The methodology for mounting pipette holders and headstages used with the MP-285 has been maintained in the MP-225 to allow for cross compatibility.
The Sutter MP-225 is designed primarily for positioning patch and intracellular recording pipettes. We have retained and refined the features most desired for this type of work. An extended version of the popular rotary optical encoder (ROE) is the sole input device available with the Sutter MP-225. Like the Sutter MP-285, the manipulator has a synthetic 4th axis for diagonal advancement of the pipette; 16 different angles are selectable via DIP switches. Speed and resolution of movement are easily selected with a multiple position thumbwheel, allowing fast/coarse movement and slow/ultra-fine movement in 10 increments. Two commonly used robotic movements have been incorporated for user convenience. A single button press can initiate a move to a Home position for pipette exchange or to a user defined Work position for quick location of the pipette near the recording location. A display on the ROE gives position location. As all controls are located on the ROE, the controller can be moved to a less accessible area of your setup and does not need to occupy prime space in an equipment rack.
As always, our technical support team is available to address your particular needs and answer all questions before and after your purchase.
Features
Highly stable for experiments intolerant of pipette drift
Submicron (62.5nm) minimal resolution for fine movement
Convenient thumbwheel selects resolution/speed of movement
25mm of motorized travel on all three axes
4th axis for coaxial movement of pipette, angle selected by DIP switches on ROE
ROE button press actuates move to Home position for pipette exchange
ROE button press actuates move to Work position near recording location
Continuous display (in microns) of axes positions located on ROE
DIP switches on ROE select direction of movement produced by turn of ROE knob
Modularized, compact design easily adaptable to your setup
Mounting adapters included with manipulator
Sutter Instruments MP-225
Travel
25mm on all three axes
Resolution
Six microstep sizes selectable (um/ustep): 0.0625, 0.125, 0.25, 0.5, 1.0 and 2.0
Finer movement settings use the 62.5nm microstep size but fewer microsteps are commanded per encoder knob turn
Maximum Speed
2.0mm/sec
Long Term Stability
1-2 um/hour maximum
Drive Mechanism
Integral miniature stepper motor anti-backlash gearhead
Dimensions
Mechanical
4in x5.5in x 6in | 10cm x 15cm x 15.5cm
Controller
4in x 16in x 12.25in | 10cm x 40.5cm x 31cm
Weight
Manipulator
2.95lbs | 1.3kg
Controller
10lb 11oz/4.5kg
Electrical
115/230 Volts
50/60 Hertz power line
RoHS Compliant