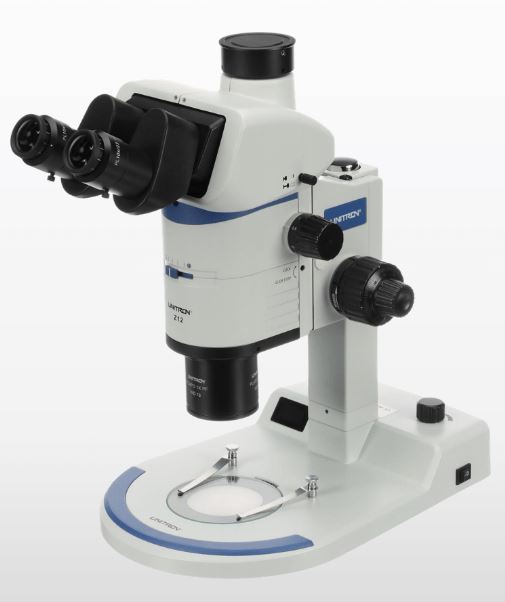 Unitron Z12 Zoom Stereomicroscope
The new Unitron Z12 zoom stereomicroscope, available from Meyer Instruments, Inc., features a Common Main Objective (CMO) design, a 12:1 zoom ratio and a massive 8X to 400X magnification range. The new dual objective carrier with on-axis adjustment allows for critical Extended Depth of Field (EDF) imaging.
The Z12 includes many features typically found in higher priced microscopes. Three new stands suit the most demanding applications: plain focusing stand, transmitted light base with sliding/tilting mirror, and a slim profile LED transmitted light base. The color-balanced LED light sources give bright illumination to the specimen, and are highly cost effective (low energy consumption and long lifespans). A new 5°-45° tilting Ergo trinocular observation head offers ergonomic viewing comfort that is customizable to the observer. Its Plan Apochromatic objectives deliver crisp color reproduction and high resolution of fine structures, and the trinocular port is ready to accept a digital microscopy camera for imaging. Click-stop zoom positions allow the observer to quickly return to a specific magnification setting, thus saving time and increasing reproducibility.
The Z12 addresses a wide variety of applications from assembly and quality control in the industrial markets, to stem cell and embryo selection in the life sciences. The new Unitron Z12 delivers both performance and high-end features at a value-conscious price point.
Speak with one of our specialists today to see if the Unitron Z12 Zoom is right for you!
(281) 579-0342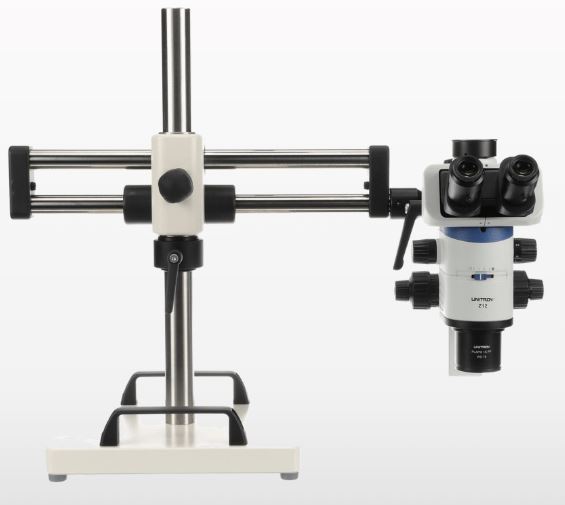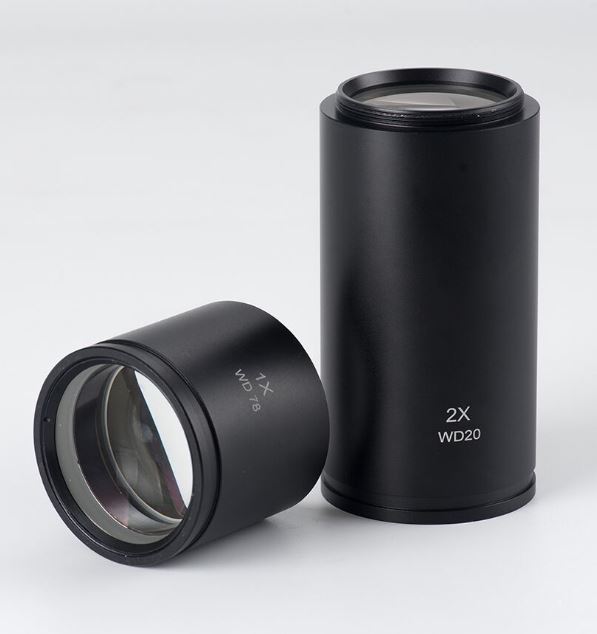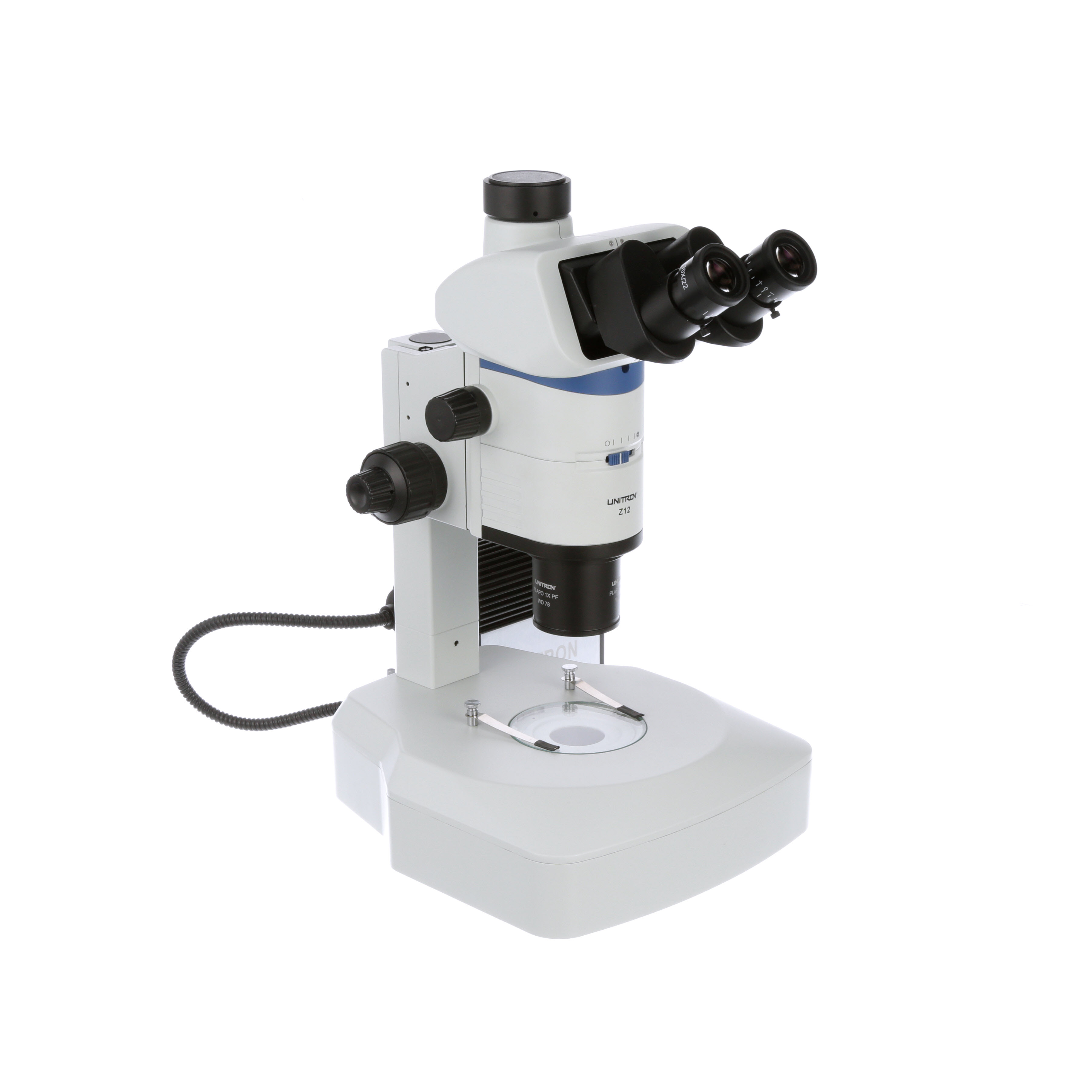 Unitron Z12 Zoom Series
Standard Specifications
Specifications
Choice of ergonomic tilting trinocular viewing head, 5° – 45° adjustable (0:100 or 100:0 viewing split), or 30° fixed angle trinocular viewing head (50:50 viewing split)
WF10x/23mm FOV focusing eyepieces with built-in diopter adjustment and roll-down eyeguards (eyepiece accepts a 26.5mm reticle); 52mm – 75mm interpupillary distance adjustment
Zoom ratio: 12:1; Galilean or Common Main Objective (CMO) optical system, variable zoom magnification system with parallel optical axis; zoom drive system: horizontal handle; Apochromatically corrected common main objectives; click-stops for various zoom positions at 0.8, 1.0, 1.5, 2.5, 3, 4, 5, 6, 8, and 10 (user can turn this feature on/off)
S-APO 1.0x auxiliary objective, N.A. 0.1, W.D. 78mm
Choice of diascopic transmitted light base with 360° sliding/tilting mirror with 24watt LED fiber optic illuminator with flexible gooseneck (as shown above), slim profile LED transmitted light stand with adjustable color temperature, or Plain focusing stand
Optional Accessories
Eyepieces: 15x/16mm focusing eyepiece with built-in diopter adjustment and roll down eyeguard;
20x/12mm focusing eyepiece with built-in diopter adjustment and roll down eyeguard
Reticles, stage micrometers, calibration stage micrometers
S-APO 2.0x auxiliary objective, N.A. 0.2, W.D. 20mm
LED ring lights, fiber optic lights, 150w halogen fiber optic illuminators
Excelis™ and Lumenera® CCD and CMOS cameras
Optional Accessories
LED ring lights, Digital Cameras, Fiber Optic Illuminators, Fluorescent Ring Illuminators, Auxiliary Objectives, Iris Diaphragm, Beam Splitter/Photo Port, Coaxial Illuminator, Polarizer/Analyzer, and a Fluorescence Attachment.